While car servicing isn't a legal requirement, it's a great way to save you money, prevent breakdowns and prolong the life of your vehicle.
It can also help you spot any problems with your car early on, meaning you're not left with a hefty bill further down the line.
If you service your car regularly, it can mean it's:
Safer to drive.
More fuel efficient (greener, and cheaper to run).
Less likely to break down.
Less likely to need a major, more costly repair.
More attractive to buyers (some buyers will see service history as a sign the vehicle's been well looked-after).
More likely to retain its resale value.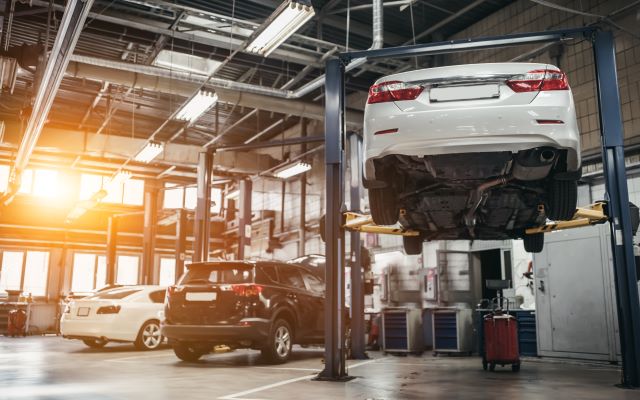 How often should I service my car?
The service schedule for your vehicle will depend on the manufacturer and also the car's mileage and age.
Most modern cars will have a service indicator to remind you when your service is due. This is likely to take into account the time and mileage since your last service.
Full details of your car's recommended service schedule can be found in the handbook but, at the very least, we recommend:
An interim service every 6 months if you drive more than 2,000 miles a month.
A full service every 12,000 miles or annually.
What is an interim service?
A Smart Care interim service covers 39 main action points including 4 changes and 4 top-ups.
Changes include engine oil, oil filter and wheel nut torque (depending on the vehicle's mileage and manufacturer specification).
The garage will also check and improve the tyre pressure and top up the clutch fluid, power steering reservoir, brake fluid level, and windscreen washer, if required.
When you book a service through Smart Care, our technicians will let you know if they find anything else that needs your attention and outline your options for potential repairs.
What is a full service?
A Smart Care full service covers 43 main action points. These include all the points included in an interim service, as well as additional checks, top-ups and changes (including the air filter, which is replaced based on the mileage and vehicle usage).
A garage will also check and top-up your coolant or antifreeze, gearbox fluid, clutch fluid, axle and/or transaxle oil and non-sealed battery units – all according to the manufacturer schedule.
Your spark plugs will also be checked, and replaced based on mileage and manufacturer specification. An overall health check will be included too, for extra peace of mind.
Read more in our complete guide to car servicing.
Why choose the AA for car servicing?
Free vehicle collection and return.
Quick and easy online booking and payment.
Parts and labour guaranteed for 1 year or up to 12,000 miles
Fair, transparent pricing.
Every garage in our network is independent and trustworthy. We thoroughly inspect each one before it can become an AA approved garage, to ensure it fully meets our quality, service and training standards. We then carry out full audits annually, as well as ad-hoc spot checks.
We even have next-day availability for servicing and MOTs in some locations.