While car servicing isn't a legal requirement, it can save you money by preventing breakdowns and prolonging the life of your vehicle.
Book a service with Smart Care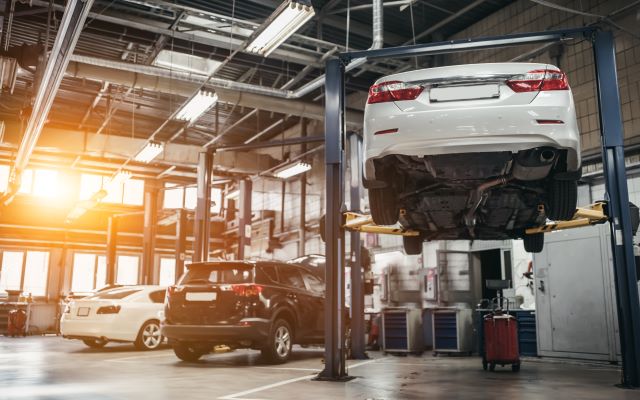 Car safety
We all rely on our cars to be safe to drive each day. So for peace of mind it's worth booking a regular service to keep your vehicle in good condition.
During a car service an expert technician will inspect the vehicle's important components, such as the exhaust system, brakes and suspension.
They'll also check the condition of the tyres, their tread depth and pressure. The garage will also make sure the exterior lights and the window washer and wipers are all working correctly.
If none of them is up to scratch, you could be putting yourself and other road users at risk.
Fuel efficiency
A well maintained vehicle can run more efficiently and use less fuel. This will not only save money, but also reduce your impact on the environment.
Regular servicing replaces the engine oil and the oil filter, plus the spark plugs on a petrol engine. These changes will keep your car running smoothly and could improve its fuel consumption. Changing the oil at regular intervals will also extend the life of the engine.
Preventing car breakdowns
If your car breaks down, it's not only stressful and inconvenient, but can be very expensive too.
With regular servicing faults can be detected before they get worse. You can then arrange repairs at a time to suit you, rather than having a later journey disrupted.
Preventative vehicle maintenance will be less costly than being towed away for repairs far from home.
Car resale value
Some buyers won't consider buying a used car without a full service history. Regular services show the vehicle has been looked after, and indicate that it's in a good condition.
So a car that has a complete service history will be more attractive to buyers, and thereby command a better resale value.
Regular servicing of a brand new car is often a contractual requirement for the manufacturer's warranty. If you keep to the manufacturer service schedule, this too will add value when selling your car.
Car service intervals
The service schedule for your vehicle depends on the manufacturer, and its mileage and age. You can find out more on our advice pages:
---
Car servicing from AA Smart Care
The easy way to book a car service.
Free vehicle collection and return, subject to availability.
Servicing at AA approved garages.
Quick and easy online booking and payment.
Parts and labour guaranteed for 1 year or up to 12,000 miles.
Fair, transparent pricing, no hidden extras.
We thoroughly inspect each garage to ensure it fully meets our quality, service and training standards. We then carry out annual audits, as well as spot checks.
---
Author: The AA