21 March 2013
Monitoring of two sections of the M25 recently converted into smart motorways shows a welcome benefit from the schemes but drivers remain nervous and confused, says the AA, commenting on the release of two evaluation reports by Highways England (M25 Junctions 5-7 and Junctions 23-27).
Are drivers avoiding lane 1?
Most significant is driver preference to stay out of lane one, which partially defeats the reason for the conversion:
According to the junction 23-27 report (page 11), "It is notable that lane 1 flows are much lower than the other lanes in year 2 after, indicating that drivers are less keen to use that lane; this effect is common when Smart motorway schemes are introduced. The lane gain, lane drop arrangement can make lane 1 less likely to be used; in addition drivers can be reluctant to use lane 1 as found in the road user surveys performed in the first year of operation."
The junction 5-7 report also refers to lane 1 flow being much lower than the other lanes.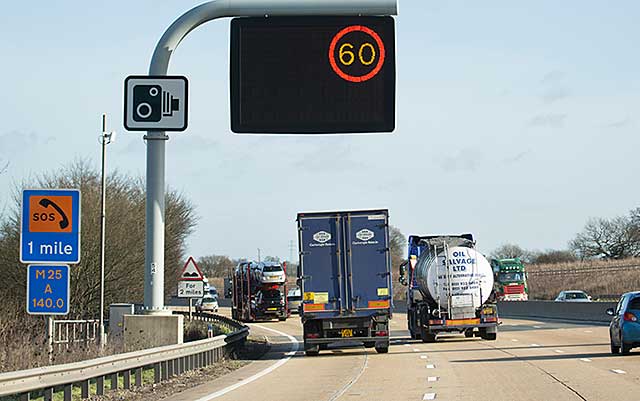 Use of Emergency Refuge Areas
Part of the problem is due to the number of HGVs likely to be seen in the scarce number of emergency refuge areas (ERA). Over 240 hours on a 14-mile section of the M25, a lorry pulled into and occupied an ERA every 10 hours.
Highways England figures also suggest that the vast majority of ERA users pulled in for non-emergencies. The AA believes this needs better investigation because some of those may have been for bona fide concerns, such as warning lights, where a driver may have quickly decided to carry on once they knew the problem wasn't immediately critical or the warning light went out following a re-start.
However, the taking up of ERAs for predominantly non-emergency use suggests confusion among drivers as to their purpose.
On the southern section of the M25, all HGV and light goods vehicle ERA use was logged as non-emergency as opposed to 91% (HGV) and 80% (LGV) on the northern monitored section. This may be due to the more likely prevalence of foreign drivers going to and from channel crossings.
Relieving congestion
"The improved journey times, albeit slight overall but more noticeable during afternoon and Friday rush-hours*, shows how much smart motorways have helped to relieve congestion. However, the results would be much better if drivers weren't scared to use lane one," said Edmund King, the AA's president.
"The AA believes that drivers are so concerned that they may run into stranded vehicles in lane one, with little chance or hope of getting off the motorway because of the space between emergency refuge areas, that they avoid that lane – which partially defeats the purpose of Smart motorways.
More refuge areas would encourage drivers to limp into one and get off the road and that would inspire more confidence in the safety of lane one
"More refuge areas would encourage drivers to limp into one and get off the road and that would inspire more confidence in the safety of lane one."
King adds:" Having more refuge areas would also reduce the number of lane closures and consequent congestion. If the Government wants these motorways to be really smart then increasing the number of lay-bys would earn them top marks."
---
* For section
Junctions 5-7, page 23
: "The PM peak periods which were the most congested in the Before period, saw larger journey time improvements in the Yr2 After results (3% Mon-Thu and 10% Friday)"