If you're planning a trip to Spain, it's important to make sure you're fully aware of the rules of the road and how they differ from the UK. It's also a good idea to ensure that you prepare for any unexpected eventualities that could happen by purchasing AA European Breakdown Cover before you go
Our comprehensive guide will take you through some of the laws for driving in Spain, covering everything you need to know, from required documents to general road rules and information about fuel, parking and fines.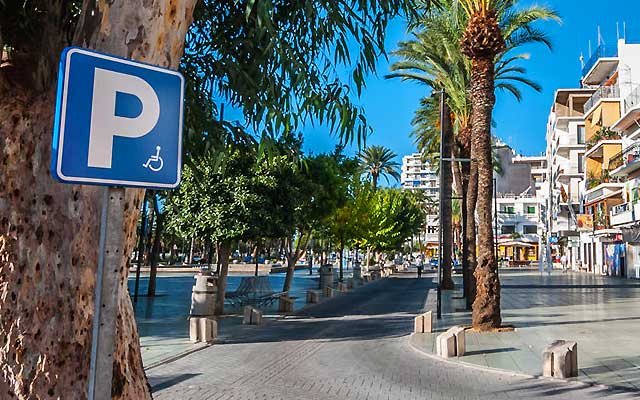 Important information for driving in Spain
What documents and items do I need to drive in Spain?
There are certain documents that you must have in your car when driving in Spain. If you don't have these documents (and other legally required items listed below) you might get a fine or penalty.
Valid UK driving licence

. The legal age to drive in Spain is 18, and you must hold a full, valid driving licence – provisional licences aren't valid in Spain. If you plan to rent a vehicle in Spain, you must be at least 21 years old and have had your driving licence for a minimum of one or two years. Drivers under 25 renting a car are likely to be charged higher rates.

Vehicle insurance documents.

Always carry your insurance certificate with you in case you're stopped and asked to present proof of insurance. This certificate will generally only be valid for a stay of 3 months or less, so make sure to contact your insurer if you're planning a longer visit.

Proof of identity.

A form of identification, such as a valid passport.

V5 registration log book (or a VE103 document for rented vehicles).
There are also other items you will need to have in your vehicle when driving in Spain. These are:
A UK sticker

. On 28th September 2021, the GB sticker requirement was changed to a UK sticker. This means that GB stickers are no longer valid. Your vehicle may have the UK identifier incorporated into the number plate, but in Spain the sticker must be visible no matter what's on your number plate.

Two red warning triangles.

In the event of a road accident or breakdown, you must place two red warning triangles at least 50 metres in front of and behind the vehicle.

Spare wheel.

You must carry a spare wheel and the tools required to change it if one of your car's wheels is damaged.

Reflective jackets for each occupant.

If you're required to leave your vehicle at any time to a road accident or breakdown, you must wear a reflective vest or you may get a large fine.

Headlamp beam deflectors.

In the UK, headlamps are aligned to the left, which is an issue when driving at night in Spain as this means they shine into oncoming traffic. Beam deflectors can correct this.
Do I need a green card to drive in Spain?
As of 2 August 2021, drivers don't need to carry an insurance green card when taking their vehicle into Spain.
Low emission zones
Permanent low-emission zones
The 2 major cities of Madrid and Barcelona operate permanent low emission zones, which require all vehicles – including those registered abroad – to meet specific exhaust emission standards. Madrid only permits Zero Emission and resident vehicles to access the city centre.
Vehicles are given an eco-sticker ('distintivo ambiental') by the General Directorate of Traffic (DGT) which determines whether they're allowed to drive in these zones. There are 4 labels (0 Emissions, Eco, C and B), based on the vehicle's environmental impact. The oldest and most polluting vehicles are given the classification A – this generally applies to petrol cars registered before 2000 and diesel before 2006.
Foreign vehicles need to register with the local authorities before accessing the zone to determine their environmental label. Unregistered vehicles who don't meet emission standards will get a penalty notice.
See MadridCentral and Barcelona Ring Roads Low Emission Zone for more information.
Emergency low emission zones
Some cities in Spain have emergency anti-pollution protocols when air pollution levels reach dangerous levels, which restrict vehicle access and change speed limits. Make sure you follow the instructions of the local authorities.
Road rules in Spain
What is the legal age to drive in Spain?
The legal driving age for cars or motorcycles over 125cc is 18 years old, and all drivers need a full and valid driving licence. If you're under 18 you're not legally allowed to drive a vehicle over 125cc, even if you have a valid licence.
You must be at least 16 years old to ride a motorcycle up to 125cc, with a full and valid driving licence.
What side of the road do I drive on in Spain?
All traffic in Spain drives on the right-hand side of the road, not on the left like the UK. If you hire a car, the driver's seat will be on the left side of the car.
Who has priority?
As a general rule, drivers coming from the right always have priority unless indicated by road signs.
At roundabouts, traffic on the roundabout has priority.
Make sure you always give way to vehicles with sirens and flashing lights, like ambulances.
How do I overtake?
You must only overtake on the left side of a vehicle you want to pass.
Speed limits in Spain
All speed limits (and distances) in Spain are in kilometres and metres, as Spain uses the metric system.
Motorways:

120 km/h (around 73 mph). All vehicles need to drive a minimum speed of 60 km/h (around 37 mph).

Dual carriageways:

120 km/h (around 73 mph).

Main roads:

90 km/h (around 56 mph). This can change depending on where you are, so always make sure to check the road signs.

Built-up areas, like towns and cities:

30 km/h (around 19 mph).
Speeding fines in Spain
Speeding fines can range from €100 to €500 depending on how far above the speed limit the offender's driving, or what kind of road they're driving on.
More serious offences – driving more than 80 km/h over the legal limit on motorways, or more than 60 km/h over the legal limit on city roads – may result in the loss of the driving licence, or even a prison sentence.
Since the UK's departure from the European Union, EU countries can no longer write to or send fines to UK drivers for offences caught on camera, such as speeding. However, exceeding the speed limit could still result in an on-the-spot fine and other serious repercussions, as well as endangering your safety and the safety of others.
Speed camera detectors
You aren't allowed to use radar speed checking devices, including ones that are part of your GPS systems.
Traffic lights in Spain
Spain uses the international 3 colour traffic light system.
Seat belt rules in Spain
Seat belts are compulsory for adults and children in both the front and back seats when driving in Spain.
If you don't wear a seat belt, you'll get a €200 fine.
Child seat regulations in Spain
Children under the age of 12 – or under 1.35m tall – need to use an approved child safety seat in the rear seat of the car. Children under 12 can only travel in the front seat if the rear seats are already being used by other children, or if the car doesn't have any rear seating.
Children taller than 1.35m can use an adult seatbelt.
Drink-driving laws in Spain
Drink-driving laws are very strict in Spain, and the police regularly carry out roadside checks for alcohol and drugs.
For drivers who have had their licence for 2 or more years, the legal limit is 0.5g of alcohol per litre of blood, which is just over half the 0.8 g/l limit in England, Wales and Northern Ireland. However, for drivers with less than 2 years on their licence, the legal limit is reduced to just 0.1g of alcohol in blood.
Penalties for driving over the legal limit include heavy fines, loss of your licence and even prison sentences.
Mobile phones and headphones
Using a mobile phone while driving is strictly forbidden, even if you pull over to the side of the road. Using an earpiece or headphones is also against the law.
Using your mobile while driving can lead to a €200 fine.
Completely hands-free mobile phone units are allowed.
Lights
Dipped headlights must be used when visibility is poor. The general guidelines are if you're unable to read the licence plate of a car 10 metres away or can't distinguish a black or darkly-coloured car from 50 metres away. This usually applies between sunset and sunrise, any time you're in a tunnel, and if the weather reduces visibility (e.g. heavy rain).
You mustn't use full-beam headlights in built-up areas.
Headlamp beam deflectors need to be used by UK drivers to adapt to driving on the right-hand side of the road. These stop headlights from dazzling other drivers.
You may be fined up to €200 for not using your headlights correctly.
Tyre requirements in Spain
The tread depth on a tyre should be no less than 1.6mm when driving in Spain.
You can't use spiked tyres.
Winter tyre requirements
If you are planning to drive in mountainous areas or other snowy conditions, it's recommended that you carry and use snow chains. If you don't, the police may stop you from driving if they decide the conditions are too dangerous.
Motor insurance in Spain
All vehicles driving in Spain must have a minimum of third-party insurance cover. You'll need to have your insurance documents with you at all times.
Fines in Spain
On-the-spot fines
Police can issue on-the-spot fines for a variety of offences, including exceeding the speed limit and drink-driving.
If you're informed of the fine by post, your options to pay are:
By phone: From Spain, call 060 (this service is in Spanish only, and payment is via credit card). From abroad, the contact number is +34 902887060.

Online: From the

General Directorate of Traffic of Spain

In person:

At branches of Caixabank.

In Spanish post offices (Correos de España), paying an additional fee of 1.5% of the total amount.

At

Provincial Traffic Offices

, using a credit or debit card.
If you pay the fine within 20 days, it will be reduced by 50%.
If you refuse to pay a fine on the spot, your vehicle could be confiscated.
Parking fines
If you park illegally, your vehicle may be clamped or towed away, and you may also have to pay a fine.
Parking regulations in Spain
Most cities have regulated parking spaces, operated by parking metres. Prices for parking will vary.
Disabled parking in Spain
Negotiations are taking place about the recognition and use of UK Blue Badges in some European countries since Brexit. In Spain, it's currently undecided whether UK Blue Badges are recognised. Check with the Spanish Embassy before travelling.
Fuel in Spain
Availability of fuel
Unleaded petrol ('sin plomo' – 95 & 98 octane) and diesel ('Gasoleo A' or Gas-oil) are widely available in Spain. LPG ('Autogas') is available, but only at a few petrol stations – see https://www.mylpg.eu/stations/spain/.
Leaded petrol isn't available. You can carry spare petrol in a can.
Fuel prices in Spain
Fuel prices in Spain, as with everywhere else, may vary. You can use a website such as https://www.globalpetrolprices.com/Spain/ to check current prices before you travel.
How do I pay for fuel in Spain?
Credit and debit cards are accepted in most stations, but it's worth checking with your bank before travelling. You can also pay for your fuel with cash.
Electric cars in Spain
Where can I charge my electric car in Spain?
You can use an online map such as Chargemap to find electric vehicle charging points in Spain. The majority are in or around large cities.
How do I pay for electric car charging?
Credit cards are accepted at most charging points, but it's worth checking with your bank before travelling.
Tips for driving an electric car in Spain
Plan your routes in advance using a map of charging stations, so you can recharge as needed.

Plan to charge your electric car overnight if possible.

Download and register with apps to use and pay for charging points to make the process smoother.

Avoid periods of high congestion, especially in built-up areas, as sitting in traffic for long periods can drain your electric car battery.
Riding a motorcycle in Spain
Motorcycle regulations
All motorcyclists must use dipped headlights during the day.

Riders on any two-wheeled vehicle, including motorcycles, must wear a crash helmet. This also applies to any passengers.

A child between 7 and 11 years old may only ride as a passenger if the bike is being driven by a parent or authorised person. They must wear a suitable helmet.

You must not carry a child under 7 years old.

Moped riders under 18 years old must not carry passengers.
Driving with a caravan or trailer in Spain
If you're towing a caravan or trailer and the overall length is more than 12m, you must have one (130cm x 25cm) or two (50cm x 25cm) yellow reflectors at the rear.
Speed limits for cars towing a caravan or trailer
On motorways, the speed limit for vehicles with a trailer weighing 750 kg or less is 90 km/h. For vehicles with a trailer weighing more than 750 kg, the speed limit is 80 km/h.
Tolls in Spain
Most roads in Spain are free to use, including motorways.
However, there are still some motorways that may require a toll payment to use. The cost varies for each route; you can check which motorways require a toll payment – along with the current tariff – here.
Paying for tolls
Generally, you can either pay in cash or with a credit card. Toll booths in Spain are designed for right-hand drive cars, so left-hand drive cars might find it difficult to pay without a passenger.
You can also use an electronic toll tag to avoid queues by driving in a specified toll tag lane without having to physically stop and pay.
Toll-free routes
If you wish to avoid tolls, there are alternative routes that are free to use. Just make sure to plan your trip in advance.
Roadside assistance in Spain
If you are planning a driving trip through Spain, check out our European breakdown cover page for a quote. Our cover ensures driving in Spain is never a worry – if your vehicle breaks down, we'll help.
We offer alternative accommodation and travel arrangements, recovery of your vehicle back to the UK, and up to £50,000 in legal costs.
---
20 June 2022