If you're planning a trip to Italy, it's important to make sure you're fully aware of the traffic laws and rules of the road, and how they differ from the UK. It's also a good idea to ensure that you prepare for any unexpected eventualities that could happen by purchasing AA European Breakdown Cover before you go.
Our comprehensive guide covers everything you need to know, from required documents to general road rules and information about fuel, parking and fines.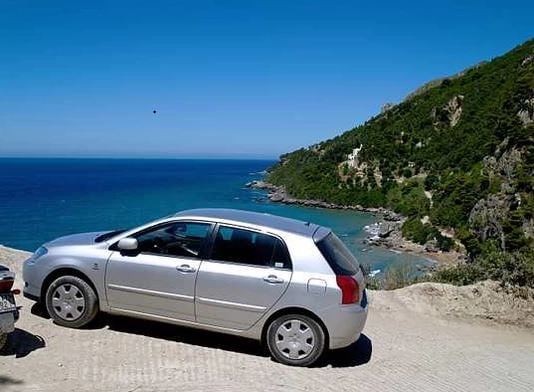 Important information for driving in Italy
What documents and itemsdo I need to drive in Italy?
There are certain documents that you must have in your car when driving in Italy. If you don't have these documents (and other legally required items listed below), you might get a fine or other penalty.
Valid UK driving licence

. The legal age to drive in Italy is 18, and you must hold a full, valid driving licence. Many car rental companies will need you to be over 23 years old (sometimes 25) to hire a vehicle, but there are also some companies that allow rental to younger people.

Vehicle insurance documents.

Always carry your insurance certificate with you in case you're stopped and asked to present proof of insurance.

Proof of identity.

A form of identification, such as a valid passport.

V5 registration log book (or a VE103 document for rented vehicles).
There are also other items you will need to have in your vehicle when driving in Italy. These are:
A UK sticker

. On 28 September 2021, the GB sticker requirement was changed to a UK sticker. This means that GB stickers are no longer valid. If your number plate has a Union Flag with 'UK' under it on a blue background (or green for EVs), then you can drive in Europe. If not, you will need a UK sticker.

Warning triangle.

You must carry a warning triangle for use in the event of a road accident or breakdown.

Spare tyre.

You must carry a spare tyre and the tools required to change it in case one of your car's tyres is damaged.

Reflective jackets for each occupant.

These must be worn by both the driver and passengers outside stationary vehicles on the road, outside built-up areas, at night or in conditions of poor visibility. You also have to wear them when you set up the warning triangle after a breakdown, or if you exit the car when stopped in the emergency lane.

Headlamp beam deflectors.

In the UK, headlamps are aligned to the left, which is an issue when driving in Italy as this means they shine into oncoming traffic. Beam deflectors can correct this.

Winter tyres or snow chains.

These must be used at certain times of year and in certain conditions. See our winter tyre requirements section below for more information.
A first aid kit and fire extinguisher are recommended, but not mandatory.
If you're on a motorbike, you'll also need a safety helmet for you and any passengers.
Do I need a green card to drive in Italy?
As of 2 August 2021, drivers don't need to carry an insurance green card when driving in Italy.
Limited Traffic Zones (ZTL)
Many city centres across Italy have traffic restriction zones - ZTL/Zone a Traffico Limitato. These areas can't be entered unless you have specific permits. The days and times of these restrictions vary between cities, but the 'no vehicles' sign (red circle/white background) and associated conditions are always very clear.
These zones are often disabled on weekends, but you should always check the rules for each city very carefully.
Low Emission Zones
Italy has various low emission zones, operating with different standards and rules. You can find more information about the areas affected here.
Milan Area C
The centre of Milan – Area C – is a combined urban road toll (congestion charge) and Low Emission Zone. This means you must pay to enter, and only vehicles meeting certain emissions standards may enter.
Charges apply on weekdays only, between 7.30am and 7.30pm. Tariffs vary according to the emissions of the vehicle. Electric vehicles, hybrids, mopeds and motorcycles can enter free of charge. M1 vehicles emitting less than 100g/km are free until 1 October 2022. All other vehicles must buy a day pass to enter Area C.
Road rules in Italy
What is the legal age to drive in Italy?
The legal driving age for cars or motorcycles over 125cc in Italy is 18 years old, and all drivers need a full and valid driving licence.
You must be at least 16 years old to ride a motorcycle up to 125cc, with a full and valid driving licence.
What side of the road do I drive on in Italy?
All traffic in Italy drives on the right-hand side of the road, not on the left like the UK. If you hire a car, the driver's seat will be on the left side of the car.
Who has priority?
At junctions, drivers coming from the right always have priority unless indicated by road signs.
Trams and trains always have right of way.
Make sure you always give way to vehicles with sirens and flashing lights, like ambulances.
How do I overtake?
You must only overtake on the left side of a vehicle you want to pass.
On roads with two or more lanes, you must occupy the free lane furthest to the right as the left lanes are reserved for overtaking.
Warning of approach
You mustn't use your horn in built-up areas unless there is immediate danger. If you need to give a warning, you should flash your lights instead.
Speed limits in Italy
All speed limits (and distances) in Italy are in kilometres and metres, as Italy uses the metric system.
Motorways:

130 km/h (around 80 mph). In poor weather conditions (e.g. rain or snow), this drops to 110 km/h.

Dual carriageways:

130 km/h (around 80 mph).

Main roads:

90 – 110 km/h (56 - 68 mph). This can change depending on where you are, so always make sure to check the road signs.

Built-up areas, like towns and cities:

50 km/h (around 31 mph).
Speeding fines in Italy
Speeding fines can vary depending on how far above the speed limit the offender's driving, or what kind of road they're driving on. More serious offences may also result in the confiscation of the driving licence or even imprisonment.
Since the UK's departure from the European Union, EU countries can no longer write to or send fines to UK drivers for offences caught on camera, such as speeding. However, exceeding the speed limit could still result in an on-the-spot fine and other serious repercussions, as well as endangering your safety and the safety of others.
Speed camera detectors
Radar speed checking devices are banned in Italy. However, you're allowed to use a GPS system that can provide the location of speed cameras.
Traffic lights in Italy
Italy uses the international 3-colour traffic light system.
Seat belt rules in Italy
Seat belts are compulsory for adults and children in both the front and back seats when driving in Italy.
If caught without a seat belt, both the driver and passengers may receive a penalty.
Child seat regulations in Italy
Children under the age of 12 – or under 1.5m tall – need to use an approved child safety seat.
Children taller than 1.5m can use an adult seatbelt.
Drink-driving laws in Italy
For drivers who have had their licence for 3 or more years, the legal limit is 0.5g of alcohol per litre of blood, which is just over half the 0.8 g/l limit in England, Wales and Northern Ireland.
For drivers with less than 3 years on their licence, the legal limit is reduced to zero – this means you can't drive if you have consumed any amount of alcohol.
If you go over the legal limit, you'll face a fine.
Mobile phones and headphones
Using a mobile phone while driving is strictly forbidden. It's also forbidden to wear headphones while driving, however use of a headset with one earpiece is allowed.
Using your mobile while driving can lead to a very heavy fine.
Completely hands-free mobile phone units are allowed.
Lights
Dipped headlights must be used during the day outside of built-up areas and when visibility is poor (e.g. snow and rain). They must also be used in tunnels.
You can only use rear fog lights when visibility is less than 50m, or in case of strong rain or intense snow.
Headlamp beam deflectors need to be used by UK drivers to adapt to driving on the right-hand side of the road. These stop headlights from dazzling other drivers.
Tyre requirements in Italy
The tread depth on a tyre should be no less than 1.6mm when driving in Italy.
Winter tyre requirements
Snow chains or winter tyres must be used between November and April in areas where there's more risk of snow or ice. Drivers are notified of the requirement to fit snow tyres or carry snow chains by road signs in affected areas. You can find out more about affected areas.
If you don't comply, you may be fined between €80 and €318.
If you're using snow chains, you must not drive over 50 km/h (31mph).
Motor insurance in Italy
All vehicles driving in Italy must have a minimum of third-party insurance cover. You'll need to have your insurance documents with you at all times.
Fines in Italy
On-the-spot fines
Police can issue on-the-spot fines for a variety of offences, including exceeding the speed limit and drink-driving. More serious offences may also lead to the confiscation of the licence.
On-the-spot fines can be paid immediately, or a deposit can be paid. If the driver refuses to pay both the fine and the deposit, their car can be confiscated by the police.
Parking fines
If you park illegally, your vehicle may be towed away and you may also have to pay a fine.
Parking regulations in Italy
Parking areas in large cities are marked by coloured stripes. Usually, white stripes indicate free parking spaces, yellow indicate reserved parking (e.g. disabled spaces), and blue indicate paid parking at varying rates.
All information regarding parking costs and the times they apply is clearly noted on signs and payment columns.
Disabled parking in Italy
Negotiations are taking place about the recognition and use of UK Blue Badges in some European countries since Brexit. In Italy, it's currently undecided whether UK Blue Badges are recognised. Check with the Italian Embassy before travelling.
Fuel in Italy
Availability of fuel
Unleaded petrol ('Senza Piombo' – 95 and 98 octane), diesel (Gasolio) and LPG are widely available in Italy.
Leaded petrol isn't available. You can carry spare petrol in a can.
Fuel prices in Italy
Fuel prices in Italy, as with everywhere else, may vary. Check current prices before you travel.
How do I pay for fuel in Italy?
Credit cards are accepted in most stations, but it's worth checking with your bank before travelling.
Electric cars in Italy
Where can I charge my electric car in Italy?
You can use an online map like Chargemap to find electric vehicle charging points in Italy. The majority are in or around large cities.
How do I pay for electric car charging?
Credit cards are accepted at most charging points, but it's worth checking with your bank before travelling.
Tips for driving an electric car in Italy
Plan your routes in advance using a map of charging stations, so you can recharge as needed.

Plan to charge your electric car overnight if possible.

Download and register with apps to use and pay for charging points to make the process smoother.

Avoid periods of high congestion, especially in built-up areas, as sitting in traffic for long periods can drain your electric car battery.
Riding a motorcycle in Italy
Motorcycle regulations
All motorcyclists must use dipped headlights during the day on all roads.

Riders, including drivers and passengers, must wear a crash helmet. Your bike could be seized if you or your passenger are not wearing a helmet.

You must not carry a child under 5 years old on a moped or motorcycle.

You may only carry a passenger if the registration certificate states that the bike is designed to do so.

If your motorcycle is under 150cc, you must not ride on motorways.

You must have at least one rear-view mirror (two if your motorcycle is capable of more than 100 km/h).
Driving with a caravan or trailer in Italy
Cars towing caravans aren't allowed to go over 12 metres in length, 4 metres in height and 2.55 metres in width.
Speed limits for cars towing a caravan or trailer
On motorways and dual carriageways, the speed limit for vehicles with a trailer is 80 km/h. On main roads the limit is 70 km/h, and in built-up areas like towns and cities the limit is 50 km/h.
Tolls in Italy
Most motorways in Italy use tolls. The toll fee is either pre-determined or calculated depending on the vehicle category and the length of the toll section.
You can check which motorways require a toll payment here.
Paying for tolls
Generally, you can either pay in cash or with a credit card. Toll booths in Italy are designed for right-hand drive cars, so left-hand drive cars might find it difficult to pay without a passenger.
You can also use an electronic toll tag – called Telepass – to avoid queues by driving in a specified toll tag lane without having to physically stop and pay.
Toll-free routes
If you wish to avoid tolls, an alternative to motorways is the network of state roads. These are indicated by blue signs, and have no tolls.
These routes are a lot slower, but they often offer beautiful views.
Roadside assistance in Italy
If you're planning a driving trip through Italy, check out our European breakdown cover page for a quote. Our cover ensures driving in Italy is never a worry – if your vehicle breaks down, we'll help.
We offer alternative accommodation and travel arrangements, recovery of your vehicle back to the UK, and up to £50,000 in legal costs.
---
23 June 2022