In order to pass your driving test, you'll need a good knowledge of the Highway Code. But you will also find this article helpful during everyday driving.
We explore what is the Highway Code? What does it cover? And is it against the law to break the Highway Code?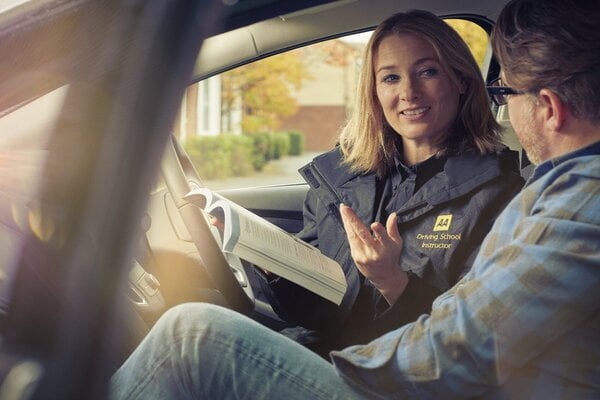 In this article:
What is the Highway Code?
The Highway Code is a comprehensive guide to the rules of the road. It was first introduced in 1931 and is now updated regularly to reflect developments with vehicles, driving practices, and the law. Its aim is to make roads safer for everybody.
By learning and applying the Highway Code while learning to drive, you should become a safer driver. You can pick up copies of the Highway Code book from bookshops and online retailers.
You can also read the official Highway Code online at GOV.UK. This covers England, Scotland, and Wales.
There's a different version of the Highway Code for Northern Ireland.
What does the Highway Code cover?
It is essential you read the Highway Code. It applies to all road users, including the most vulnerable: pedestrians, older people or disabled people, cyclists, motorcyclists, drivers, and horse riders. All road users should we aware of the highway code and make decisions considering each other.
Rules for pedestrians
Rules for users of powered wheelchairs and mobility scooters
Rules about animals
Rules for cyclists
Rules for motorcyclists
Rules for drivers and motorcyclists
General rules, techniques, and advice for all drivers and riders: This covers topics such as speed limits, signalling, stopping and lane driving,
Using the road: This covers general rules on using the road safely, including junctions, crossings, roundabouts, and overtaking.
Road users requiring extra care: This covers vulnerable road users, such as cyclists and pedestrians
Driving in adverse weather conditions
Waiting and parking
Motorways
Breakdowns and incident
Roadworks, level crossings, and tramway
Light signals controlling traffic
Signals to road users
Signals by authorised persons
Traffic signs
Road markings
Vehicle markings
Plus there are additional sections that cover the law, penalties, vehicle maintenance and first aid, among other topics.
Does the Highway Code cover road signs?
The Highway Code does cover the vast majority of road signs, from the common to the obscure. Other recommended reading includes '
Know your traffic signs
'. This covers the signing system, regulatory signs, speed limit signs, and all other signs in Great Britain.
Do I need to know the Highway Code to pass my driving test?
You will need a good knowledge of the Highway Code in order to pass each part of the driving test. The first part of the driving theory test, which is a multiple-choice test, is only about The Highway Code and driving theory.

Also, during the practical driving test, you'll need to show a working knowledge of the Highway Code to your examiner.
Is the Highway Code the law?
Some Highway Code rules are legally binding. These are highlighted by the use of 'MUST' or 'MUST NOT' in the text.

For example, rule 106 concerns police stopping procedures. If a police officer wants you to pull over, then you must do this when it's safe to do so. This is a legal requirement, and you're breaking the law if you don't.

Breaking these laws could land you with a fine, penalty points on your licence, or in some cases prison sentences.

The rest of the Highway Code provisions are good practice, but not necessarily legal requirements. That's not to say you shouldn't take them seriously, and breaking the Highway Code may still have legal consequences.

For example, rule 148 of the Highway Code notes that driving requires concentration. As such certain distractions should be avoided. Listening to loud music, eating or drinking, and smoking are given among the examples.

This doesn't mean that it's illegal to do any of these things while driving. What it does mean is that they could be a contributory factor in an offence. If you crash while eating something, you might be charged with dangerous driving, with the Highway Code violation providing supporting evidence.
The AA edition of the Highway Code is available to order online and from all bookshops.