24 June 2019
AA patrols at this year's Glastonbury Festival (26-30 June) are geared up for a busy few days following recent heavy rain, with wet and muddy conditions expected before car parks open from 9pm on Tuesday (25 June).
But festival goers needn't let the rain dampen their spirits, as the AA will once again have a small army of patrols and volunteers ready to help keep them on the move this year.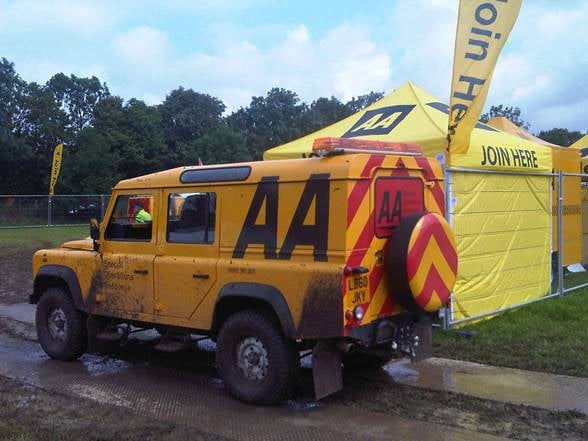 Happy campers
The last festival (2017) saw the AA attend around 400 stricken vehicles – most caused by flat batteries, lost keys and cars stuck in mud – with many happy campers back on the road thanks to permanent repairs by on-site patrols.
Revellers who encounter car trouble this year aren't far from help either, as AA repair compounds can be found on both the East and West side of the car park complex, each with double-bay fully enclosed workshops on a hard standing.
The AA will also be managing electric vehicle charging with 10 charge points set up at the West compound, inside Bronze gate.
Peak times
The motoring organisation will have more than a dozen patrols on site throughout the event to carry out repairs, whilst vehicle owners enjoy music from bands including headliners The Killers (Saturday) and The Cure (Sunday).
The number of patrols will more than double on Monday morning; the peak time for breakdowns as crowds leave the festival.
Steve Ives, chief road operations engineer at the AA, warns that prevention is better than cure: "Most of the problems at the end of the festival are caused by mistakes made at the start, such as forgetting where you have parked or leaving lights on. Many of these are avoidable so, while we're on-hand to help throughout the event, there are some tips drivers can follow now to avoid car trouble on Monday morning.
"When you park, make sure all the lights are switched off to avoid draining the battery. Store your keys in one place until it's time to pack up and go home, so you know where they are when you need them. And keep a note of the car park number and colour; AA staff will be on hand with cards to help remind you where you left your car, so look out for them when you arrive."
"Most of the problems at the end of the festival are caused by mistakes made at the start"
He added: "When you're ready to leave the festival, there are a few tricks that can help you avoid getting stuck. First of all, swap muddy wellies for clean shoes – it's a good idea to keep a spare pair in the boot – and take it easy with the right foot. Try pulling away in second gear to reduce wheel spin and, if you do get stuck, place some cardboard or even car mats in front of the driven wheels to help regain traction.
"Hopefully the sun will come out but whatever the weather, we're here throughout to help you enjoy the festival without fear of a breakdown ruining your plans. Our motto, 'Anything can happen', is all about making life a little easier in the face of unpredictability, and Glastonbury is the perfect example of that!"