27 February 2019
A hydrogen-powered 1,000-mile journey across the UK has successfully been completed with help from the world's first portable mini hydrogen dispenser, transported by the AA.
The trip saw the AA work with a number of British companies to support the new Hyundai Nexo's incredible journey from London to Edinburgh with zero tailpipe emissions.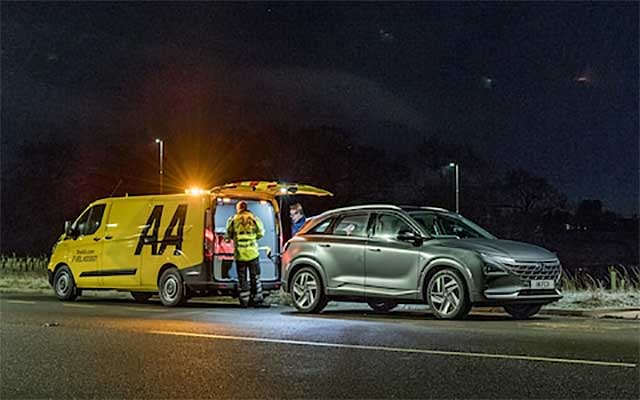 Image credit: Alex Tapley
World-first solution
The journey recreated a historic route completed by car enthusiasts in the early days of motoring – with new detours for hydrogen stations.
With only 12 hydrogen refuelling stations currently available in the UK, the trip was supported by an AA Fuel Assist van fitted with a mini hydrogen dispenser – an emergency fill option equivalent to a 'jerry can' developed by Fuel Cell Systems Ltd - creating a world-first alternative re-fuel technical development vehicle.
Emergency roadside re-fuelling
The unique van, which was operated by the AA's Patrol of the Year, is being used to trial mobile emergency refuelling capability for alternative-fuelled vehicles such as Fuel Cell Electric Vehicles (FCEVs) and Battery Electric Vehicles (BEVs).
While in the early stages of development, this innovation creates an emergency charge unit which puts the AA at the forefront of new re-fuelling breakdown solutions.
Technical development project
George Flinton, AA Patrol of the Year, said: "The mini hydrogen dispenser was fitted into one of our Fuel Assist vans as part of a technical development project in collaboration with Fuel Cell Systems Ltd, allowing the safe refuelling of Fuel Cell Electric Vehicles at the roadside.
"The journey was well planned so we didn't expect to use the dispenser for an emergency re-fuel, but as the snow created delays we did ultimately need to bring it into use. It only took a matter of minutes to set up and fill, which provided 35-40 miles of range. This was more than enough to get us back to the nearest filling station, but it does highlight the need for more re-fuelling infrastructure if hydrogen is to take off in the UK."
"Hydrogen could well be part of any future solution"
Edmund King, AA president, said: "Whilst most of the talk around the powering of future vehicles has been electric, it is only right that we keep all zero-emission tailpipe options open. Hydrogen fuel cell vehicles can be refuelled quickly and only emit water via the tailpipe. Hydrogen could well be part of any future solution, particularly for larger vehicles, so we are delighted that the AA has been fully involved in this important trial."
What is a Fuel Cell Electric Vehicle?
What is a Fuel Cell Electric Vehicle (FCEV)? AA Patrol of the Year explains
George explains: "An FCEV is similar to a conventional Electric Vehicle (EV), but with no large battery to store electricity. Instead, compressed hydrogen, which is stored in tanks, reacts with oxygen to generate electricity in 'the stack' at the front of the vehicle. This is fed into the traction motor, with any excess electricity charging a smaller onboard battery to help to smooth peak power demands.
"It allows the vehicle to be refilled with hydrogen at a dispenser in approximately 4-5 minutes – a similar re-fill time to conventional petrol or diesel vehicles.
"The only bi-product of the reaction in the stack is water, so if the hydrogen gas has been produced through sustainable methods (wind, solar, etc), then this fuel is completely emission free."