The holiday season can mean high temperatures, increased stress levels, and extra demands on your car – so here's our advice to help with the bigger challenges of summer driving.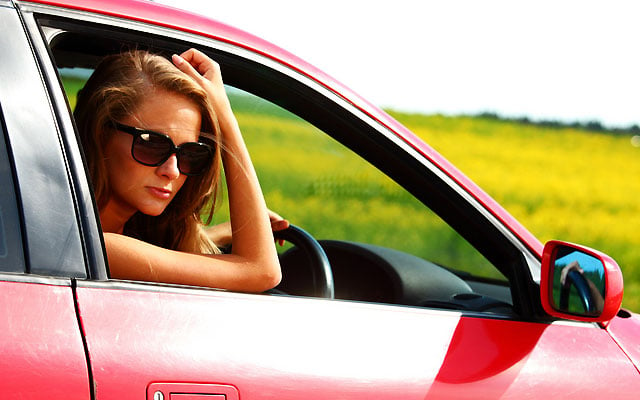 Wet or lost key fobs
It's easy to lose your car keys in the sand, or ruin your remote control with water by accidentally taking the fob for a swim.
Keep your keys safe and dry and check your handbook – on most cars, there's an alternative way to open the doors that you can use if the remote stopped working.
Do you need a replacement car key or key fob?
Call Key Assist on 0800 048 2800. Our specialist technicians will come to you wherever you are – we're a fully mobile service operating nationwide.
Learn more about our Key Assist service
Punctures
If your tyres are already damaged or they're at the wrong pressure, the higher temperatures of summer will increase the risk of a blowout.
Make sure you check tyres regularly – for condition and pressures – and increase pressures to suit extra loads, as advised in your handbook.
Check caravan tyres too, and replace those that show any signs of cracking in the sidewall or tread grooves.
Overheating
High temperatures can aggravate cooling system problems too. It's important to check the coolant and cooling system regularly to avoid overheating.
Glare
Dazzle from the sun causes lots of accidents but you can reduce the effect by keeping your windscreen nice and clean, and by replacing worn or damaged windscreen wipers. Read our top tips on how to wash a car.
It pays to keep a clean pair of sunglasses in your car year-round but avoid lenses that darken in strong sunlight.
Driving tired
If you feel tired, stop and take a short nap (up to 15 minutes) or drink two cups of strong coffee.
It's best to avoid getting tired in the first place if you can. Try these tips:
Include a 20-minute break in journeys of more than three hours.
On longer trips, take a break every couple of hours.
Take several short (at least 20 minutes) stops rather than one long one.
Don't drink alcohol or eat a heavy meal before driving.
Also, don't stop for a nap on the hard shoulder – and make sure you check parking restrictions before putting your head down at a motorway service area, as you could get a ticket for overstaying your welcome.
Hayfever
If your hayfever is particularly bad, it's best to get someone else to drive if you can. Also:
Make sure any medication you're taking doesn't cause drowsiness.
Close windows and air vents to reduce pollen grains in the car.
Clean mats and carpets regularly to get rid of dust.
Keep tissues close to hand.
Wear sunglasses to block out bright sunlight.


Slow down and drop back if you feel you're about to sneeze – at 70mph you'll lose vision for up to 100m
Loose chippings
Roads repaired with tar and loose chippings are a common sight in the summer, but they can cause cracked headlamps and windscreens, and damage paintwork if you're not careful. Stick to any temporary speed limit that's been put in place and keep your distance from the car in front.
Fire
If you're a smoker, don't just throw your cigarette out of the window when you've finished it. Verges and embankments can become bone-dry and a smouldering cigarette may be enough to ignite roadside grass.
Tractors
The driver of that slow-moving tractor in front of you may have a soundproofed cab, or could be wearing ear protectors, so may not be able to hear approaching cars.
Be aware that tractors only have to have brake or indicator lights if driving at night, so they may stop or turn suddenly and without warning in daylight hours.
When you're driving in the countryside:
Keep plenty of distance behind a tractor.
Remember that a tractor may be longer than it appears – there could be a loader on the front.
Before overtaking, make sure you have plenty of room to get past.
Avoid a breakdown this summer
Slow down if you come across a spillage – if you hit a bale of straw at speed you'll damage your car.
Don't park in a gateway or passing place – they are farmers' field access points.
Drive extra carefully after rain, which can turn dry mud into a skid pan.