We all want to avoid the frustration and expense of a parking ticket.
The problem is, sometimes it's hard to know what the rules are when it comes to parking. Yellow lines, white lines, red lines - they all have different restrictions.
So read on to learn when and where you can park (without crossing the line).

Parking, waiting and stopping - what's the difference?
It can be a little confusing to work out what the difference is between 'no stopping' and 'no parking'. The best way to understand the difference between parking and stopping is to get literal.
A 'no stopping' sign, or 'clearway' sign, means no stopping whatsoever - even to drop someone off.
A 'no waiting' or 'no parking' sign lets a driver stop temporarily, maybe to let out a passenger or unload some goods, but you can't linger there.
A 'no waiting' sign with a single yellow line means you can't wait there during the times shown on the sign.
'No waiting' with double yellow lines means no waiting or parking at any time, unless there are exceptions listed on nearby signs.
The basics of parking
The easiest and safest place to park is in a marked parking bay, either in a car park or at the road side. They're purpose built to provide parking spaces that are more secure, usually monitored by CCTV and in a good location for local amenities. These are marked by a large white 'P' on a blue background.
Some parking is free, while others will need to be paid for. If you're looking for free parking, some shopping centres or supermarkets will let you park for free for a set number of hours, or waive the parking fee if you show them a receipt.
Some parking bays will also have limitations on how long you can stay and what type of vehicle can park there. Make sure you read the signs carefully, park within a bay and buy a ticket to cover the length of your stay.
You can use our app to help you find parking.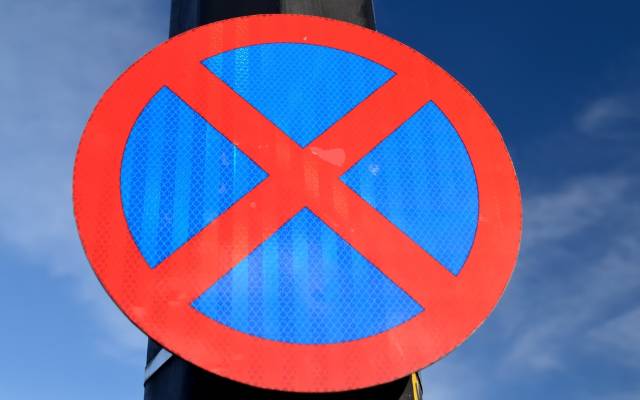 Can I park on a single yellow lines?
Single yellow lines mean no waiting or parking during the times shown on nearby signs or at the entrance to a controlled parking zone. There are no standard times or rules so you must always check the signs before waiting or parking.
You can usually stop to drop off or pick up passengers unless signs say otherwise or there are small yellow lines marked on the pavement at right angles to its edge. If these yellow markings are in pairs, it means no loading or unloading at any time - if they're single markings, check the signs for what you can and can't do.
Can I park on double yellow lines?
The Highway Code explains that double yellow lines "indicate a prohibition of waiting at any time even if there are no upright signs."
When it comes to double yellow lines, the best bet is to assume that you can't park there at any time.
There are some exceptions.
You might be allowed to quickly stop to load or unload heavy goods.
If you're a Blue Badge carrier, you can usually park on both double and single yellow lines for up to 3 hours, providing you have your badge clearly on display.
These exceptions won't always apply though, so check for local signs or kerb edge markings. If there are pairs of short yellow lines over the kerb edge you're not allowed to load at any time. Even with a Blue Badge you musn't park anywhere where there are loading restrictions.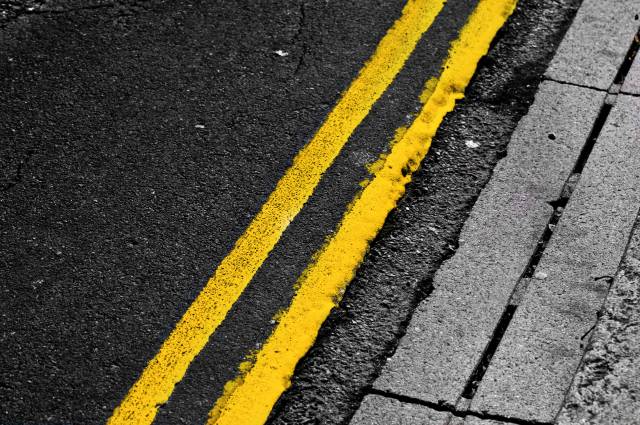 Can you park on yellow lines on Sunday?
Not by default - it depends on what the local signs say. But you're free to park there on any days that aren't restricted by instructions on the sign.
Bank holiday parking
Some people might assume restrictions on parking around busier routes don't apply on a bank holiday since the usual traffic of people won't be there. This is wrong.
If the signs state that the parking restrictions apply Monday to Saturday, 9am-6pm, as an example, these will still be in place if it's a bank holiday - unless signs specifically exclude this.
Single red line parking
Single red lines mean you can't park, stop or load during specified time periods that should be displayed clearly on surrounding signs.
What about double red lines?
A double red line means no stopping, parking or loading at any time.
On some urban main roads in London, Birmingham and Edinburgh you'll see these red lines, often referred to as 'red routes'.
You can stop on a single or double red line to pick up or set down a Blue Badge holder - the badge must be displayed clearly and you must move off promptly.
Where you see a Blue Badge parking sign, check the sign for restrictions on times or days.
Single white line parking
Where the road has a solid, unbroken white line running along the side, parking is considered legal.
In some cases, the single white line is there to indicate that there's no pavement – if this is the case then it's illegal to park there.
Can I park on residential streets?
Many residential streets will have on-street parking bays marked out. However, these are often only for permit holders. That means you need to live in the area, pay for a permit and display it in your vehicle to park there.
Some permit parking restrictions only apply during certain hours of the day or days of the week. Check the parking signs to see if there are times when you're allowed to park there without a permit.
If there aren't any signs to restrict parking, you can park on a residential street as long as you follow all the other rules about yellow lines, double yellow lines and white lines. (And make sure not to park on the pavement in London unless signs allow it.)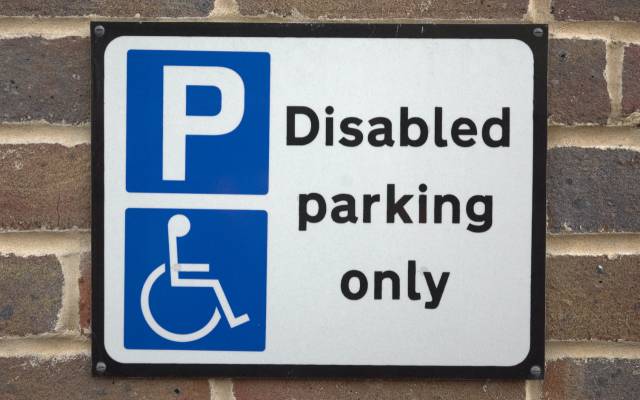 What about disabled spaces?
The Blue Badge Scheme specifies how many disabled parking spaces a council needs to provide in council car parks or on-street. If you park in a disabled bay and you don't have a Blue Badge displayed, you could get a fixed penalty notice.
In private car parks like supermarkets, the council doesn't have the power to issue tickets. There may be a private company enforcing the parking rules which can issue a fine (a parking charge notice) or you might be asked to move your car.
Is it the same for parent and child spaces?
Parent and child spaces are usually offered in private car parks like shopping centres and supermarkets.
As with disabled spaces in private car parks, you could be asked to move your car if you've wrongly parked there. Check the signs to see if there are guidelines on the age of the children it applies to as well.
Places you can't park – ever
It's handy to know the places where you're simply never allowed to park, no exceptions. These are:
the carriageway or the hard shoulder of a motorway except in an emergency
a pedestrian crossing, including the area marked by the zig-zag lines
a clearway
taxi bays as indicated by upright signs and markings
an Urban Clearway within its hours of operation, except to pick up or set down passengers
a road marked with double white lines, even when a broken white line is on your side of the road, except to pick up or set down passengers, or to load or unload goods
a tram or cycle lane during its period of operation
a cycle track
red lines, in the case of specially designated 'red routes', unless otherwise indicated by signs
What happens if I park where I shouldn't?
Penalty Charge Notices, commonly called parking tickets, are issued by Civil Enforcement Officers (England and Wales) or Parking Attendants (Scotland).
There's no fixed amount, and the cost depends on where you get your ticket - charges are usually higher in London. You usually have 28 days to pay, but if you pay within the first 14 days the amount can drop by 50%.
You'll receive a Parking Charge Notice if you park illegally on private land. Privately owned car parks can set their own restrictions and fines so always look for signs regarding parking restrictions.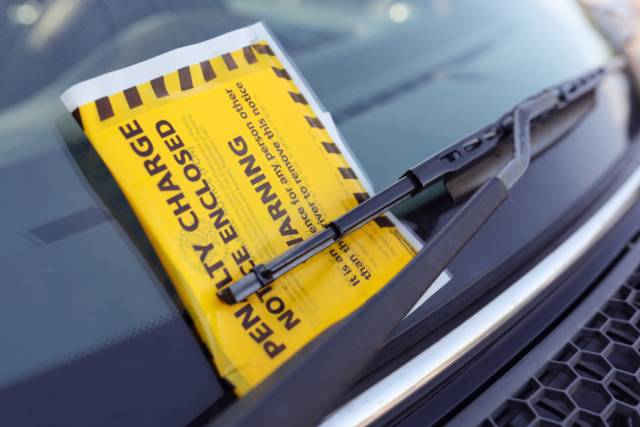 Parking rules exceptions
During a big event
Watch out for different rules and restrictions when there's big sporting events, festivals like Glastonbury or a big concert. It could mean parking is only allowed for residents during the event or over a weekend. In some cases, parking could even be completely suspended for everyone.
In the weeks leading up to an event that's expected to cause disruption, the local councils should usually have signs up explaining what's going to change.
Electric cars
Many urban councils allow free or discounted parking for electric cars in parking bays where you'd normally need a permit or have to pay. You can find your council's homepage on Gov.uk to check if discounts apply.
Parking in London
Parking rules in London mean that parking commercial vehicles in residential streets overnight is banned in boroughs across the city.
Rule 244 of the Highway Code states:
'You must not park partially or wholly on the pavement in London, and should not do so elsewhere unless signs permit it. Parking on the pavement can obstruct and seriously inconvenience pedestrians, people in wheelchairs or with visual impairments and people with prams or pushchairs.'
The restrictions usually kick in around 6:30pm to midnight and from midnight to 8am, 7 days a week.
---
Published: Friday 6 September | Updated: Friday 6 September