Having a delish car picnic lined up for a road trip is a fab idea - it's something fun everyone can look forward to.
Some of these car snacks contain liquids and sticky stuff. To protect your upholstery, go for the 'less mess' options.
Breakfast on the go
Who has time for sitting around the kitchen table? Here are some 'grab and go' ideas for breakfast in the back seat.
Suggested age range: 8 years +
Apple and granola crunch. Core and slice an apple, and in a small Tupperware pot, mix a tablespoon of almond butter with a teaspoon of honey and a handful of granola. Mix the granola dip well and pop the apple slices in a separate tupperware box. The dip shouldn't be runny and won't spill over clothes or school uniforms.
Simple cereal pot. Just fill a round Tupperware pot with cereal and add a small amount of milk or yoghurt. Eat on the go, but make sure kids properly re-seal the Tupperware when they're done so no milk leaks out.
Chilled berry pot with oatmeal. Half fill a small Tupperware box with oatmeal and add 2-3 tablespoons of yoghurt; mix well. Chill overnight and in the morning add berries with a sprinkling of cinnamon. The oatmeal should be nice and soft, and will keep kids full until lunch.
Freezer pancakes with chocolate spread: Batch-cook mini pancakes, and store them in a Tupperware box in the fridge (you can keep them for up to 5 days). Before you leave, toast them for one minute then add a small topping of chilled chocolate spread or jam and wrap in kitchen towel for the journey; eat within 15 minutes.
'Less mess' alternatives
Suggested age range: 5 years +
Dried apricot and raisin mix
A plain toasted crumpet (really good for fussy eaters - and lots of kids love the spongy texture).
A handful of chopped grapes.
Breakfast bars and biscuits; the Belvita and Nature Valley range are really good, or you could always make your own?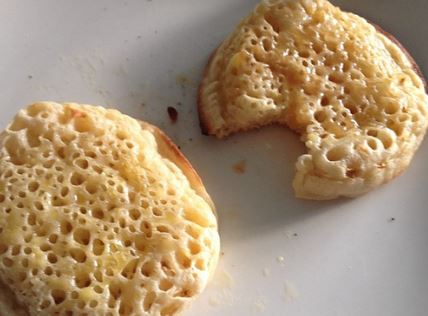 Afternoon pick me up nibbles
Picking up hungry kids from school? Here are some picnic food ideas which will keep them going until dinner.
Suggested age range: 8 years +
Cheese, pesto hummus and cheddar bites: Pack 10-20 small squares of cheese into a sandwich bag. For the dip, add a teaspoon of pesto to a fresh pot of thick hummus. Mix it up, and transfer the pesto hummus to a round Tupperware pot. Dip the crackers into the hummus and add a square of cheese on top.
Avocado salad: Chop an avocado, some feta and some cherry tomatoes into squares. Mix together, season with salt and pepper, and add a dash of olive oil. Store in a Tupperware box - and eat with a fork!
Cheesy crisp wraps: Spread a plain wrap with a thin later of hummus, then add a small handful of salad, grate a handful of cheese onto the wrap, and top with a handful of plain crisps. Roll up the wrap in tin foil and eat within one hour, otherwise the crisps go soggy.
Tortilla slices: Simply buy a pre-made tortilla, cook it at home, allow to cool, then cut into slices and add to a Tupperware box. This goes well with cheesy crisp wraps.
Light potato and ham salad: Cook and drain some new potatoes, then chop them in half. Add a tablespoon of light mayo, sprinkle with chives, and season. Add some cubed cooked ham and stir in; this will keep in the fridge for 2-3 days. Eat this within a couple of hours when you take it out of the fridge.
Veggie kebabs: Season grilled aubergine, pepper, mushroom and courgette cubes, and serve on round-ended wooden stirrers (like the ones you get in Costa, so they're safe for smaller diners).
Grilled cheese sandwiches taste even better cold, and they hold together well. Cut them into fingers to serve.
Do-it-yourself snack boxes are great for keeping kids occupied while they stack their snack. Fill a Tupperware box with crackers, and use a separate box to store strips of ham, grilled chicken pieces, halved cherry tomatoes and lettuce leaves. If you'd like to add cheese, try manchego - it doesn't melt easily and you only need a small amount.
'Less mess' alternatives
Suggested age range: 5 years +
Mix together unsalted nuts, seeds and dried fruit. You can add chocolate drops to turn up the sweetness.
Sweet pretzels: You can bake them at home; these cinnamon ones look especially tasty.
Small slice of cake.
Vegetable sticks, such as carrots, cucumber and red pepper.
Wholegrain crackers with sliced roast ham.
Smaller car snacks
Suggested age range: 8 years +
Pear and apple crisps: Thinly slice a pear and an apple, and grill on a medium heat at home until they're totally dried out and they've crisped up nicely. These crisps are much healthier than the potato ones and definitely not as greasy.
Popcorn surprise: Mix Maltesers, pretzels and M&Ms into a bag of sweet popcorn. One portion size is three handfuls - store and serve in sandwich bags.
Fruit bags: Chop apples, pears and strawberries and mix together. Store each portion in sealed sandwich bags and serve with a piece of kitchen towel.
Belgian waffle fingers: Pre-cook the waffles at home and slice into fingers. Pack into a Tupperware box and serve with thick natural yoghurt - avoid any kind of syrup or honey!
Cheese and meat nibbles: Pack a medium sized Tupperware box with salami, parma ham, cheese cubes (Babybel works well), olives, breadsticks and dried fruit. Anything that you'd normally put on a tapas board works well, and if you're trying to get everyone to enjoy low carb snacks, just leave out the breadsticks and crackers.
'Less mess' alternatives
Suggested age range: 5 years +
A banana and/or a satsuma.
Serve popcorn without the 'surprise'. You may lose the odd piece, but it won't stain the car.
Flapjack bars. You can buy plain bars in the supermarket or you can have a go at making your own.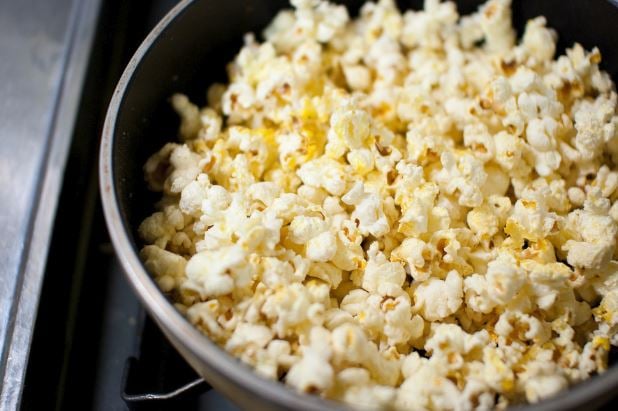 Image credits: Flickr