European countries where you're covered
As an AA Car Insurance policyholder you can drive anywhere in the EU, and in several other European countries, and get the same cover you enjoy in the UK. You'll be covered abroad for up to 90 days during the 12 months of your policy.
Your car insurance is valid in the following countries:
Andorra
Austria
Belgium
Bulgaria
Croatia
Cyprus
Czech Republic
Denmark
Estonia
Finland
France
Germany
Greece
Hungary
Iceland
Ireland
Italy
Latvia
Liechtenstien
Lithuania
Luxembourg
Malta
Netherlands
Norway
Poland
Portugal
Romania
Serbia
Slovakia
Slovenia
Spain
Sweden
Switzerland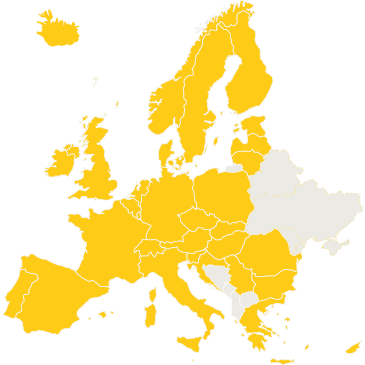 Documents for driving abroad
Take your Certificate of Motor Insurance if you travel in the EU. This provides details of your insurance cover that you'll need to provide if you have an accident.
The multi-lingual leaflet explains how your Certificate of Motor Insurance applies in the countries listed above. You'll find this helpful while driving abroad.
You can use your Certificate of Motor Insurance and our leaflet instead of a Green Card.
The Green Card (or International Motor Insurance Card) is an internationally recognised document that shows that you have the minimum insurance cover needed by law in the country you are visiting. You don't need a Green Card for driving in the countries listed above.
---
Travelling further afield
You'll need to tell us if you're taking your car to a country that isn't listed above. You may need to prove that you have car insurance, not just at the border, but for example after an accident. You can get a Green Card if your insurer will cover you for that country, but you may have to pay a fee for this.
Please call us on 0344 412 4684.
---
Longer trips and business travel abroad
Are you planning to take your car to Europe for more than 90 days? You should let us know in advance, so that we can tell you how much it will cost to get extra insurance cover. You should also let us know if you're planning to use your car for business travel abroad.
Please call us on 0344 412 4684.
---
Breakdown cover
For peace of mind, AA European Breakdown Cover has a 24-hour English-speaking phone helpline for when you're driving abroad.