If you've got a flat battery, we won't just jump-start you and send you on your way.
Put simply, if we can't find the reason for the drained battery or we think that the battery may be faulty, then we'll carry out a battery test.
Our testing process is very thorough – and we'll only ever recommend a replacement if it's really necessary.
Got a flat battery?

Give us a call on 0800 88 77 66,
and we'll come to your rescue.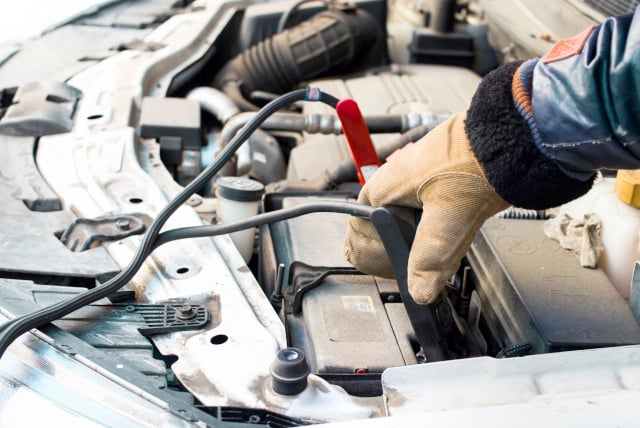 What we'll do to help
Once we reach you, We'll:
Test your car battery
Investigate your car's charging system
Check for a fault that could be draining your battery
Partially charge your battery or replace it, if required, so you can continue your journey.
Testing your car battery's health
We'll take readings and check the condition of your battery to work out how to get you moving again. Because the battery tester's already pre-programmed with data, we can get an immediate printout of your battery's readings compared with what they should be.
The different readings can be:
Good battery: We'll check your car's charging system and investigate what's caused the breakdown, because the fault is not with the battery.


A bad cell: Car batteries contain several 2-volt batteries known as cells. If one is defective, the battery will need to be replaced.


Replace battery: Very straightforward - it's clear that the battery's just not up to it anymore.


Needs charging: This means that your battery is working, but just needs a full recharge. We'll check your charging system to try to get to the bottom of what's drained it, and then give you a jump start. We'll recommend you get a full recharge as soon as possible and advise how long the battery will need to be charged for and how.


Consider replacement: Your car battery has passed the battery test but the result was a borderline pass, showing the battery's coming to the end of its life. The mechanic will give you advice on how soon you should change the battery based on how you use your vehicle.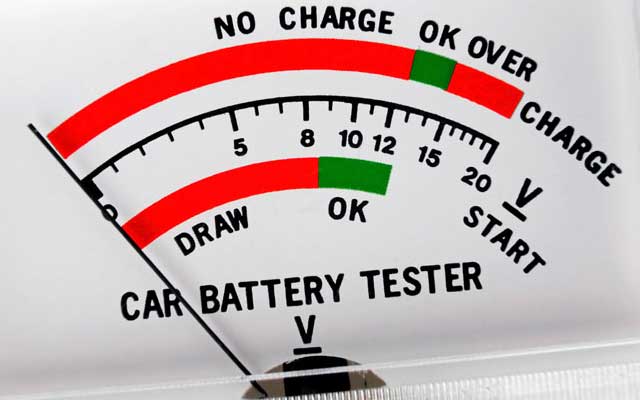 When to replace a car battery:
There's no hard and fast rule about how long car batteries should last, or when they should be replaced.
Most batteries will last somewhere between 5 and 7 years. However, our mechanics see cases where the battery has failed after only 2 to 3 years because of how the car was driven.
As a rough rule of thumb:
If your starter motor struggles to turn the engine over before the battery is 5 years old, it probably means that the battery isn't getting enough charge. This could be because of too many short journeys, or a vehicle fault draining the battery or affecting charging.
Starting problems after 5 years are more likely to indicate that the battery is getting tired and may need replacing.
Why do car batteries go flat?
Most car batteries fail if they're not being used, they're only used for stop-start or short journeys, or because they don't get the chance to recharge properly.
You can take years off the life expectancy of a car's battery - or even halve it - by not regularly fully charging it. This not only costs you money but also risks the inconvenience of a breakdown.
There are all sorts of reasons for battery failure, but the most common are:
A car being left unused for a while, or only used for short journeys
A light being left on
A faulty component
A problem with the car's charging system
A fault with the battery itself
Batteries can fail for other reasons, such as excessive vibration from the engine, over-charging, corrosion and extreme heat or extreme cold.
Plus, modern cars have so many power-hungry creature comforts – from infotainment systems to heaters and USB plugs – that there is more demand on batteries. Today's cars draw around 3 times as much electrical current than a 1970s Morris Minor.
How to keep your car battery healthy
There are a few ways you can avoid getting a flat battery and help to prolong the life of you car's battery:
Try to go for regular long drives to help the battery recharge.
If you only use your car occasionally, and for short journeys, it's worth investing in an intelligent charger or battery conditioner. These can be left connected for long periods without damaging the battery.
Alternatively, you could get a solar charger – it won't charge a battery from flat but will help to keep the battery charged on a vehicle that you don't use much or only use for short journeys.
When you park up and when you start the car, make sure everything electrical is turned off.
Dip the clutch when starting to help take some load off the starter motor and the battery.
Flat battery help with Battery Assist
Last year, a flat battery was our second-biggest reason for a breakdown, and we were called out to more than 300,000 of them.*
Our Battery Assist service will help you whether you're a Member or not. And you can also call us out even if it's not an emergency breakdown situation.
So, if your battery goes flat, we'll charge it or replace it so you can carry on your journey.
*Source: 313,162 AA Attended Breakdowns for batteries, January 2018 – December 2018
Updated 6 March 2019