Drugs, gun and knife crime perceived as bigger threats to teenagers than driving despite global stats to the contrary
AA Charitable Trust Rural Young Drivers campaign teams up with Bauer and adam&eveDDB in one-off radio show, Caitlin's Hour, to highlight the seven in ten fatal young driver crashes happen on rural roads
Caitlin's Hour, on Hits Radio Network and Kerrang! Radio, will celebrate the life of Caitlin Huddleston who died in a rural road crash at just 18
Interactive crash map shows riskiest rural routes for young drivers
36 billboards nationwide to showcase campaign to drivers including one near road of Caitlin's crash
Eight in ten drivers (86%) underestimate the risk driving poses to teenagers, with just one in six (14%) saying they believe it is the greatest threat to their safety.
New research* from the AA Charitable Trust shows that while the perceived risk of driving has not changed significantly (11% in 2008; 15% in 2013; 17% in 2018; 14% in 2021), the perception of drugs being the greatest threat to teenagers' safety has risen from 31% to 39% since 2008.
Yet globally, road crashes are the leading cause of death among teenagers. The latest UK statistics** show 2,223 17-to-19-year-olds were killed or seriously injured in road crashes. And research from the AA Charitable Trust Young Rural Drivers campaign shows rural roads in particular pose a particular danger.
The campaign launched last month, with the publication of ground-breaking new research into rural, young driver crashes and an interactive map.
Road crashes are the single biggest killer of teenagers across the world
Key aims of the campaign include raising awareness that 71% of fatal crashes involving young drivers occur on rural roads.
Overall, the research shows young drivers (aged 17-to-24) are over-represented in rural crashes by 9%, relative to all roads, with the over-representation highest for those aged 17 (27%) and decreasing with every subsequent year.
Young drivers were also shown to face a higher risk of death (2%) or serious injury (15.2%) when involved in a crash on a rural road compared to an urban road (0.6%; 11.3%).
Edmund King OBE, AA Charitable Trust director, said: "Road crashes are the single biggest killer of teenagers across the world, yet the general perception is that the inside of a car is a relatively safe place for them to be.
"Understanding how, when and where young people are involved in crashes is vitally important to being able to improve their safety.
"Our latest research takes an in-depth look at rural roads and the particular and significant risks they pose to young drivers.
"It is heart-breaking to hear about young people who have died in crashes, but we hope that by celebrating Caitlin's life in a special radio show, we will be able to raise awareness of the dangers rural roads pose to young drivers."
Case study
The next stage of the campaign focuses on the story of Caitlin Huddleston, who tragically died in a car crash on the A595 in Cumbria.
Caitlin was just 18 when she died in the crash on July 14th, 2017. She was a passenger in the car, driven by her friend, who was also her brother's girlfriend, Skye, who also lost her life.
Caitlin, Skye and another friend, were driving to a local Italian restaurant for dinner when Skye lost control of the car on a bend and collided with a van. Neither driver was speeding, but the road was wet, and the coroner said Skye was inexperienced and driving too fast for the conditions. The third occupant of the car and van driver were both severely injured in the crash.
Caitlin's mother, Sharron Huddleston, has campaigned for road safety for young and novice drivers and their passengers since losing Caitlin. She said she was not aware at the time of the crash that rural roads were especially dangerous. In fact, just a few months before the crash she was concerned about Caitlin travelling with friends on a motorway journey. Sadly, she didn't think there was a need to be concerned about the journey the girls were making on the evening of the crash, as the girls were just travelling on local roads.
Sharron Huddleston said: "We are honoured that the AA Trust has chosen Caitlin to be the symbol of their rural roads campaign. I hope the 'Caitlin's Hour' radio broadcast and campaign will highlight to young newly qualified drivers and their parents, the dangers of driving on rural roads after passing their driving test and of the fragility of life too.
"I know Caitlin would want me to raise awareness in her memory, to try to help stop what happened to her, happening to any other young innocent people. This is what we are trying to do through 'Caitlin's Campaign'.
"'Caitlin's Hour' will let us honour and reflect on her all too short life".
Caitlin's life will be celebrated in a one-hour long radio programme, Caitlin's Hour, A Late-Night Show to Remember on Sunday June 6th. It will run across Kerrang! Radio and the Hits Radio Network between 2am and 3am – a time the AA Trust research has pinpointed represents a significant risk to young drivers on rural roads, particularly for crashes involving fatigue or substance impairment.
Drivers will also be alerted to 'Caitlin's Hour' by 36 billboards switching on nationwide when the show airs. A special billboard will also promote the show in advance close to the road where Caitlin was killed in Cumbria****.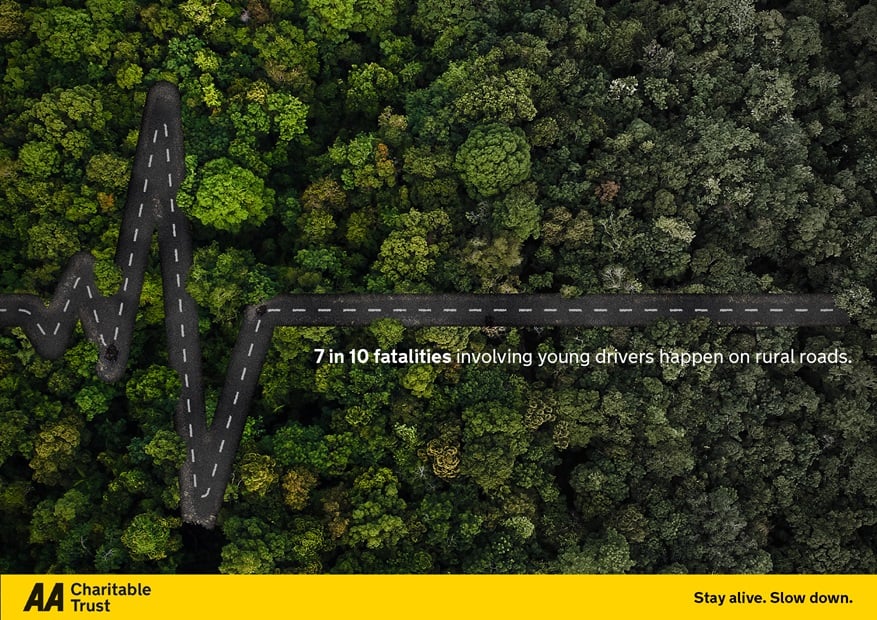 The interactive map can be found here. Keeping Young Drivers Safe On Rural Roads
Young Rural Driver Crash Fact file:
July, August, October and November most concerning months for crashes involving young drivers on rural roads.
Proportion of crashes involving young drivers which are on Sundays is 9% higher on rural roads than on urban roads.
Single vehicle collisions account for 27% of all young driver crashes on rural roads compared to 16% for drivers of all ages.
Substance impairment attributed to a young driver in 9% of young driver rural road crashes on Sundays compared to an average of 4% on other days.
Call to action:
New drivers to get more experience driving on rural roads before going out alone.
Need graduated learning with a logbook for driving lessons to cover driving on all types of road, at different times of the day, and in different weather conditions.
Greater emphasis on rural roads in theory and practical driving test.
Campaign to raise awareness amongst drivers and parents of the dangers.
Interactive map to be used as a Think! educational resource for schools.
Raise awareness that those growing up in rural areas are more at risk on the roads than their urban counterparts.
---
* Yonder survey of 15,746 AA members between 10th and 18th May 2021. Yonder is a member of the British Polling Council and abides by its rules. For more details, please go to www.yonderconsulting.com.
** Casualties involved in reported road accidents (RAS30) - GOV.UK (www.gov.uk)
*** The dataset behind the research covers six years of crash data (2013-2018). Analysts at Agilysis and the Road Safety Foundation studied 74,919 young drivers involved in crashes of all injury severities on a rural road.
More than 1.2 million adolescents die every year, nearly all preventable (who.int)
Recently in the UK, suicides and intentional self-harm have overtaken 'Collisions with vehicles, cycles, pedestrians' as the most common cause of death among 15 to 19-year olds.