The AA Battery Tester
We've invested over £2.7m in battery testing equipment, so we can make sure you're only ever advised to buy a new battery if that's the best solution for you.
If we think you've got a faulty battery, our experienced mechanics will use the AA Midtronics battery tester to confirm. Midtronics provide battery testers for almost the entire motor industry. Their testers, along with bespoke software developed by the AA, ensure an accurate and definitive outcome at the roadside and help us give you the best advice.
---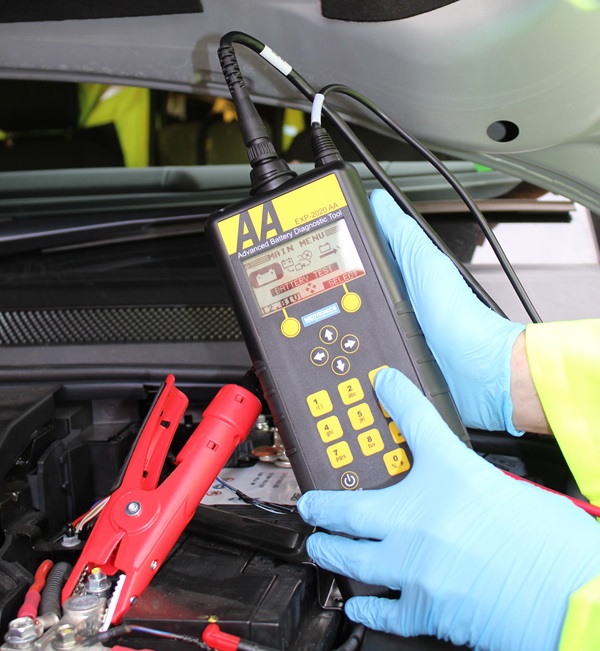 ---
Flat batteries are among the most common breakdowns we see. There are many reasons for a car battery to go flat.
Something may have been left on - Sometimes people leave interior lights on or things plugged into the cigarette lighter socket, which over time can cause a flat car battery.
A fault with the car - Modern cars have lots of complicated electronics and sometimes faults develop which can drain the battery.
Lack of use - All batteries slowly discharge even if they're disconnected. If you rarely drive the car, the battery may eventually let you down. It's especially true if when you do drive, its only for a short distance.
Battery age - On average, a car battery with normal use will last around 4 or 5 years. If your battery is getting old and there's a cold snap, chances are it'll fail.
Often when a battery's been drained accidentally or by a fault with the vehicle, all it needs is a simple recharge by running the engine. The fault will still need to be fixed. But in many cases, a simple system reset or software update will work and it's something we can usually do.
If you need a new battery, our patrols carry a stock of the most common types. Our Bosch batteries are industry leading and come with a 5-year no quibble guarantee. So, in the unlikely event that there's an issue, we'll come to you and replace it free of charge.
If you're unlucky enough to get a flat battery, we have all the tools and parts needed to get you up and running in no time. If you wish to buy a battery or think you may need one but are not an AA member, visit our Battery Assist page for more information.