22 April 2020
Following the Government's announcement that the UK lockdown will be extended for a further three weeks, the AA is reminding all NHS workers that they can still get help if their car breaks down during the ongoing Coronavirus crisis.
At the start of the month, the AA announced a free service for any NHS staff who break down on their way to or from work while the situation continues, whether they are AA members or not.
The offer, which launched on 2 April, is available to anyone with an NHS ID and includes free recovery as well as help if they break down at home. A dedicated NHS hotline is available for them on 0800 0725064.
Within the first three weeks, around 17,000 NHS workers registered for the service online and it has already been used nearly 2,000 times by those encountering car trouble, with many of the breakdowns caused by battery or tyre problems.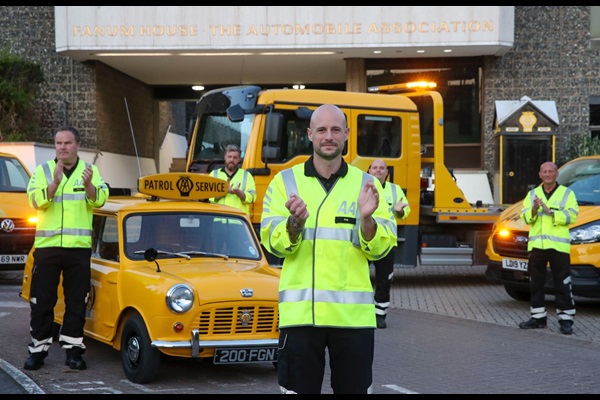 Image credit: Simon Jones
The assistance has been warmly received by the NHS. A director from NHS Scotland said: "That is wonderful news. It will help in a practical way. It will boost morale. And it will be remembered."
A paramedic who needed car help tweeted after using the service: "Thank you so much @TheAA_UK for coming out and fixing my flat tyre within 45 mins of me calling and for free too!!"
And a maternity support worker tweeted: "Thank you so much @TheAA_UK I went to my car and the battery was dead… amazing quick service the recovery van was at my house in under 20 minutes... I can now get to my next shift at the hospital!"
"It will help in a practical way. It will boost morale. And it will be remembered"
Edmund King, AA president, said: "As the coronavirus crisis unfolded we appreciated early on what a brilliant service the NHS is providing under intense pressure. We realised that the rundown of public transport, shift work, long hours and social distancing, all meant that more NHS staff would be dependent on their cars; the last thing they need to worry about at this time is a breakdown.
"The idea came from numerous suggestions indicating that the NHS are there for us, so we want to be there for them. Everyone at the AA is keen to thank the NHS, with patrols across the country gathering to join the Clap for Carers on Thursday evenings, and we're pleased to be able to show them our support with free breakdown help during this crisis.
"It makes me feel very humble, and indeed proud, to think that those at the sharp end of this awful pandemic are so grateful for the part we can play, whilst they are battling it out day and night to save lives. They all deserve our love, gratitude and indeed a medal."
The offer is available to the approximate 1.5 million* NHS workers across the UK while the crisis continues and reviewed on a regular basis.
NHS workers are encouraged to register for free breakdown help online at www.theAA.com/nhs to receive an SMS message with the dedicated phone number to speed up calling for assistance, but they will be still be able to get help from the AA if they have not registered.