06 February 2023
December's Arctic blast, which saw temperatures fall below 10 degrees Celsius, came as a severe shock to drivers because only 3% regard it as the worst month for winter driving weather, AA research has found. The Met Office says the snap was 'one of the most significant spells of low winter temperatures to affect the UK since the exceptional December of 2010'.
Many car owners were so badly caught out that wipers froze to windscreens which led to hundreds more than usual calling out the AA due to broken wipers or burnt-out wiper motors. Related breakdowns in December shot up 43.5% compared to the same period last year.
In a normal month heading into winter, AA patrols will deal with around 300 wiper-related calls for help. In December, that number hit nearly 800 - compared to slightly more than 550 last December.
An AA survey* of 15,739 AA members last week found that drivers fear January most for bad winter driving, with 28% saying it is the worst month. Another 12% say February is the month they fear, with a further 1% saying that the UK climate now pushes the risk beyond February. Severe winter weather driving conditions are such a threat from December to February, that 56% of AA members are on their guard throughout this period.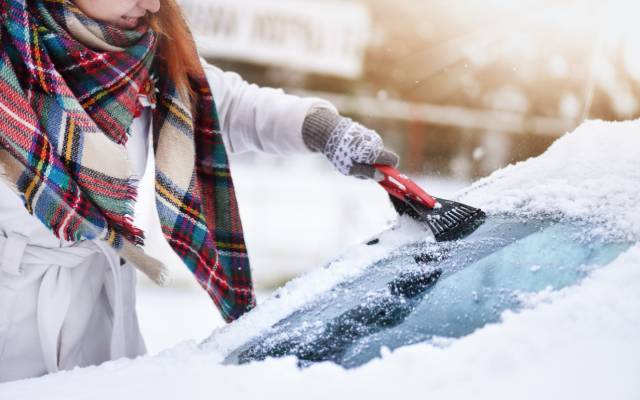 The type of weather they fear by far the most is ice, with 71% saying it presents the biggest threat when driving in winter. Fog comes next at 14%, with snow at 12%, and rain just 2%.
"It has seemed like a while since a severe frost and heavy snowfall has hit so hard and so far south in December for such an extended period. Many drivers had got used to bracing themselves for a 'beast from the East' in January or February," says Tony Rich, AA roadside rescue expert and former Patrol of the Year.
"What particularly stood out in December and January, and now in February, was not only the severe temperatures but also the length of the cold snap. It just seems to go on and on."
He adds: "What has featured in particular has been the increase in frozen or broken windscreen wipers and wiper motors often burning out as a consequence – alongside the usual plague of flat batteries, frozen engines and cooling system faults. Replacing an entire windscreen wiper unit can cost up to £400 on some vehicles.
"Poor maintenance and preparation for winter conditions, likely made worse by the cost-of-living squeeze on personal budgets, has been a factor. But drivers were clearly caught out by the severity of the Arctic blast in December.
"The scary bit is that one in eight drivers fear there is worse to come."
Windscreen wiper faults are most likely to arise when the wipers are switched 'on' when the blades are stuck to the windscreen.
Doing this can result in the following outcomes;
Burnt out wiper motor or damaged fuses / wiring due to excessive resistance from the blades being stuck to the screen.
Broken wiper linkages and wiper blades.
Burnt out windscreen washer pump due to frozen washer fluid.
Preventative actions to reduce the chance of wiper system damage;
Cover the vehicle windscreen with an old sheet then 'trap' the sheet between the wiper blades and the screen – this helps to save fuel, and time by removing the need to run the car to clear frost from the screen, it also means that the blades need to be lifted clear of the screen to remove the sheet, guaranteeing the rubber blades won't be stuck to the glass.
Keep your washer fluid reservoir topped up with a sufficient strength mix of washer fluid.
Switch wipers off (including automatic wipers) when you park up.
Reduce the chances of wiper system damage by using an ice scraper to clear the screen. Although tempting, dragging the wiper blades across a frozen will inevitably lead to some damage.
---
* AA Yonder Driver Poll, January 2023. 15,739 respondents.
How to defrost a car windscreen - quick step-by-step guide
The AA has been named Which? Recommended Provider for five years running.
Prolonged spell of low temperatures, December 2022 The UK experienced a prolonged spell of low temperatures accompanied by snowfalls from 8 to 18 December 2022 as an Arctic Maritime airmass brought hard frosts, with daytime temperatures struggling to rise above freezing and accompanied by widespread lying snow (although generally not deep). Daily minimum temperatures fell widely to between -5°C and -10°C across the UK on several nights – with hard frosts even in cities and coastal areas, and some locations below -10°C. On 12 December Braemar recorded a daily maximum temperature of -9.3°C, the UK's lowest maximum (excluding mountain stations) since December 2010. This was one of the most significant spells of low winter temperatures to affect the UK since the exceptional December of 2010.
The Met Office: https://www.metoffice.gov.uk/binaries/content/assets/metofficegovuk/pdf/weather/learn-about/uk-past-events/interesting/2022/2022_04_december_low_temperatures.pdf