15 December 2021
The AA is helping more drivers make the switch to electric by giving all EV AA Smart Lease customer £50 off an EO home charging installation.
The deal, which is available this week (13/12), covers both the EO Mini Pro 2 and the EO Mini.
Thanks to the OZEV grant, customers pay just £545 for the EO Mini Pro 2 installed and £745 for the EO Mini installed.
James Fairclough, CEO of AA Smart Lease, said: "We want to ensure there are as few barriers as possible for drivers who want to make the switch to an electric vehicle.
"Partnering with EO to bring our leasing customers this deal is just one of the ways the AA is helping drive forward the electric revolution.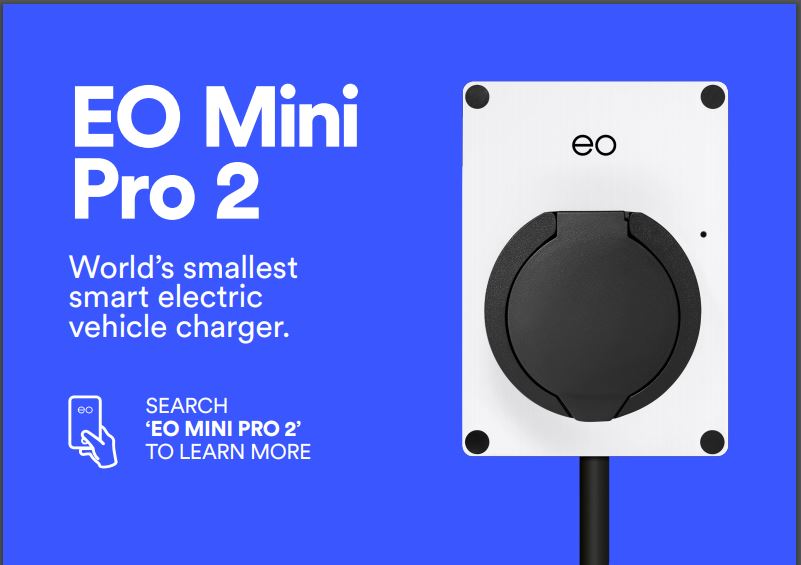 "We currently have well over 100 electric vehicles to choose from and some of our most popular models, such as the Vauxhall e-Corsa and Hyundai Kona electric hatchback, are in stock and ready for delivery. Added to that, AA Smart Lease gives drivers real flexibility, so there's never been a better time to make the switch and start 2022 by saying goodbye to the pumps."
EO Charging is one of the UK's leading providers of electric vehicle chargers. Since launching in 2014, EO has sold over 50,000 chargers to customers around the world.
AA Smart Lease is available to all drivers and, with more than half the cars available either electric or hybrid, provides a useful gateway for drivers to try an EV before they buy one.
The product's inclusive monthly cost covers servicing and maintenance, Vehicle Tax and VAT, on either a 24-month, 36-month or 48-month contract.
Unlike most other lease products on the market, the car can be returned without penalty in certain situations if the customer's financial circumstances change, such as if they are made redundant or get divorced.
If the car is driven more, or fewer, miles than planned during the course of the lease, the mileage plan can also be changed once, at any time during the contract period, with no admin fees.
For more information visit www.theaa.com/car-leasing