Accidentally breaking the local rules of the road and getting fined is the most common worry among drivers heading across the channel. The rules of the road including basics like speed and drink drive limits can be different from home so get to know the local rules before you go to help you keep out of trouble.
Our general advice for driving in Europe covers the basics like documents, personal safety and vehicle preparation.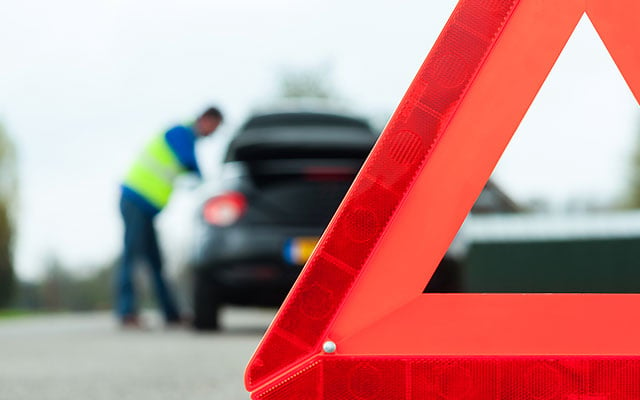 Driving licence
You must be at least 18 years old to drive a temporarily imported car or motorcycle.
Motor insurance
You must at least have third-party cover.
Fuel
Unleaded petrol (95 and 98 octane), diesel and LPG (Autogas) are available.
Leaded petrol is not available but you can buy lead substitute petrol as 'super' 98 octane.
You may carry petrol in a can but mustn't do on board a ferry.
Speed limits
Standard legal limits, which may be varied by signs, for private vehicles without trailers:
Built-up areas 31 mph (50 km/h)
Outside built-up areas 49 mph (80 km/h) or 62 mph (100 km/h)
Seat belts
Front and rear seat occupants must wear seat belts, if fitted.
If no seat belts are fitted in the front then front seat passengers must be taller than 1.35m.
If no belts are fitted in the rear then rear seat passengers must be at least 3 years old.
Passengers/children in cars
Children up to the age of 18 and less than 1.35m tall must use an appropriate child restraint approved to ECE 44/03 or 44/04.
You may not carry children under 3 years old unless they are in an appropriate child restraint.
You must deactivate any passenger airbag before carrying a child in the front passenger seat using a rear facing child seat.
Lights
It's recommended that you use dipped headlights during the day.
You mustn't drive at night using sidelights only.
Motorcycles
It's recommended that you use dipped headlights during the day.
Riders of all motorcycles capable of more than 25km/h and drivers/passengers of open micro-cars without seat belts must wear a crash helmet.
Drinking and driving
The legal limit is 50 milligrams of alcohol per 100 millilitres of blood.
A lower limit of 20 milligrams applies to new drivers for the first five years and to moped riders under 24 years of age.
Penalties are severe and include a fine, withdrawal of your driving licence and imprisonment.
Fines
On-the-spot fines can be imposed.
For illegal parking the police can impose and collect an on-the-spot fine or tow your vehicle away.
Vehicles can be confiscated in more severe speeding and drink drive cases.
Low Emissions Zones (Milieuzone)
Many cities in Netherlands operate Low Emission Zones that restrict access for older HGVs but some are extending schemes to apply to older cars and vans too.
LEZs affecting cars are already operating in Utrecht, Rotterdam, and Arnhem, and will start operating in Maastricht in 2020.
Minimum standards vary from scheme to scheme (Euro 3 or Euro 4 for diesel cars depending on the city) but a common framework is expected to be introduced in 2019.
What do you have to carry?
We recommend carrying a warning triangle because you must use one and/or hazard warning lights in case of an accident or breakdown.
Parking
Many cities offer free, but time limited parking. To use one of these 'blue zone' parking spaces you must display a blue parking disc on the top of your dash, set to show your arrival time. You can obtain parking discs if required from local stores.
Other rules and advice
You must give way to buses leaving bus stops in built-up areas.
You must give way to trams unless traffic lights indicate otherwise.
Beware of large numbers of cyclists and skaters.
You must not use spiked tyres.
You must not use a radar detector and if you are caught using such a device by the police it will be confiscated and you will be fined €430.
You shouldn't use your horn at night and should only use it in moderation during the day. Penalties for misuse of the horn are severe.