We were one of the founding members of Euro NCAP when it was launched in February 1997. The aim was to improve car safety through an independent programme of whole vehicle crash tests and the publication of safety 'star' ratings for car buyers.
Euro NCAP was a response to high rates of serious injury in car crashes and the slow progress being made with improved safety regulations.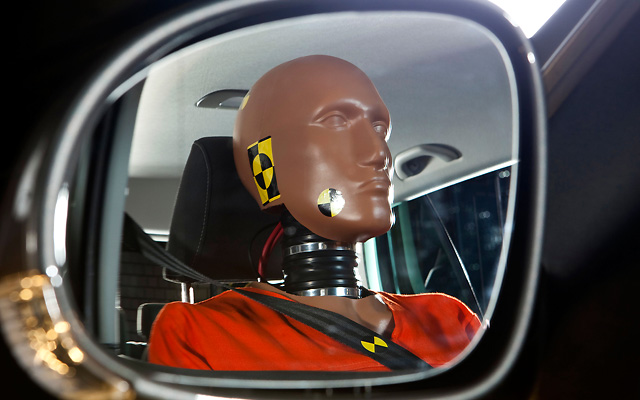 Seat belt wearing laws had been introduced in 1983 (front seats), and 1989/1991 for children/adults in the rear, and airbags started appearing in family cars from the early 1990s but:
Drivers and passengers wearing belts were still suffering serious injuries.

Car structures were deforming in crashes, unable to withstand the energy of the impact.
Car manufacturers were resisting attempts to introduce more stringent safety tests into European regulations.
Early tests
In the first few years Euro NCAP's ratings were based on two full scale crash tests to cover the most common crashes:
A

n offset test with 40% overlap against a deformable barrier (aluminium honeycomb) at 40mph.

A side impact test with a stationary car hit in the driver's door at 30mph by a deformable barrier mounted on a trolley.
A star rating (out of four stars) for occupant protection was based on the combined results of the front and side impact tests.
Euro NCAP also published pedestrian protection ratings (also out of a maximum of four stars) based on laboratory tests of the bonnet and bumper.
First results
The best in class in the first batch of tests – seven superminis – was the Ford Fiesta, awarded 3 stars.
In contrast, the Rover 100 scored only one star and was withdrawn from sale only a few months later.
The response from car manufacturers was to criticise both the tests and the rating system. They even claimed that Euro NCAP's tests were so severe that no car could ever achieve a 4-star rating. Only five months later the Volvo S40 became the first 4-star car.
After a few years, with more and more cars getting 4-star ratings, the scoring system was changed to create the possibility of a 5-star car. In June 2001 the Renault Laguna became the first 5-star car.
New rating scheme (January 2009)
There was growing concern that car design was focused only on the safety of adult car occupants.
In January 2009 Euro NCAP launched a new rating scheme with a new overall rating that reflects the safety of adults and children in the car as well as pedestrians struck by the front of the car.
5-stars ratings could still be achieved but were more of a challenge.
A new rear impact whiplash test was added as well as a 'safety assist' rating to recognise the availability of advanced driver assistance systems like Electronic Stability Control.
Comparing results
Euro NCAP has tested more than 500 new cars over 20 years, but the tests and ratings have changed.
It's best to only directly compare ratings for models tested in the same era.
Testing Electronic Stability Control (ESC)
In 2011 Euro NCAP started testing the performance of electronic stability control in tests involving a 'robot driver' performing a rapid swerve manoeuvre at 50 mph.
ESC has been required as standard on all new cars since 2012.
Automated Braking
Using radar and cameras an Autonomous Emergency Braking (AEB) systems can spot a crash before it happens and apply the brakes automatically to prevent it or reduce its severity.
Euro NCAP started testing and rewarding AEB systems from 2014 to encourage more widespread fitment.
Full width test (2015)
Thanks to Euro NCAP, passenger compartments have become much stiffer making them less likely to collapse in a crash and helping to reduce lower leg and head injuries.
But this means higher deceleration forces on the driver and passengers and much greater demands on seatbelts.
From 2015 Euro NCAP added a new restraint test, a full frontal impact against a rigid barrier at just over 30mph with small female dummies in the driver's seat and rear passenger seat.
19 January 2017