If your car's affected by a recall the manufacturer will write to you, explaining:
What the defect is.
What can happen if it's not attended to.
What action (repair) is required.

What action you should take.
The manufacturer must report response rates to DVSA at three month intervals, but the safety recall stays open indefinitely. Recall work should be carried out free of charge no matter how much time's passed since the recall notice.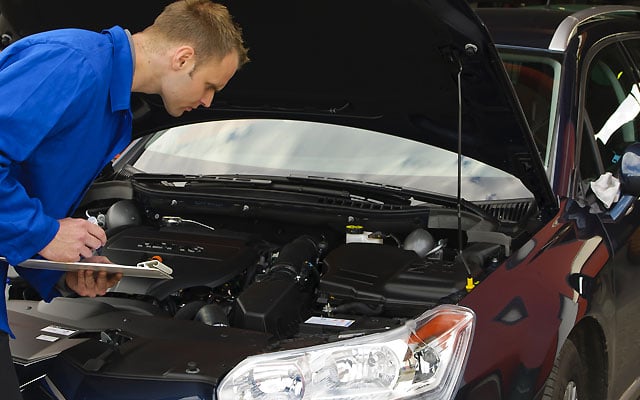 Don't ignore a recall notice
You must maintain your car in a safe and roadworthy condition, so ignoring a safety recall could leave you open to a charge of 'using a defective vehicle'. It could affect any insurance claim you might make too.
Act promptly so you don't put yourself or others at risk, and follow the manufacturer's instructions.
If you've sold the vehicle, make sure you tell DVLA so that their records are up to date and to ensure that the new keeper will be contacted.
We provide 24/7 roadside assistance.
Why a recall?
Around a million vehicles every year are called back to dealers for a safety check or repairs, under the vehicle safety recall scheme. Recalls most commonly concern brakes, fuel, airbags, steering, risk of fire, and seat belts.

The official recall scheme is overseen on behalf of the government by the Driver and Vehicle Standards Agency (DVSA), working closely with car manufacturers and the Driver and Vehicle Licensing Agency (DVLA).

The rules are laid down in a code of practice, which defines a safety defect and describes what happens when a potential safety defect is identified in vehicles supplied in the UK.

A safety recall is a pro-active action taken when a safety defect is identified which could result in serious injury.

The code of practice applies to a wide range of vehicles, from passenger cars, commercial vehicles, buses and coaches to trailers, agricultural vehicles, motorhomes and caravans. It also covers two and three wheelers.
What's a safety defect?
The code of practice says that a safety defect is a failure due to design and/or construction, common to a number of vehicles, which is likely to affect safe operation and pose a significant risk to the driver, occupants or others.
Such defects involve sudden and catastrophic failure, with little or no warning to enable the driver to take preventative action. It can't normally be identified by routine maintenance or obvious changes to the car's normal handling or performance.
Buying a used car
If you buy from a dealer, they should've checked for outstanding recalls as part of their pre-sales prep, but if you buy privately it's possible that the owner could have ignored a past recall.
Since December 2017 the official 'Check the MOT history of a vehicle' service on gov.uk has included a check for any outstanding vehicle recalls too, so it's well worth a visit to check out any used car you're looking at. You only need to know the vehicle's registration number.
Search all safety recalls, by make, model and year to find out if any apply to a car you've just bought. Most recall notices include details of VIN/chassis numbers and build date ranges of affected vehicles.
Reporting a safety defect
If you think there's a serious safety defect with your vehicle, use the safety defect reporting form to draw it to the DVSA's attention. Official recalls always concern serious safety defects.
Examples of safety defects
Brakes not working or unexpected braking.
Steering may fail.

Airbag not working or unexpected airbag operation.

Fuel leak.

Fire risk.

Sunroof may shatter.

Seatbelt stalk may detach.

Towbar may detach.

Brake lamps may not illuminate.

Incorrect warning lights may display.

Clutch or throttle pedal may detach.

Handbrake self release.

Possible wheel hub detachment.

Seat may catch fire.

Door may open during driving.

Driver's seat may recline unexpectedly.
---
updated 26 January 2018