The weather – Brits' favourite conversation starter – can cause havoc at summer shows, events and festivals. Remember the mudfest that was Isle of Wight Festival 2012, 2013 and 2015? Then of course there are the seas of mud at glorious Glastonbury just about every year. And wellies are a must at Reading and Leeds, V Festival and Bestival. Your Hunters are just fine for wandering around, looking cool and watching bands, but they aren't much help if your car's stuck in the mud come hometime.
So our breakdown experts have put together some tips on what to do if you are stuck.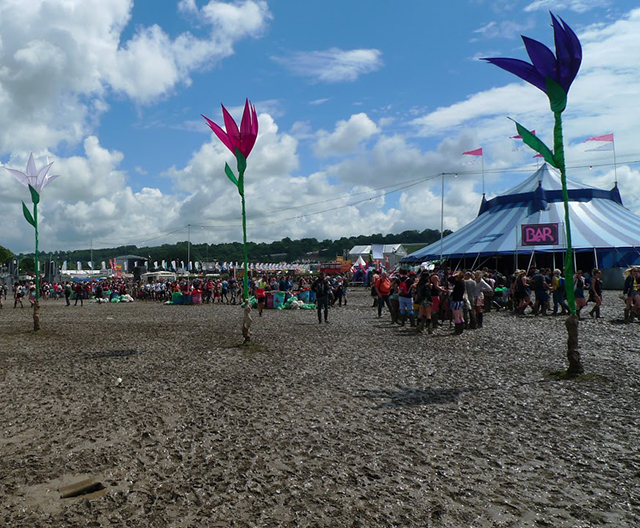 But if these don't work and you find yourself waiting to be rescued, the AA men have come up with a themed playlist to pass the time...
Don't Worry, Be Happy (Bobby McFerrin): accept that it'll take a long time to get out of the car parks – up to several hours – and especially on mud, you won't be going anywhere in a hurry, so be patient and offer help to those who need it. Switch off your engine when you can, to save fuel
Slippery When Wet (Bon Jovi album): don't drive wearing muddy wellies as your feet could slip on the pedals – put on clean shoes
Spinning Around (Kylie): pull away in second gear, not first, to aid traction (lower revs help prevent wheel spin) – or in larger automatics, select 'D2' – and just use the accelerator very gently
Losing Grip (Avril Lavigne): cardboard placed in front of the driven wheels will help aid traction (car mats can be used as a last resort)
Moving On Up (M People): when moving, try to maintain momentum, especially if on an incline (easier said than done at Glastonbury)
Groove Is in the Heart (Deee-Lite): try to stay out of the 'tramlines' if they're full of mud
Hook It Up (Vanessa Hudgens): if you need a tow, check the towing eye for corrosion or weakness (it's often hidden behind a small plastic panel on the bumper
Communication (INXS): work out a plan with the person towing you: know where they intend to go and keep a close eye on them; and good communication is vital – agree on hand signals etc
Slow Hands (Interpol): keep it slow and smooth when towing, avoiding sudden movements: the person towing should ease away slowly bringing the rope under tension before proceeding
Fix You (Coldplay): if you get into difficulty or your car breaks down, call the AA on 0800 88 77 66 – we can help whether you're a member or not. Or use the AA app