Travelling by car is now easier and safer than ever. From the very first automobile to self-driving cars, technology has evolved which has made crashing far less likely. While a crash can still happen, the risk of serious injury is far lower than it used to be, thanks to the introduction of several safety features throughout the years.
1900-1940s
The first motor vehicles were heavy, solid, and difficult to control, making crashes commonplace. Because of this, the first forty years of the 20 Century produced a few safety measures that reduced the chances of accidents.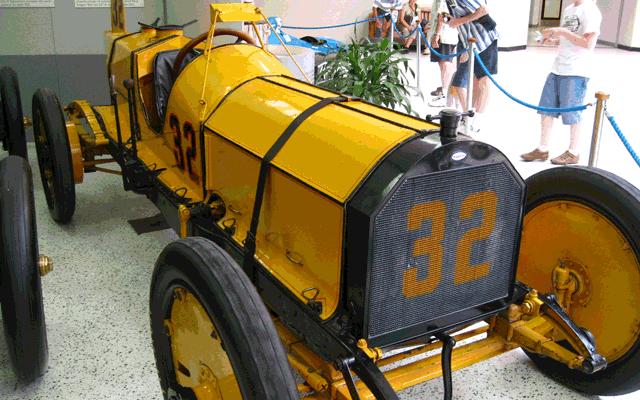 1903 – wiper blades were developed and patented by Mary Anderson. A simple lever inside the car connected to a rubber blade on the outside that was operated by hand.
1911 – rear view mirrors were used for the first time in the opening Indianapolis 500 race by Ray Harroun, who attached it to his Marmon Wasp. Harroun claimed to be inspired by a similar idea he saw on a horse-drawn carriage some years before.
1914 – Hollywood actress and silent-movie star, Florence Lawrence, invented the earliest turning indicators. This was originally called an 'auto-signalling arm' on the back of the fender which could be raised or lowered by electrical push buttons.
1921 – Benjamin Katz invented the headrest to reduce the harm caused by whiplash in rear-end accidents. Hydraulic brakes were also used in road cars for the first time by Frederick Duesenberg.
1927 – laminated glass, or safety glass, was used in windshields to prevent them from shattering on impact.
1934 – General Motors performed the first ever crash test.
1947 – The Tucker Sedan was the first car with padded dashboards, which aimed to reduce face and chest damage when hit front-on.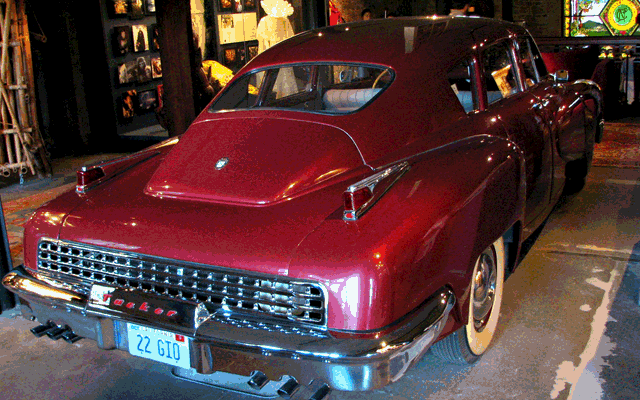 1949 – the first ever crash test dummy was created by Samuel W. Alderson, called Sierra Sam, which was used for aviation. Alderson then created a crash test dummy for motor vehicles in the early 50s.
We provide 24/7 roadside assistance.
1950s
The 50s brought huge leaps in car safety technology with the introduction of several features still in use today, like the airbag and three-point seatbelt.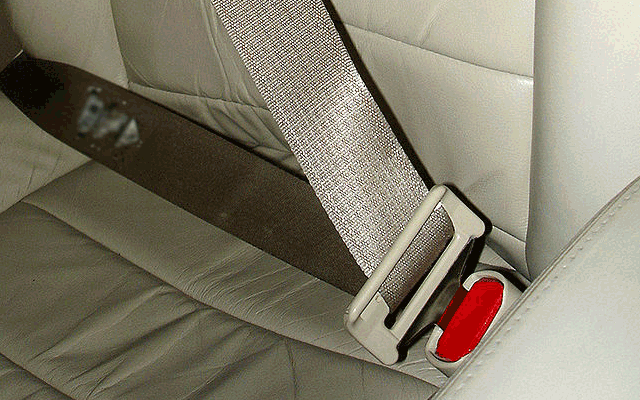 1951 – Walter Linderer created the airbag, which could be released by the driver or by contact to the car bumper.
1952 – Mercedes Benz engineer Bela Barenyi invented the crumple zone concept, designed to absorb the force of impact in a crash.
1953 – Jaguar and Dunlop make a breakthrough with more reliable Caliper-Type disc brakes, helping the small company to win the 1953 24 Hour Le Mans.
1959 – Volvo introduce Nils Bohlin's three-point seatbelt, strapping over the lap and shoulder for the first time to provide extra protection. It remains one of the most effective car safety features ever created.
1960s
The 60s saw a boom in car safety rules which made seatbelts and head restraints, among a number of other features, mandatory in cars.
1963 – the inertia-reel seatbelt was introduced by Excelsior Motor Company, allowing the seatbelt to re-adjust to the passenger's preference. Intermittent wipers are also introduced.
1966 – cars built in Europe must now have a front seat belt fitted. Padded dashboards become mandatory, as well as front and rear lap belts and white reverse lights. The Jensen FF became the first car to feature the anti-lock braking system that was previously used in aircrafts.
1968 – The first Federal Motor Vehicle Safety Standards in the US make it mandatory to have collapsible steering columns, side marker lights, and front-seat shoulder belts in all vehicles. Volvo introduces front-seat head restraints to protect the head and neck in rear collisions.
1970s and 80s
More legislation was passed in the 70s and 80s. And electronics were now being introduced to car safety technology.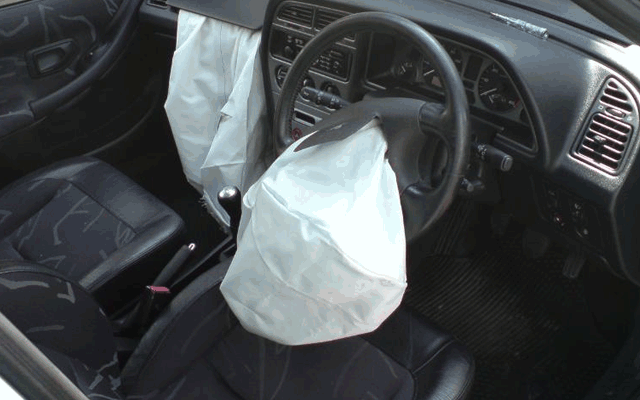 1970 – seatbelts are made compulsory in Australia, the first country in the world to do so. Ford also offer rear wheel anti-brake lock systems.
1974 – General Motors provide optional airbags for the driver and passenger's seats.
1978 – Mercedes introduce the first electronic anti-lock braking system in its Mercedes-Benz S-Class.
1979 – The National Highway Traffic Safety Administration in America begins crash testing new cars and publishing results.
1981 – Mercedes-Benz release the first production car with supplemental restraint system (SRS) airbags for the driver's seat.
1983 – wearing front seatbelts becomes compulsory in the UK with 90% of British drivers complying immediately.
1987 – fitting of rear seatbelts become compulsory in the UK. Mercedes-Benz, Toyota, and BMW introduce traction control, designed to keep traction whilst accelerating.
1990s
The 90s saw an increasing amount of electronic systems being installed in our cars.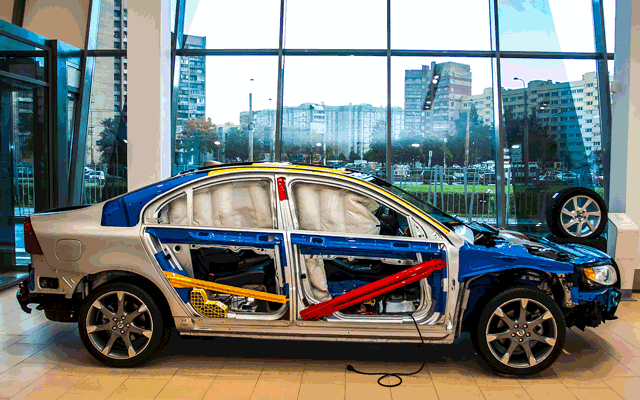 1991 – Volvo introduces its side impact protection system, designed to spread the force of impact over the entire side of the car rather than one section.
1993 –the Australian New Car Assessment Program runs crash tests and uses the results to provide a rating system that ranks the passenger safety of vehicles in serious front and side collisions.
1994 – Volvo introduces side impact air bags.
1995 – Mercedes-Benz and Bosch introduce electronic stability control (ESC), helping to improve vehicular stability.
1996 – Mercedes-Benz introduce the Brake Assist System (BAS) and Kia's Sportage SUV has the first knee airbag.
1997 – the European New Car Assessment Programme (Euro NCAP) is formed, performing crash tests and publishing safety reports. The AA was one of the founding members.
2000s
The new millennium brings the first five-star safety rated car in Europe, plus new protection measures for pedestrians, as well as the continued development of computer technology.
2000 – Iteris developed the Lane Departure Warning System for trucks in Europe, which used visual, audible, and vibration warnings to alert the driver if they're leaving their lane.
2001 – The Renault Laguna becomes Euro NCAP's first five-star rated car for its safety features.
2004 – Volvo introduce the blind spot information system (BLIS) using cameras and motion sensors to avoid accidental collisions when the driver is parking or switching lanes.
2005 – Jaguar and Citroen develop the pop-up bonnet, designed to reduce pedestrian injury risk. The lane departure system now appears in the Citroen C4, C5, and C6.
2008 – Volvo introduce autonomous emergency braking on its XC60, automatically braking to help drivers mitigate or prevent collisions when sensors pick up an oncoming vehicle.
2009 – Citroen and Bosch introduce intelligent anti-skid system called Snowmotion, giving better vehicle control in snowy or icy conditions.
2010 – Volvo develop the pedestrian detection system, causing cars to brake automatically when they detect a pedestrian. It uses camera and radar technology to keep an eye out for other vehicles and pedestrians.
---
Published: 14 December 2016 | Updated: 25 September 2020 | Author: The AA