20 December 2019
what3words has broken down the world into 3m x 3m squares, and assigned each one three words from the dictionary.
///audit.twins.cute, for example, will take you to a precise spot on the UK's busiest motorway, the M6
AA customers can now provide their what3words address during a breakdown to help identify their location faster
Drivers who break down in an unfamiliar location can now tell the AA exactly where they are, thanks to its partnership with inventive location technology company, what3words.
The partnership makes the AA the first UK breakdown cover provider to use the technology, as part of its continued commitment to enhancing service through innovation.
The AA responds to around 10,000 breakdowns a day and one thing they all have in common is the need for the breakdown location. While members who report their breakdown via the AA app or website (theaa.com) can share their location information, those who report their breakdown via phone may not be able to communicate their whereabouts as easily. How do you describe where you are when there are no visible landmarks on a large stretch of road?
what3words has divided the world into a grid of 3m x 3m squares, and given each one a unique what3words address - made up of three words from the dictionary. Instead of having to give approximate descriptions of where a breakdown has happened, AA customers can now give the operator their exact what3words address when calling - and help will be sent to that precise 3m x 3m square.
For example, instead of saying, 'I'm on the M6 near Seabridge, past a wooded area, heading South' customers can find their location either using the what3words app, which is available to download for free, or via the online map at www.what3words.com. By simply saying the three words that correspond to their location (in this case, 'audit twins cute") the AA can send help straight to them.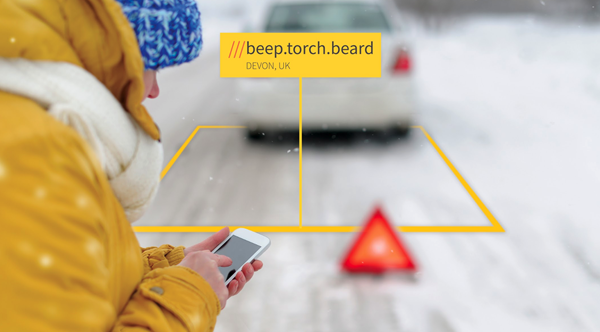 Even in places with street addresses, what3words is helpful. With traditional street addresses there are duplicates - for example there are 34 Victoria Roads in the Capital. what3words addresses are fixed, and are all unique. Similar sounding what3words addresses have also been placed very far apart, and homophones have been removed, which means small errors are obvious to users and the correct combination can be presented.
By using the latest technology we are continuing to enhance our services. Using three everyday words might seem strange but is a smart way to get you back on the road.
Edmund King, AA president, said: "Breaking down in an unfamiliar location can be a daunting experience for anyone. This simple solution helps drivers to identify where they are - and helps us find them even faster.
"By using the latest technology we are continuing to enhance our services. Using three everyday words might seem strange but is a smart way to get you back on the road."
Chris Sheldrick, CEO and co-founder of what3words adds, 'Earlier this year, what3words was rolled out by emergency services across the country. One of the key areas that our system proved invaluable was on long stretches of motorways and unnamed rural roads. These locations can be incredibly difficult to describe and when responding quickly is crucial to keep people safe, the precision and ease of 3 words can save vital time in locating someone in need of help. The AA have been quick to see this same benefit, ensuring that their control rooms are trained to use what3words to locate callers and dispatch help exactly where it's needed.'
what3words is used all across the UK by individuals and small communities alike. Over 75 emergency services now use the technology in daily operations, and the UK Power Network recently became the first electricity distributor to boost safety by helping members of the public accurately report line damage by what3words.
---