1 December 2021.
Most drivers are not updating their road atlases often enough to keep up with changing travel infrastructure, an AA survey has revealed today.
In a Yonder poll of over 15,000 drivers*, nearly one in five drivers admitted that they have never updated their road atlas, while 11 per cent take more than five years to purchase a new edition. Although a further 18 per cent of those surveyed update theirs every three years, only 7 per cent renew their road atlas every year, as recommended by the AA.
Drivers in Northern Ireland and Scotland were least likely to have renewed their road atlas, with 21 per cent and 20 per cent of those surveyed in those areas respectively saying they still had their originally purchased edition. Motorists in the East and West Midlands emerged as the most mindful when it comes to keeping their atlases up to date, with 9 per cent of respondents in those regions getting new editions each year.
The survey results coincide with the AA's announcement that their relaunched 2022 AA Atlas range has now sold nearly 500,000 copies as UK drivers return to the roads in their millions for travel and staycations post-lockdown.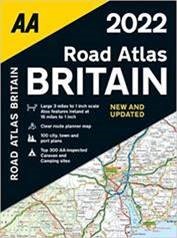 Simon Numphud, Managing Director at AA Media said "With nearly half a million copies of this year's range already sold, it is clear that for British motorists the AA Atlas range is still a vital companion when exploring the UK. With the country's infrastructure always evolving, including the introduction of smart motorways and changes to tolls and restrictions, we encourage drivers to keep their atlases up to date so they are never caught out when on the roads."
Edmund King, AA President, commented, "Two thirds of drivers still have an atlas but too many of them are out of date. Despite the advent of the sat nav, AA atlases are still an essential in-car item alongside the ice-scraper or torch. When roads are blocked following an incident many sat navs just try to re-route back onto the blocked road, whereas the atlas can show you alternative routes. When planning a road trip, nothing quite compares to the excitement of turning the pages of an atlas. Even the Queen has been spotted with an AA Atlas."**
AA Atlases have been a staple of British motoring for decades, providing drivers with essential information, including AA-inspected caravan and camping destinations, National Trust and English Heritage sites, tourist attractions, wider minor roads, crematoriums and other hard-to-find places.
The AA's Atlas range was relaunched earlier this year, with motorists' favourites being revised and updated for 2022, with a variet of formats being released for different users. The range, published on 1st June 2021, includes Driver's Atlas Britain, Road Atlas Britain, Big Road Atlas Britain, Easy Read Britain, Big Easy Read Britain, Motorist's Atlas Britain, Easy Read Atlas France and a leather bound 35th edition of the Great Britain Road Atlas.
To discover more about destinations in the UK visit the AA's travel site www.ratedtrips.com
---
*AA-Yonder survey of 15,115 members between 11th – 19th October 2021. Yonder is a member of the British Polling Council and abides by its rules.
**https://www.dailymail.co.uk/news/article-5270981/The-Queen-splashes-new-11-99-road-atlas.html