3 December 2020
Currently just a quarter of drivers planning a Christmas car journey, equating to fewer than 8 million on the road
Most not planning to travel, but 29% remain undecided and may be tempted by new rules
Christmas Eve set to be busiest day overall
Cautious Christmas shoppers have planned ahead to avoid crowds
Check your car after lockdown, AA advises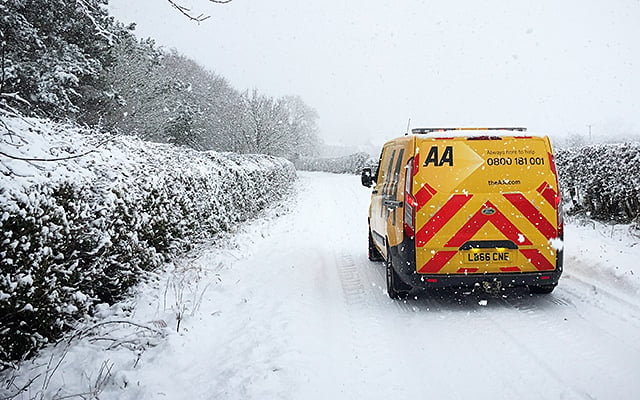 The great Christmas getaway will be a different picture on the roads this year, the AA predicts as the new tier restrictions begin.
A recent AA survey* shows fewer than a quarter (24%) of drivers are planning a journey by car over the Christmas period. This would equate to just 7.9 million on the road (compared to around 17 million who planned to travel last year).
Most drivers (46%) said they are not planning a car journey over the festive season. However, the 29% who were undecided may be tempted by the announcement of five days of festive freedom. Many will wait and see how any changes in tiers on 16 December impact on them and their proposed bubbles before making a final decision.
Busy days
For those planning a getaway**, Christmas Eve is set to be the busiest day overall, with 48% travelling on main roads and motorways. Of these, most (28%) will be visiting family and friends.
Saturday 19th December will be the busiest day for shopping traffic, with a fifth of drivers hitting the high street. But traffic could level out for those in lower-tier areas, or if more people take the chance to pick up last-minute gifts when restrictions lift on 23rd December.
Holiday hotspots
Hotspots are more likely to form around shopping centres close to motorways, such as the M5 for Cribbs Causeway in Bristol, M25 for Blue Water and the M60 junction 10 for the Trafford Centre. But cancelled Christmas markets could mean less traffic going into towns and city centres.
Planning ahead
Of all drivers surveyed, over half (57%) plan to change their Christmas shopping habits this year to avoid crowds. Cautious shoppers have planned ahead, with 46% intending to finish their Christmas shopping early to account for any delivery or supply issues.
Should I stay or should I go?
Edmund King, AA president, said: "The question will be 'should I stay, or should I go?' as families weigh up Christmas over Covid.
"Two fifths of drivers who had already cancelled travel plans may still be wary of risk to their loved ones, or unable to choose who to include in their small Christmas bubble.
"With a review of tiers due on 16 December, some could leave it late to make their final decision.
"But the 28% who felt it's even more important to share the season with friends and family this year, are likely to embrace the 'gift' of some restrictions being lifted.
"With tier restrictions in place, many may opt to stay local, so we'd like to see councils remove as many roadworks as possible to help ease the flow of local traffic. We welcome efforts by Highways England to remove some 750 miles of roadworks on main roads and motorways.
"On balance, despite the reduced use of public transport and the five days of festive freedom, we don't predict a total free for all on the roads… more 'driving home for Christmas' than 'road to hell' as Chris Rea sang."
Maintenance tips
Ben Sheridan, AA Patrol of the Year, added: "More people working from home and lockdown restrictions mean many cars won't have been used much over the last few months. For those hoping for a festive family reunion, pre-journey planning will be crucial to ensure their car is up to the job.
"A few basic checks can help avoid a Christmas breakdown; this includes ensuring you have enough fuel and all the lights are working, checking the engine oil level and topping up the windscreen washer fluid and anti-freeze. Crucially, check the tyre condition, pressures and tread depth for winter driving.
A few basic checks can help avoid a Christmas breakdown
"Before starting the car, make sure there's nothing nesting under the bonnet which might have caused damage to pipes or hoses. If your car has been standing unused for a long time, it's a good idea to arrange a full service once you're ready to use it again."
Drivers can find a local AA-approved garage, select a date and book their service online via AA Smart Care.
More information on maintenance checks can be found here
---
* An AA-Yonder survey received 16,486 responses from 10th to 16th November 2020. Yonder is a member of the British Polling Council and abides by its rules.
** Based on a sample of 3,959 respondents planning a journey by car over the Christmas period.