23 December 2021
New research from AA Financial Services reveals, despite missing James himself, the majority of Brits would select Bond cars as their fantasy ride (58%), with the Aston Martin (58%) and Lotus Esprit (52%) topping the 'battle of the Christmas list cars.' The Batmobile, the Delorean from Back to the Future and Santa's Sleigh complete the top five.
As people make their Christmas lists this month, AA Financial Services asked 2,037 UK adults what their dream car would be - and how much they would be prepared to pay a month to drive it.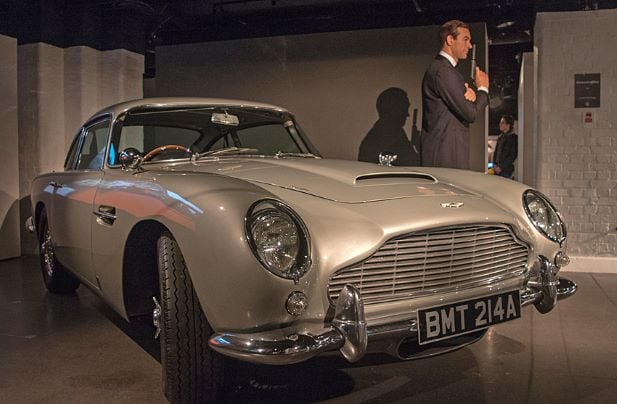 James Bond's Aston Martin DB5. Picture credit: Murgatroyd49, CC BY-SA 4.0, via Wikimedia Commons
Whilst the James Bond Aston Martin DB5 came top - with the average adult willing to commit £525 a month to have it standing on their drive - Santa's sleigh, the flying car from Chitty Chitty Bang Bang and the Batmobile also featured. And thinking about Christmas icons, Santa's Sleigh held far greater allure for a dream ride than the less eco-friendly Coca Cola lorry.
Summary of the top 10 famous cars people would like to drive - and how much they would be prepared to pay per month
Famous vehicle
How much people would pay a month
% that would like to drive this car
James Bond's Aston Martin DB5
£525.20
58%
The Batmobile
£444.20
49%
Santa's Christmas sleigh
£396.70
43%
James Bond's Lotus Esprit
£389.60
52%
The Delorean from 'Back to the Future'
£374.20
47%
The flying car from 'Chitty Chitty Bang Bang'
£338.50
42%
The Coca Cola Christmas Lorry
£298.20
40%
Ford Gran Torino from 'Starsky and Hutch'
£254.00
41%
Mystery Machine from 'Scooby Doo'
£240.00
40%
Super Mario Kart
£223.00
38%
Winter wonderland in Wales
As we enter the festive period, the new research reveals people in Wales are the keenest to experience the magic of Santa's Sleigh, with the average Welsh respondent willing to commit £634 to get behind the reins. Lagging at the bottom of the Welsh dream drive list was Uncle Bryn's Citroen Picasso; even with the prospect of James Blunt singalongs, people would pay only £105 a month for this car. Welsh drivers would pay almost twice as much to drive Postman Pat's van (£212) and almost three times more to drive the three-wheeled Reliant Regal from Only Fools and Horses (£285).
Flying high in London
Despite Londoners being the most likely region to favour Uncle Bryn's compact Citroen Picasso, not all their dream car choices remain practical. More than half of Londoners dream of driving (or flying) the Chitty Chitty Bang Bang car (53%) and they are prepared shell out the most for the opportunity (£520).
Sticking with the theme of flying, more than half of Londoners selected Santa's sleigh as their go-to motor (56%), with respondents willing to put aside £507 a month to go on an adventure with Rudolph. The Coca Cola Christmas Lorry was also chosen by 56% of Londoners, with the average person willing to commit £375 a month to take the lorry on its famous Christmas tour.
Small is Beautiful in the Midlands
Small cars reigned supreme in the West Midlands. Home of the original Austin Mini, Midlanders were happy to spend £300 to drive Mr Bean's car - nearly £100 more than the national average. This trumped the time-travelling Delorean from Back to the Future, Cliff Richard's Summer Holiday bus and Postman Pat's van, with some respondents even willing to pay out more than £500 to get behind the wheel of the famous yellow Mini (15%).
Scots living the dream
Bond cars were not so popular north of the border, the Lotus Esprit did not even make it into their top five. Instead, fantastical cars such as Santa's sleigh, the Batmobile and the Delorean from Back to the Future took the lead, with Scots willing to spend upwards of £400 on each of these dream motors. In fact, Scots were so keen to drive the Batmobile that nearly a quarter of respondents were willing to spend over £500 per month to live the life of the comic book character (24%), with the Delorean close behind (22% willing to spend £500 and over).
We were pleased some people dreamed of driving a yellow AA van
Trumping 007's Lotus Esprit was the flying car from Chitty Chitty Bang Bang (£378) and the Coca Cola lorry (£269), proving that the Scottish dream drive does not come in the shape of a sportscar.
James Fairclough, CEO AA Financial Services, commented: "We all like to dream big at Christmas and the drivers in our survey certainly did that. We were pleased some people dreamed of driving a yellow AA van (28%). Our yellow vans are iconic and whilst it is our five-star patrols who do vital work getting drivers back on the road, it's nice to also see our vans also have a fond place in people's hearts.
"One serious take-out from the research is how people's sense of value and affordability for desired cars is defined in terms of a monthly payment. For decades people have found car buying complex but, in the subscription age, mindsets are changing as more people 'think monthly' when it comes to car finance. At AA Financial Services we will be launching a new Personal Contract Purchase (PCP) offer in 2022 to give these people greater choice and convenience. We can't guarantee anyone a ride in Santa's sleigh but we are hoping to bring the fun back to car buying in 2022."
---
The research was conducted for AA Financial Services by MaruBlue among a GB nationally representative sample of 2,037 adults. The fieldwork was carried out in November 2021.