3 March 2021
Thousands of people have been guided to their Covid-19 vaccinations as the AA has provided nearly 2,000 free signs to community vaccination centres across the UK.
To date the AA Signs team have received around 180 requests for directional signage to vaccination centres and already provided more than 1800 free signs. The first to be completed was a former RAF technical site in Bicester.
As well as numerous community centres, leisure facilities, racecourses, sports grounds and places of worship, signs have been provided to pop-up vaccination locations such as:
A theatre in Dumbarton
The club house at Stockley Park golf club
Askham Bar park and ride in York
Lydd Airport in Kent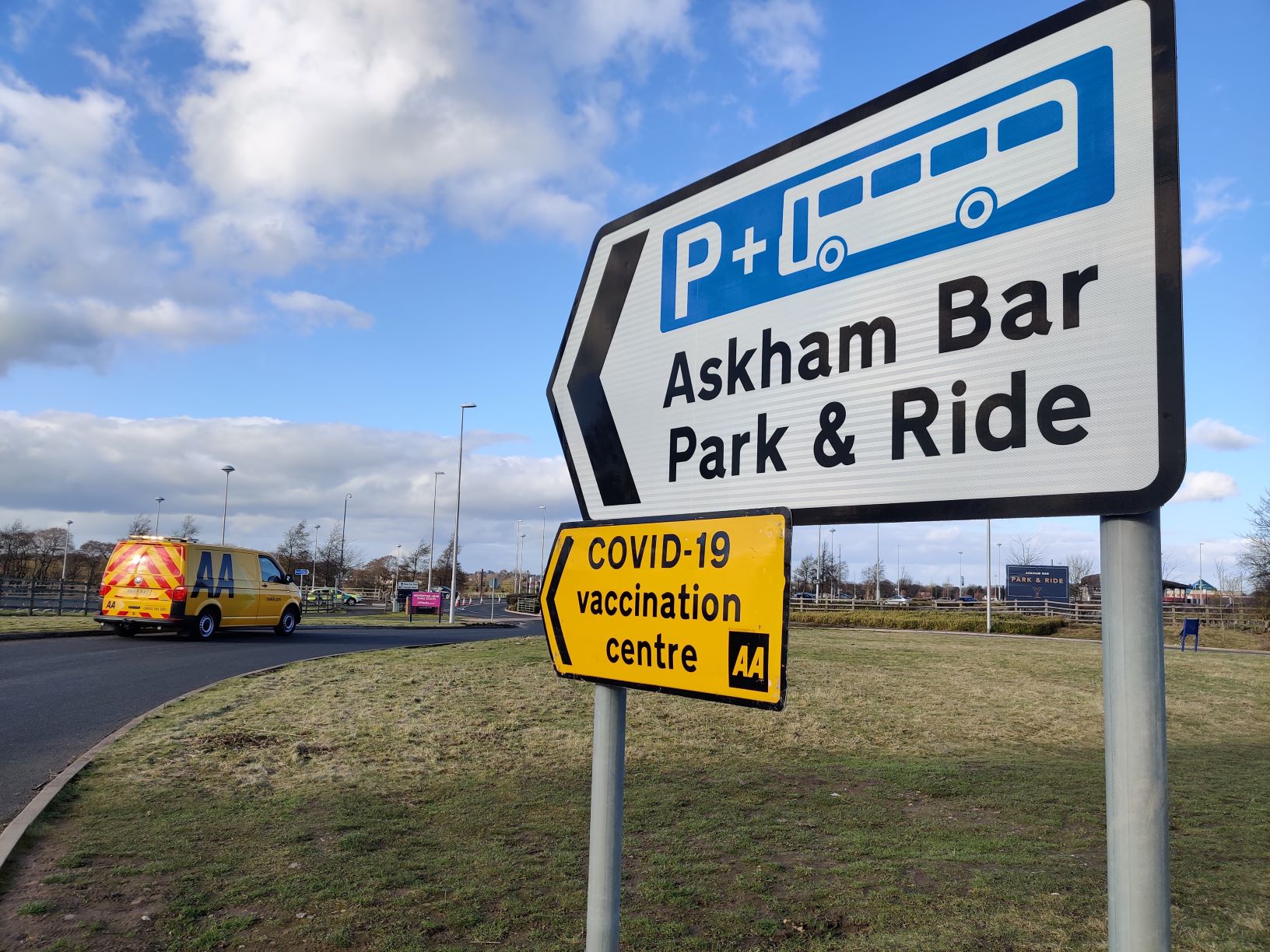 The offer has been warmly received by centre managers and attendees, with one customer writing: "Could you please pass on our thanks to your excellent Road Sign Team. I contacted them before your decision to sign for free and was delighted to then be told that the AA was going to sign COVID clinics for free. Within a very short time our signs were up. Many of the attendees have said how good it was to have clear signage to find our local vaccination centre. Our surgeries have a wide catchment area and finding the centre would not have been easy."
Everyone at the AA has been eager to do what we can to help local communities through this time
The signs are manufactured from 100% recycled plastic. The end-to-end state-of-the art service includes production, distribution, fitting and maintenance of the signs, as well as removal and recycling at the end of the vaccination programme.
Edmund King, AA president, said: "The AA has been producing road signs to guide drivers for over 100 years, so we knew straight away that using this expertise was a unique way for us to help in the national vaccination effort.
"Everyone at the AA has been eager to do what we can to help local communities through this time. Our patrols have been working hard throughout to continue helping drivers who break down, and now we are pleased to be guiding road users on two wheels or four with directions on route to these very important destinations.
"It's clear that the signs are already helping people find their way to their local community vaccination centres and we're proud to help sign the way to vaccinate Britain."
Transport Minister Baroness Vere said: "It's fantastic to see the AA offering to provide free signs to local authorities directing people to vaccination centres.
"Their expertise will help people reach their centre, contributing to the already huge national effort underway to get people vaccinated."
Feedback has been received from across the UK:
South West London: "This is a really important part of the puzzle – thank you for the value you are adding"
West Sussex: "Thanks so much - great signs put up and hugely appreciated by the vaccination team. Please pass on our thanks to the signs team."
East Midlands: "Many thanks, NHS contacts are very grateful for your assistance."
Oxfordshire: "That is really great news. Please pass on our grateful thanks for the speed in which this has been carried out."
Kent: "Really appreciate for your hard work on installing the signage. Our customers are finding it really easy to find us and are very much in awe of this effort."
---
The AA produced the first road signs in the UK and these remain a familiar sight for drivers
The AA is also continuing to help London Ambulance Service, with patrols working to keep more emergency vehicles on the road.
In addition, all NHS workers are offered an exclusive discount of up to 40% off breakdown cover.