22 December 2022
Three out of 10 (28%*) drivers believe that an overloaded sleigh is the main reason Santa's Sleigh breaks down, according to the AA.
A survey of more than 12,000 drivers conducted by Santa's official breakdown organisation also found that 17% thought that the AA patrols coded 'Reindeer out of fuel' as the most common reason for Father Christmas to call on the UK's number one breakdown provider. However, children leaving carrots out with Santa's traditional mince pie will cut the chance of that happening to Rudolph and his team.
Completing the top three was the fault code 'Christmas Spirit levels low', however the AA can confirm that this fault code has never been used in our 117-year history.
"Breaking down is snow joke, especially when Father Christmas needs help."
Q. Which of the following do you think breaks down most on Santa's Sleigh? Select one.
Sleigh overloaded – 28%/li>
Reindeer out of fuel – 17%
Christmas Spirit levels low – 14%
Rudolph's nose not shining – 9%
Collapsed suspension – 9%
Snapped reins/faulty steering – 5%
Naughty or Nice radar stops working – 5%
Broken sled skis – 5%
Jingle Bells not ringing – 5%
Hot Chocolate dispenser blocked – 3%
Wokingham patrol confirms successful test flight
Last Friday, Father Christmas completed a successful test flight ahead of the main event this week. Wokingham based Patrol, Lee Singleton, was able to grab a selfie with Santa as he gave his sleigh a quick check-up before he and the reindeer carried on their practice run.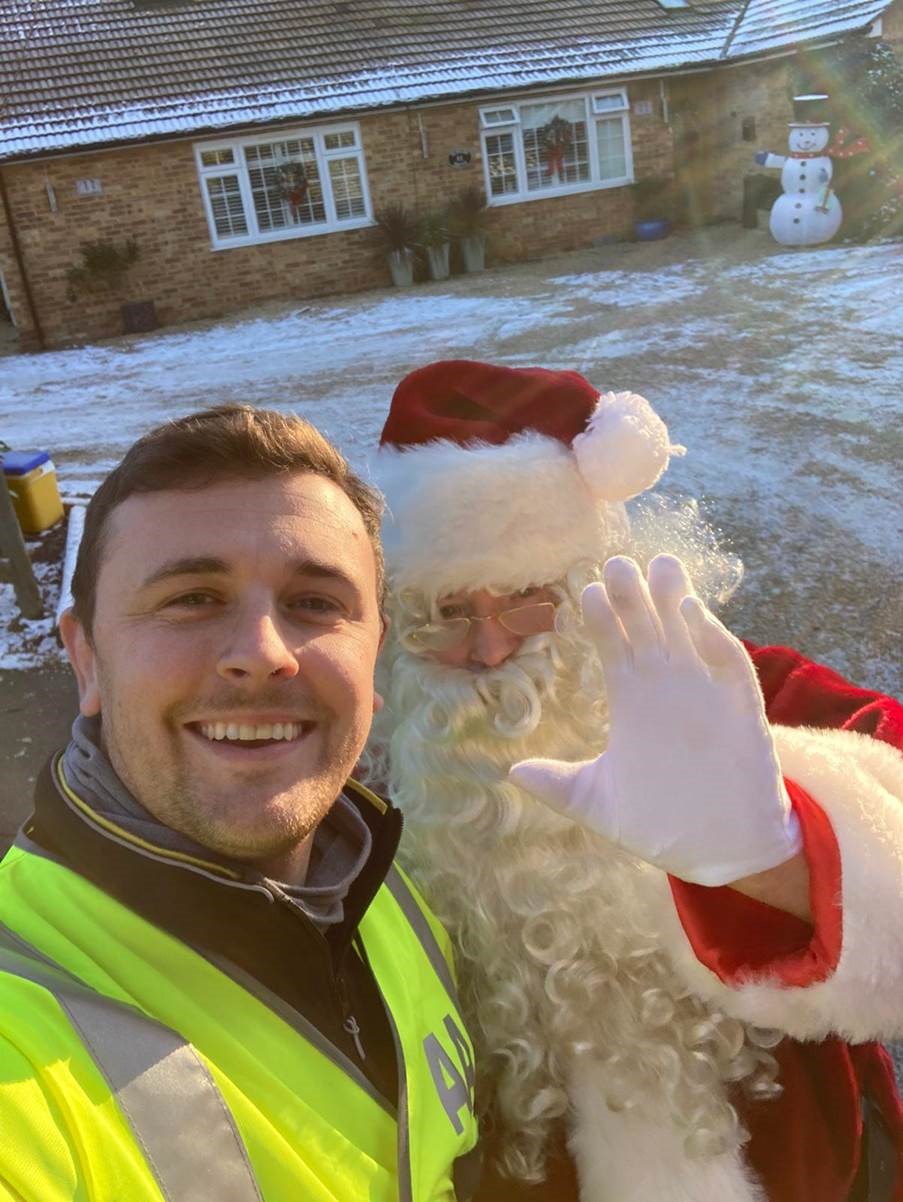 Lee Singleton, AA Patrol from Wokingham, said: "I'm pleased to say Santa looks after his sleigh all year round and it passed our checks with flying colours. Rudolph's nose is shining bright, and the nine strong reindeer team cannot wait for the challenge ahead."
Sean Sidley, AA Patrol of the Year, said: "Breaking down is snow joke, especially when Father Christmas needs help.
"Our teams and systems are in place ready to help Santa should he need us on Christmas night. He's downloaded our app, got What3Words*** ready and our patrols have carrots and mince pies in the vans just in case.
"AA Patrols are on hand 365 days of the year and will be rescuing drivers on Christmas Day. On behalf of the AA, we wish everyone a very happy Christmas."