AA champions show there is a different and rewarding career ahead as a recovery patrol
Nationwide shortage of HGV drivers
For more information see https://www.theaacareers.co.uk
Salary: £32,000 OTE (guaranteed minimum c. £28,368.96)
London £35,000 Average earnings (guaranteed minimum c. £32,045.88)
Over 40 vacancies nationally
At a time when there is a nationwide shortage of HGV drivers, and when some people are re-evaluating their working lives following the Covid period, AA recovery patrols explain that working in the recovery industry is a varied role which isn't just about driving.
Prior to working for the AA, 34-year-old Kelly Curran from Manchester, was an HGV driver within the mainstream haulage industry. She enjoyed being part of the industry, and the sense of freedom that her job provided, but wasn't enjoying the repetitive nature of the role, so she looked at other driving roles that could offer her the flexibility, and the variation she needed to retain her enthusiasm. After reading through the careers section on the AA website, she decided to apply for the role of recovery patrol.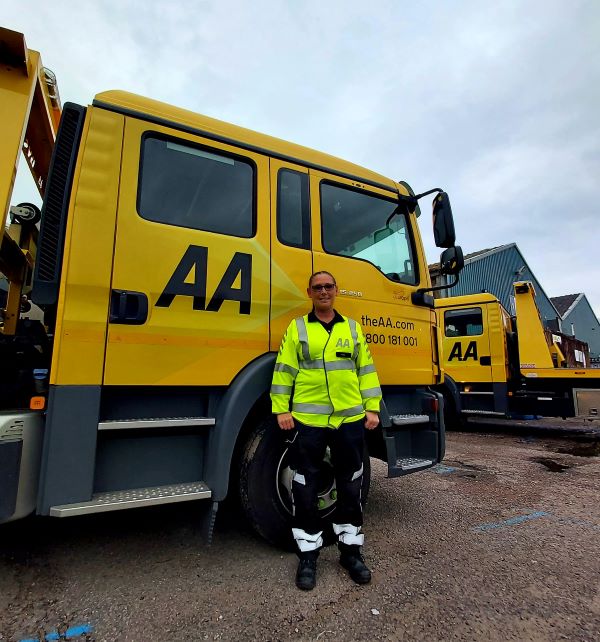 Recovery Patrol Kelly Curran
Kelly joined the AA in 2019 and hasn't looked back. This has been a good career move for Kelly because it has enabled her to feel part of a team and given the required flexibility to match her family commitments.
Whereas mainstream HGV drivers may endure many monotonous miles of motorway mayhem, the recovery patrol experiences much more rewarding human interaction, and regularly gets the opportunity to make someone's day.
Kelly said: "Being part of a close-knit team works really well for me as a female driver. Although there is plenty of well-placed banter amongst the recovery patrols, there is also a good level of mutual respect which I find really refreshing. Another benefit for me personally, is the fact that my roster seems to work well for my personal circumstances at this moment in time. If I was part of a less dynamic operation, this may not be the case and could cause logistical problems at home. Being able to represent a trusted brand like the AA gives me a great sense of pride in my work".
The Government are taking steps to free up HGV driving test slots by combining HGV test categories and removing the requirement for car drivers to pass a test before towing a trailer. These changes are being made to help fill an *estimated 100,000 vacancies in the HGV driving sector. Greater access to HGV test slots could make it much quicker to take your test and get your driving career started.
Manchester based Silviano Broli, age 55, became a recovery patrol with the AA in 2018 after leaving his role as an operations manager for a chauffeuring business. He now sees his future sitting firmly with the AA.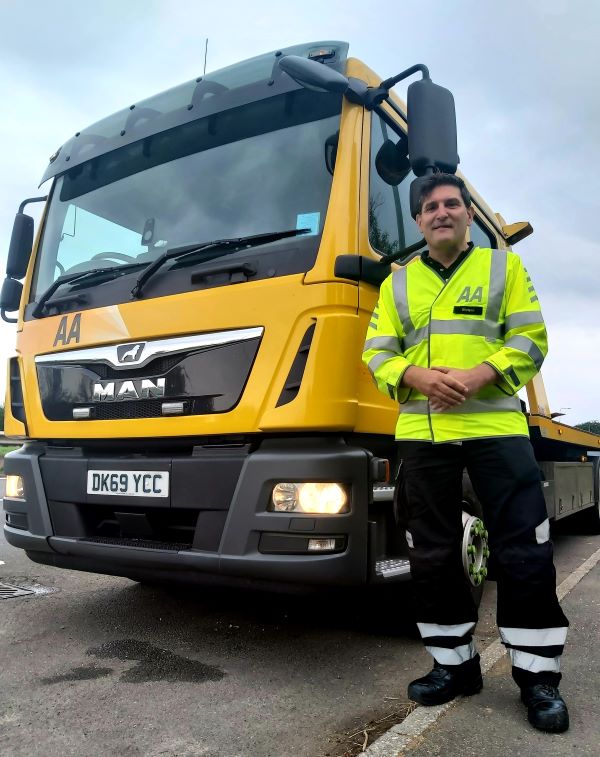 Recovery Patrol Silviano Broli
Silviano said: "I really enjoy my role with the AA as it gives me the job satisfaction that I need, with every day bringing new challenges. I find my job to be extremely rewarding, with lots of variation in the types of tasks that I attend, giving me the opportunity to improve someone's bad day, every day. Being part of the AA is a long-term career choice for me as it provides me with the scope for career progression within our organisation.".
The AA are currently offering HGV drivers joining and retention payments along with competitive salaries, flexible working conditions, and long-term career prospects as part of their employment package.
There are also opportunities available to become an AA Roadside Service patrol. This job involves providing ingenious roadside repair solutions to a wide and varied set of motoring problems encountered by AA members. This exciting role comes with a competitive employment package and similar career benefits to those listed for recovery patrols.