18 January 2022
Electric vehicle charging posts need to be more accessible for the one in five people with disabilities, according to the AA president, addressing the EV infrastructure summit today.
The call is supported by the vast majority of the 17,302 drivers who responded to an AA Yonder survey* last year.
73% say charge post spaces should be wheelchair friendly
79% say charge post design should consider users with limited mobility and/or physical disabilities
80% say there should be access to a 24/7 call helpline
Currently almost one in ten new cars in the UK are bought on behalf of disabled people. The Motability Scheme, overseen by the Motability charity, has enabled millions of disabled people to lease a car and enjoy the freedom of mobility. With the ban on the sale of new petrol or diesel cars just eight years away it is essential that charging infrastructure is accessible for all drivers.
Thankfully help is at hand as the Motability charity has been working on this issue for many months now in conjunction with fellow disability charity Designability, the British Standards Institution (BSI) and the Office for Zero Emission Vehicles (OZEV). This work will result in national standards that set a minimum level of accessibility for electric vehicle charging infrastructure. These proposed BSI standards, sponsored jointly by Motability charity and OZEV, are fully supported by the AA.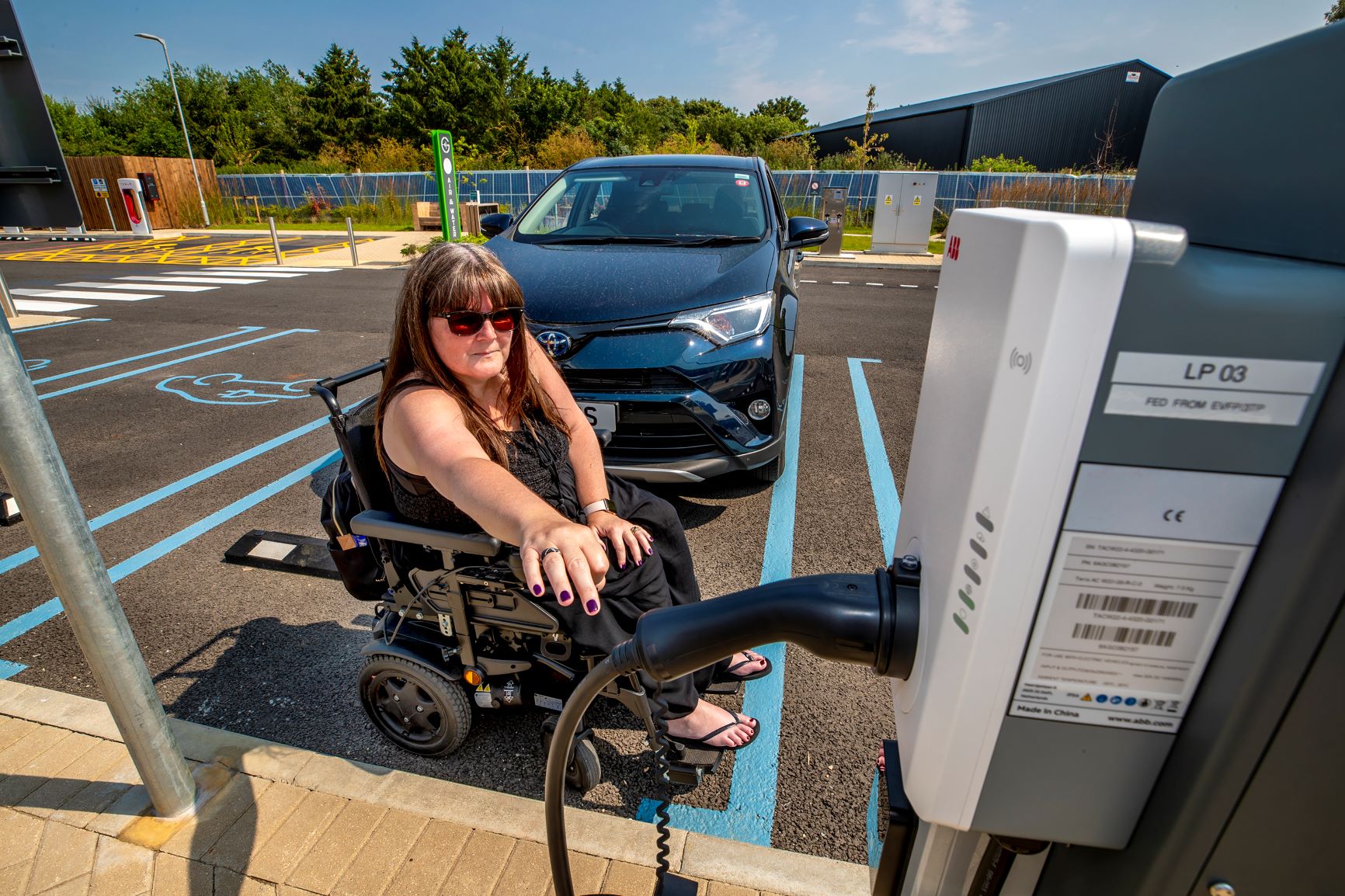 Edmund King OBE, AA president, will tell the conference: "The AA has been raising the issue of accessibility and security at charging posts and polled members on it last year, but we are absolutely delighted that Motability has taken this several steps forward and are close to an approved standard.
"In simple terms, charging posts need to be well-lit, close to amenities, with space around the vehicle to allow people to use walking or mobility aids. It is also essential that the instructions, screen, and cables can be easily viewed and used from a sitting and standing position.
Creating new charging posts that are easily accessible will not only benefit disabled drivers but will be a great help to our ageing population and indeed all drivers.
"Our experience on the EV Rally of Scotland brought it home to us that some people with limited mobility would struggle with the height and weight of cables particularly in enclosed areas with little space.
"Creating new charging posts that are easily accessible will not only benefit disabled drivers but will be a great help to our ageing population and indeed all drivers.
"We are getting to the point where the uptake of EVs is moving quickly from early-adopters, who perhaps put up with more quirks in the system, to more mainstream drivers who will rightly want the infrastructure to meet their expectations.
"All individuals also need to be safe and feel safe, using the charging infrastructure at any time of the day or night. We know of some chargers in remote corners of carparks with little lighting or security for users who rightly feel vulnerable on their own and must use a credit card and phone in public view. Hence the network needs to be accessible and safe.
"We are aware that some providers have made excellent progress in designing high quality infrastructure and indeed the AA provides customer support services to several providers. More accessible infrastructure will help speed up the EV revolution for all drivers."
Catherine Marris, Head of Innovation at Motability, said: "There is a robust commercial and social case for ensuring that the transition to EVs is inclusive for disabled people. Our research with Ricardo estimates there will be 2.7 million UK drivers or passengers with a disability by 2035, with half reliant on public charging.
---
*Yonder on-line survey of survey of 17,302 drivers carried out from 12-20 January 2021.
Motability is a national charity with the vision that no disabled person should be disadvantaged due to poor access to transportation.
UK government partners with disability charity to set standards for electric vehicle chargepoints - GOV.UK
Designability is a national charity that enables disabled people to live with greater independence through the creation and provision of useful products.
EV Infrastructure Summit – City & Financial 18/19 January 2022 Home - EV Infrastructure Summit 2022 (cityandfinancialconferences.com)
The conference session that Edmund King is involved in will consider: - Looking into the future; levelling up the imbalance in charging infrastructure provision in the UK. What are the main barriers to rapid EV transition and how can this be addressed? The role of central government vs local authorities, subsidies, club schemes for sharing charging infrastructure between residents and other potential solutions. Motorway and local charging infrastructure challenges.