Our shop at Eurotunnel le Shuttle in Folkestone has everything you need to make sure the equipment in your car meets the legal requirements for driving in France and Europe.
Pop into the shop within the main passenger terminal building and we'll be happy to advise on which products you need.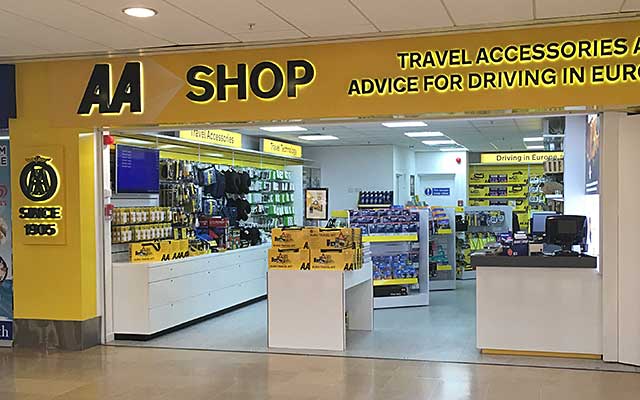 Opening Hours
Sunday to Thursday: 5am – 9pm
Friday and Saturday: 5am – 10pm
These hours can be extended to accommodate busy holiday periods.
Please phone ahead on 01303 272 275 for further information.
Buy car accessories and kits for driving in Europe, including:
Beam converters
Breathalysers
Warning triangles
Car battery chargers
Tyre inflators
Our range of travel accessories includes:
Travel guides
Maps and atlases
Sat navs
Travel chargers
Things to entertain the kids on your journey
European Breakdown Cover
For extra peace of mind you can purchase European Breakdown Cover at the Eurotunnel information desk which is open 24 hours/day.
Brexit
The documents you'll need to carry if driving in Europe will change in the event of a 'no-deal' Brexit.
The UK and EU have agreed to extend Article 50 until 31 October at the latest, with the option to leave earlier if a deal is agreed.
Travelling this summer:
While 'no deal' remains the legal default after 31 October, it's now unlikely that there will be any changes affecting European travel this summer. That means you will not need to carry an International Driving Permit (IDP) or Insurance Green Card to drive in an EU country.
Travelling if the UK leaves with no deal:
Whether hiring a car or driving your own, it's likely that you will need an Insurance Green Card and an IDP
You will also have to have at least six months on your passport (excluding months over 10 years added if you renewed it early)
25 April 2019