Fiat 500L Urban 1.4 T-Jet 120HP Lounge
Comfortable ride with predictable handling
May 2017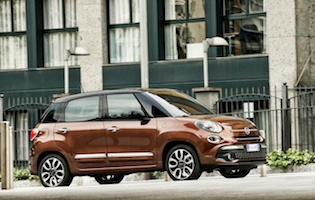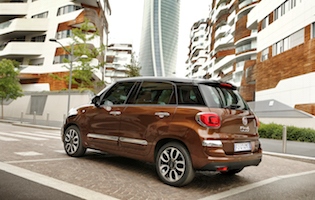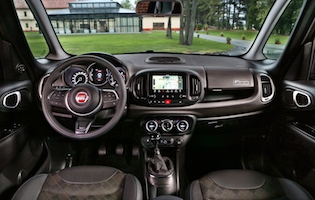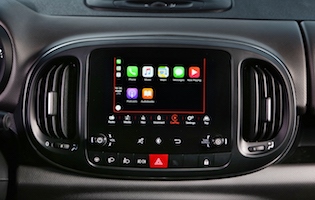 Overall rating

Likes:
Plenty of storage in the cabin
Fun to drive
Predictable handling dynamics
Fairly slick six-speed manual gearbox
Gripes:
Awkward looks
Panoramic sunroof eats into rear headspace
1.4-litre petrol engine lacks grunt low down
UConnect infotainment system slow
You might take one look at the new Fiat 500L and ask 'What's actually been changed?'. To be honest, not a lot. The engines are all as they were, and Fiat hasn't done a great deal to alter the car's exterior either. Arguably the largest changes are a new interior layout, and a greater focus on connectivity.
While the 500L is pitched as a car that should appeal to those young buyers who want the looks of a 500 but the practicality of an MPV, in practice the aesthetics of the smaller car don't translate well on to this larger model.
To our eyes, the 500L looks rather ungainly, and suffers the fate of a lot of MPVs in that it has a rather boxy and uninspiring appearance – despite Fiat's efforts to make this a retro-inspired and interesting family wagon.
In the cabin, there's a new dashboard layout that Fiat claims is less cluttered than the one found in its predecessor. While this is certainly true, some of the controls are still a tad difficult to find at times – particularly those operated by the new seven-inch touchscreen infotainment system.
Unfortunately, as the screen is rather small, reading the interface can be tricky – particularly if you're on the move. While the new system is fairly responsive to the touch, it's also slow to load some menus, which can become frustrating at times – solutions offered by other manufacturers are considerably superior.
Our verdict on the Fiat 500L Urban 1.4 T-Jet 120HP Lounge
While Fiat has made an effort to introduce some new features to the Fiat 500L, it still isn't the easiest car in the world to recommend. It's unattractive, isn't particularly fun to drive and with the 1.4-litre T-Jet engine, has absolutely no low-down power. Still, it has five seats and plenty of room for children, so it would work fairly well as a family wagon.
---
Costs
Pricing has not yet been announced for the new 500L, but Fiat says that it will be the same as the older model. This means you can expect to pay around the £20,000 mark for a Lounge-specification model like the one we tested. Running costs shouldn't be too worrying – the 1.4-litre T-Jet engine that was fitted to our test car features a claimed combined consumption figure of 42.2mpg and CO2 emissions of 155g/km.
Space and practicality
While the Fiat 500L offers front seat passengers plenty of head and shoulder room, back seat passengers aren't so lucky. The large panoramic sunroof really does eat into rear headroom, which means that even those passengers who aren't ridiculously tall will still find their heads come into contact with the roof. Because of this, you're forced to slouch, which eats into kneeroom and will also leave you with a bit of a sore back after an extended period of time.
Controls and display
The new 500L features a far more minimal dashboard design than its predecessor, although some controls can still be difficult to find while on the move. This is particularly true of those features that are operated through the new seven-inch UConnect touchscreen. Trying to place your finger on the correct part of the screen while driving can be distracting, and because the screen itself is rather small, reading the interface can also be challenging at times.
Comfort
You shouldn't find too much cause for concern with the Fiat 500L as far as comfort is concerned. The seats are soft and relatively supportive, and the car's suspension set-up deals with most lumps and bumps in the road amicably – with only particularly large imperfections in the road surface really unsettling the car. However, there is a bit of a trade-off for having this soft set-up – the 500L does lean a fair amount through the corners.
Car security
Thanks to features such as central locking, an immobiliser and an alarm – you shouldn't have to worry too much about the Fiat 500L's security. Also, the lack of a premium badge on its nose means it shouldn't attract too much attention while parked up on the street, either.
Car safety
As the new Fiat 500L has not yet been crash-tested by Euro NCAP, it's hard to give it a definitive safety rating. However, it does come with six airbags, an autonomous city brake system that can detect incoming obstacles and apply the brakes automatically, and electronic stability control for added confidence when driving on wet or slippery surfaces.
Driver appeal
With its mini-MPV aesthetic, the Fiat 500L doesn't exactly ooze driving appeal – at least not in the same way as the smaller 500 supermini does. To be fair, it does drive well and copes with uneven surfaces amicably – but it would be a stretch to say that being behind the wheel is an exciting experience. The 1.4-litre T-Jet engine that we tested was also really lacking in low-down power, and made quite the racket under hard acceleration.
Family car appeal
Fiat claims that the 500L is specifically targeted at those young families who want the funky image of the regular 500, but find it too small to deal with the comings and goings of day-to-day family life. While adult passengers might have a bit of a hard time of fitting in the back seats, children will find they have more than enough room, and the 455-litre boot is spacious enough for carrying around school bags, weekly shops and sports equipment.
First car appeal
While the Fiat 500L might hold some appeal with young, first time buyers it really isn't targeted at that sector of the market. The smaller (and cheaper) 500 supermini would make far more sense, as it is not only less expensive to run, it's also far easier to drive thanks to its pint-sized proportions.
Quality and image
With the 500L, Fiat has really tried to capitalise on the cutesy, retro image of the smaller 500 supermini. Unfortunately, blowing the 500 up to the people-carrier size of the 500L doesn't really work all that well – at least in our eyes it doesn't, anyway. The cabin is spacious and functional enough, but you can't help notice a number of cheap-looking plastics. While they do make the cabin feel slightly cheap, at least they don't give the impression of being flimsy.
Accessibility
You're never going to have an issue with getting in and out of the Fiat 500L. Thanks to its practical five-door layout, accessing the rear seats is a breeze and wide door apertures make the process that much easier. The boot lip is also fairly low, which means you don't have to lift heavy items up too high to get them in. However, the sill itself is quite wide, and there's a fairly large amount of exposed body work that could be scratched if something was dropped on it in the process of loading the boot.
Stereo and ICE (In car entertainment)
One of the most important changes that has been implemented on the new 500L – according to Fiat, anyway – is the new UConnect seven-inch touchscreen infotainment system. This includes satellite navigation and DAB radio, as well as Apple CarPlay and Android Auto for improved smartphone connectivity. Unfortunately, while the new system is fairly responsive to the touch, it's rather slow to load and does feel dated compared with the systems offered by rival manufacturers.
Colours and trim
The Fiat 500L is a car that prides itself on its image, which seems strange considering the fact that it isn't actually a very attractive car. Still, Fiat offers it in a range of eye-catching colours, including a new bronze shade, as well as a vivid orange, a bright red and a deep green to name but a few. Customers can also specify a contrast white or black roof for added visual appeal. Trim levels consist of Pop Star and Lounge.
Parking
Thanks to the Fiat 500L's high driving position, visibility out of the cabin is decent – which makes it that much easier to manoeuvre when the time to park comes. To help make this process even easier, there is also a rear view parking camera, which does a good job of revealing any obstacles or hazards that might be hidden from the driver's view.
Spare wheel
Space saver wheel as standard.
Range information
Petrol engine options: 1.4-litre Turbo (138bhp); 1.4-litre ECOTEC Direct Injection Turbo (150bhp); 1.6-litre (113bhp). Diesel engine options: 1.6-litre CDTi (109bhp, 134bhp). Transmission options: Five-speed manual depending on model; six-speed manual depending on model; six-speed automatice depending on model. Trim levels: Active, Design Nav, Elite, Elite Nav, Ultimate.
---
Alternative cars