The road to EV riding
I've been riding motorcycles almost since I could walk. Like most motorcyclists, I'm in love with the feeling of freedom they bring and the fluid motion of riding on two wheels on smooth tarmac.
Having worked for the AA for many years, in various technical roles, I have closely watched the development of electric vehicles. I've been privileged to be able to train on and to drive many of the offerings from manufacturers and I've rarely, if ever, been disappointed. The instant torque and uninterrupted acceleration EVs are well known for makes even the most basic models pretty exciting to drive. But the motorcycle market has been slow to catch up, and it is only in the last few years that some truly useable road-going examples have come to market. Like electric cars, they are generally single speed and offer masses of instant power. But even now, range and weight pose some real issues. Not to mention price. For £10k you buy a whole lot of ICE motorcycle, but this has been the entry level for electric motorcycles and if you want a fully spec'd sports model, you can double or triple that quite easily.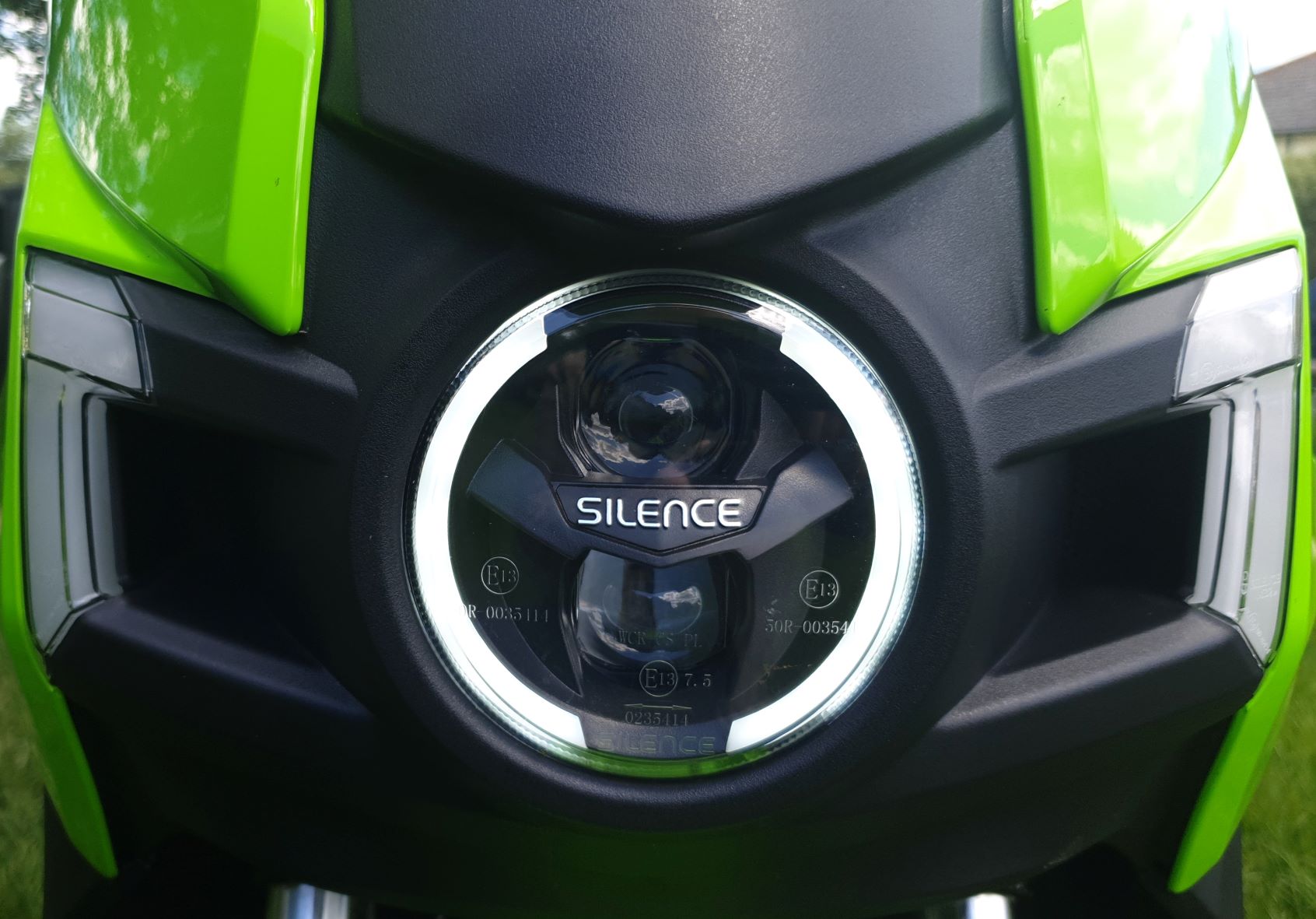 ---
Breaking barriers
It's a familiar story; high purchase price, limited range and lengthy re-charge times. All of these factors have stopped me from seriously considering buying any type of electric motorcycle. I've got a Triumph Tiger 800 XCS, it didn't cost the earth, will go pretty much anywhere with me and Mrs C on pillion and we can carry everything we need for a weekend away. I've had test rides on some of the Zero Motorcycle range and while unquestionably very impressive to ride, the initial cost to own one of these machines is a very real barrier for most of us.
When I heard that the AA had partnered with electric motorcycle manufacturers Silence, my interest was piqued. I've had twist and go, step through scooters before from European manufacturers like Vespa and Piaggio and have always been a fan of their ready usability and convenience for urban riding. I read up on the Silence specs, and I was excited to learn about the removable battery, impressive power and range claims and I thought they looked pretty good too. Styled to look different, but without being so 'out there' as to put me off. I made it my mission to secure a test ride.
The good people at Silence UK were only too happy to arrange an extended test of their S01 125cc equivalent scooter.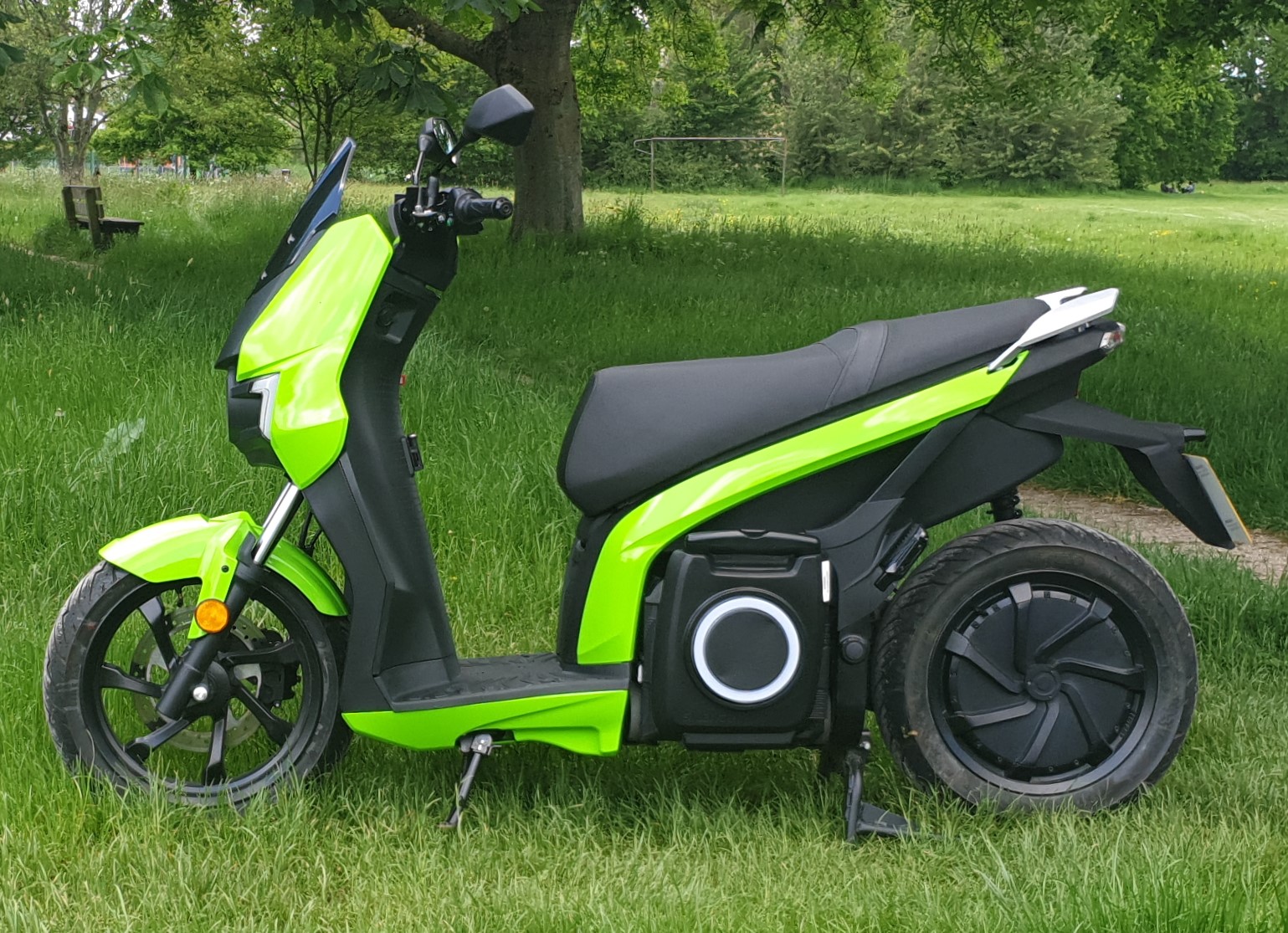 The Silence S01 styled to look different
---
Green lightning
Delivery day was a disappointingly wet and windy Friday. Silence's product specialist, Henry, brought the bike to my home in his van which was heavily liveried with the Silence brand and a picture of the S01 on the side. He expertly unloaded the bike, prompting the inevitable "you've done that before" from me. Being an S01 owner himself, Henry was super familiar with the bike, carefully went through the features and controls and showed me how to remove and install the battery. Henry also supplied me with a QR code for the bike which I scanned into the Silence app from the Play Store (or App Store for Apple users). The app has lots of features such as location of the bike, trip recording and planning and if you enable the Bluetooth feature you can unlock the seat and even turn on the ignition without the key.
Even though it was pouring down, I couldn't resist taking it for quick spin once he'd gone. I wasn't disappointed with the predicted torque, but I was also aware that the bike was almost new, and the tyres were suspiciously shiny on every surface but the very centre strip, so I reserved a full test for a dryer day.
It wasn't too long before the British weather relented and gave us some sunshine, and first order was to get the S01 out and have a proper ride. I'd removed the battery and trundled it inside on its little wheels to charge it, so this was my first attempt at installing it in anger. It really couldn't be easier. With the bike on its centre stand, just wheel the battery up to the side and line it up. With a firm push, done with the knee, the 40kg cube slots effortlessly into its housing with a clunk.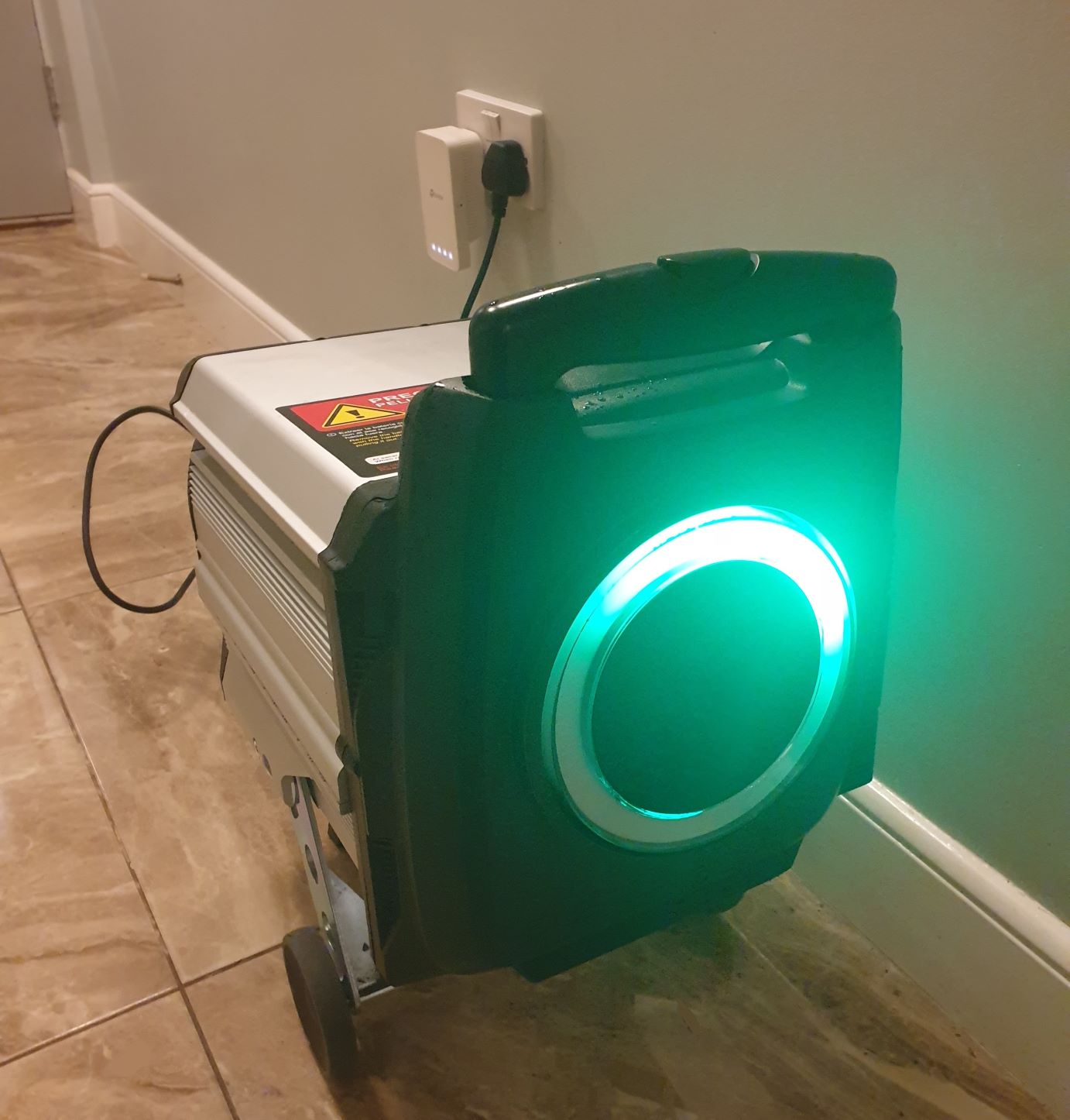 The removable battery LED glows and turns as it charges on a standard socket
---
The S01 is equipped with a reverse "gear" which, to a motorcyclist, seems a bit extravagant. But with electric it's so easy to have reverse, so why not? These scooters are quite heavy and my drive slopes down toward the garage, so the reverse feature was handy. To engage it there's a little button hidden on the back of the left handlebar that you must hold in. Then a little throttle and the bike gently reverses at up to 4mph. Be warned though, if you release the button with the throttle open, the bike re-engages forward drive with some notable enthusiasm, especially if you have already pre-selected sports mode.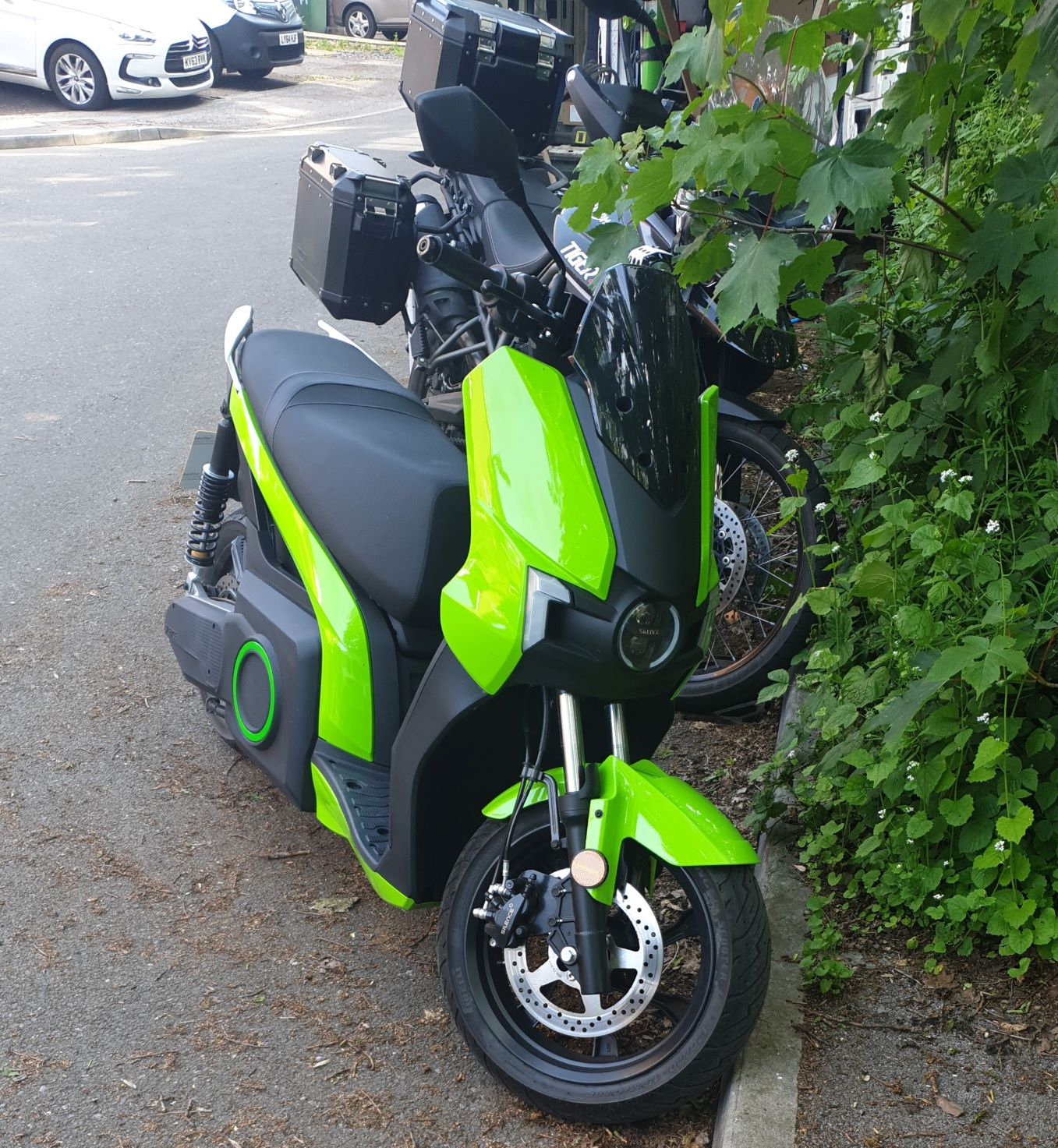 ---
Silence is golden
The first thing you notice when riding the S01 is the noise, or lack thereof. As the name suggests, the Silence S01 is indeed very quiet. There is a little hum from the rear hub mounted motor, which turns to something of a whistle under hard acceleration. But apart from that and the sound the tyres make on the tarmac, it is essentially silent. This lack of engine sound has some interesting effects on you as a rider. It seems to free up part of your brain, usually reserved for listening to engine sound, RPMs and potentially ride-ending noises. This really adds to the sense of freedom that motorcycling brings, and I found myself really enjoying the environment around me as I trundled through suburban Basingstoke.
Once onto the dual carriageway, I was able to open the little green bike up and again, I was truly impressed with the way it gets from a crawl to top speed of around 62 MPH (100 KPH). With a 7kW motor and 5.6 kWh battery, it easily holds its own with the rest of the traffic at speed and when it comes to pulling away from traffic lights, even the sportiest of cars would struggle to keep up. The CBS (Combined Braking System) brakes are also very good. There's great feedback and feel from both front and rear handlebar mounted levers, the front providing substantial regenerative braking as well as operating the hydraulic calliper and disc CBS set up. It didn't take me long to get a feel for the bike. With most of the weight in the battery and rear hub motor, the centre of gravity is very low and biased to the back of the bike. This makes for a very planted machine that inspires confidence through the bends. Steep inclines, normally the nemesis of small engine scooters, are a delight on the S01 which barely breaks a sweat as it powers through them.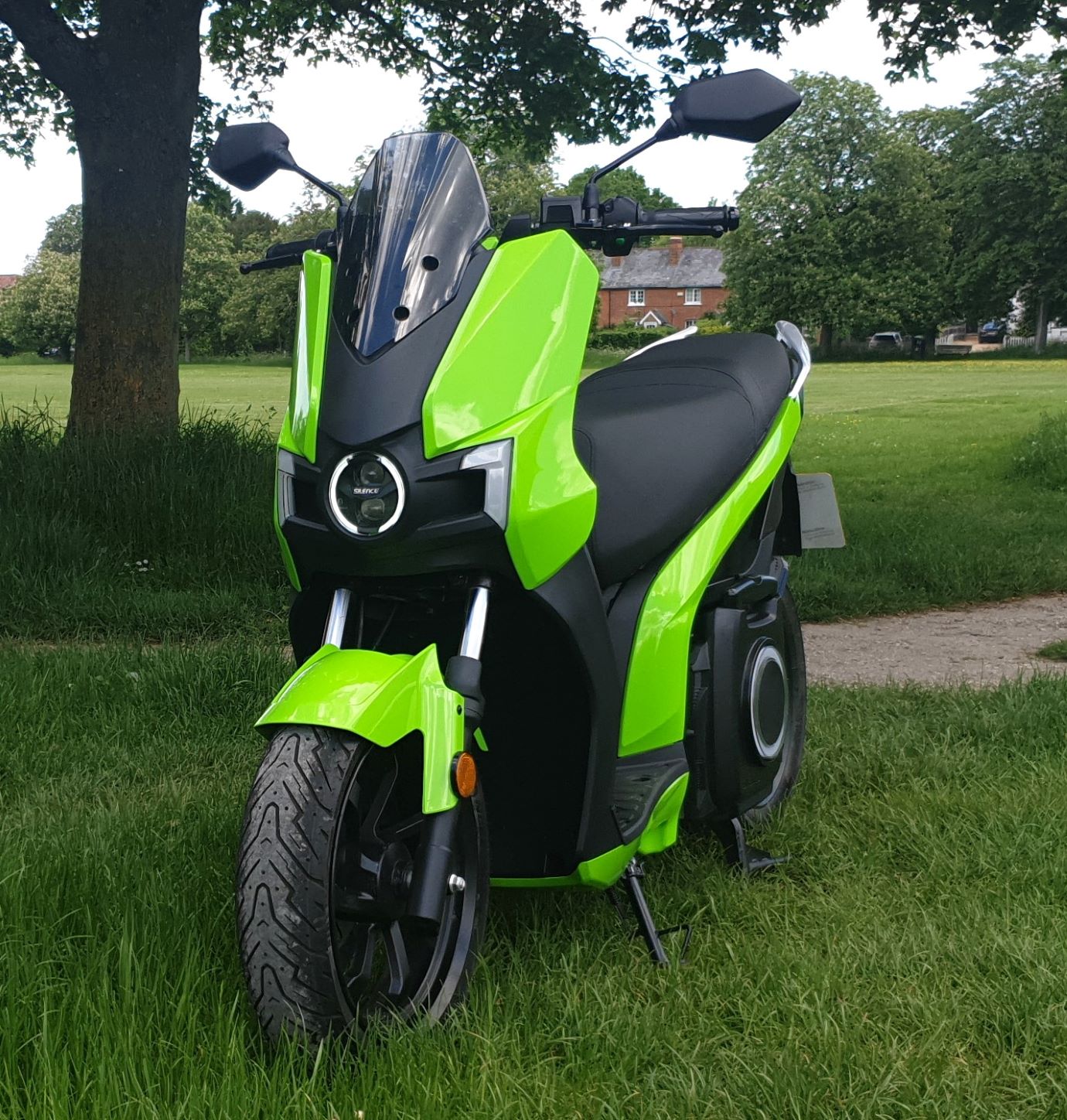 ---
Staying in control
The controls are fairly standard. The indicators beep when operated so you don't leave them on and are cancelled with a press of the button. Riding modes can be switched from urban to sport whilst riding, but to engage eco mode you have to stop. Eco mode reduces power and restricts the top speed to 42 mph whilst increasing the range from 50 miles (sport mode) to 80 miles. Speed, range and charge percentage are all clearly displayed on the large LCD panel. The S01 has funky daytime LED lights and a powerful headlight that can be selected from the handlebar controls. It's also equipped with hazard warning lights.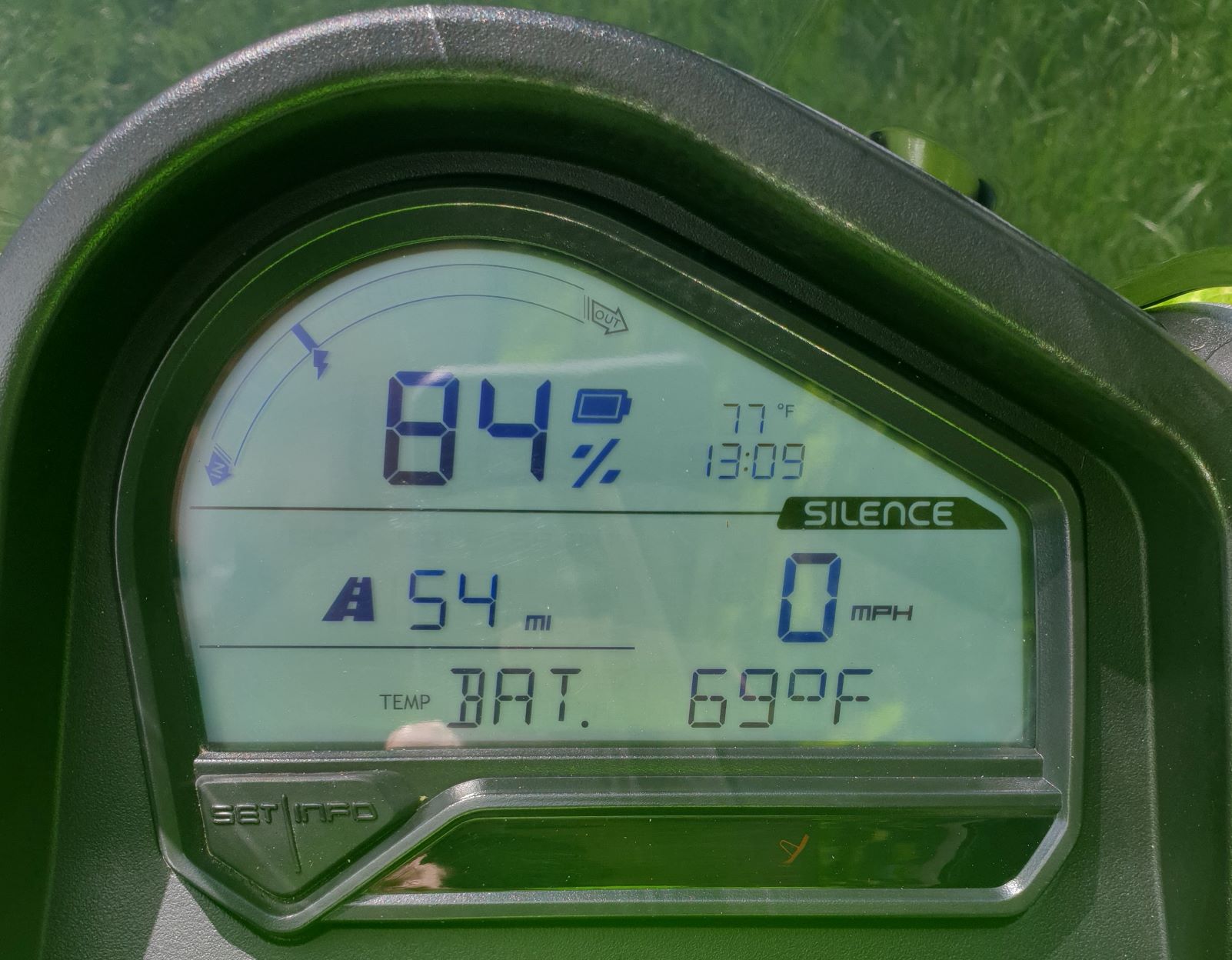 The digital display is large and easy to read
---
The bike's larger than average 15-inch front and 14-inch rear wheels are fitted with grippy Pirelli Angel Scooter tyres and the big wheels really help on uneven, potholed roads which would be more of a challenge on other scooters.
All this design makes for an excellently balanced, great handling machine that's enormous fun to ride. In the two weeks I had it, I found myself grabbing the green keyring for every trip where I didn't need to carry anything too big back from the shops; not that storage is an issue, as the under seat locker is big enough for two full-face helmets and there's a handy hanger below the handlebars for an additional bag. I even caught myself looking for excuses to go out on it. Be warned though, even though this bike falls into the L3e class, so can be ridden by anyone over 17 years of age with a CBT or full bike licence, the combination of near silent running and rapid acceleration can trick you into breaking speed limits in urban areas and I found myself having to actively manage my speed, something I normally don't need to do on my main bike, as gear selection and engine sound take care of it.
Testing opportunity
While I had it, I thought it worthwhile to do some testing on the bike, so I enlisted the help of local AA patrol, a previous 'Patrol of the Year' and thoroughly nice man, Andy Smith. I wanted to know what happens when you run out of charge on the S01, so Andy and I devised a route that would use up the 50 miles range in sport mode quite effectively without taking me too far from home. The route from my house to Swallowfield, through some country lanes to Hook and back down the A30 to Basingstoke is around 23 miles, mainly on fast A roads and predictably after one lap the bike was down to around 50% charge. Two thirds around the second lap I noticed a slight decrease in top speed, but no noticeable difference in acceleration. The percentage and range displays hit zero about four miles from home but as if by magic, the bike showed no signs of stopping. In fact, the only real noticeable loss of power was as I came up the last hill to my house, having covered 46 miles pretty much flat out the whole time. I'm sure the little bike would have reached the full 50 claimed range, albeit the last stretch at a considerably slower pace.
Next we wanted to see how it loads on our motorcycle recovery trailer, which is part of the CRT (Compact Recovery Trailer) fitted to all AA patrol vans. Andy had the equipment set up in no time and found the large front wheel on the S01 to fit perfectly in the recovery trailer cup. The bike was loaded up within 20 minutes of Andy opening his tailgate, so owners can rest assured that with two years' breakdown assistance included with the bikes, they won't be left stranded at the roadside should the worst happen.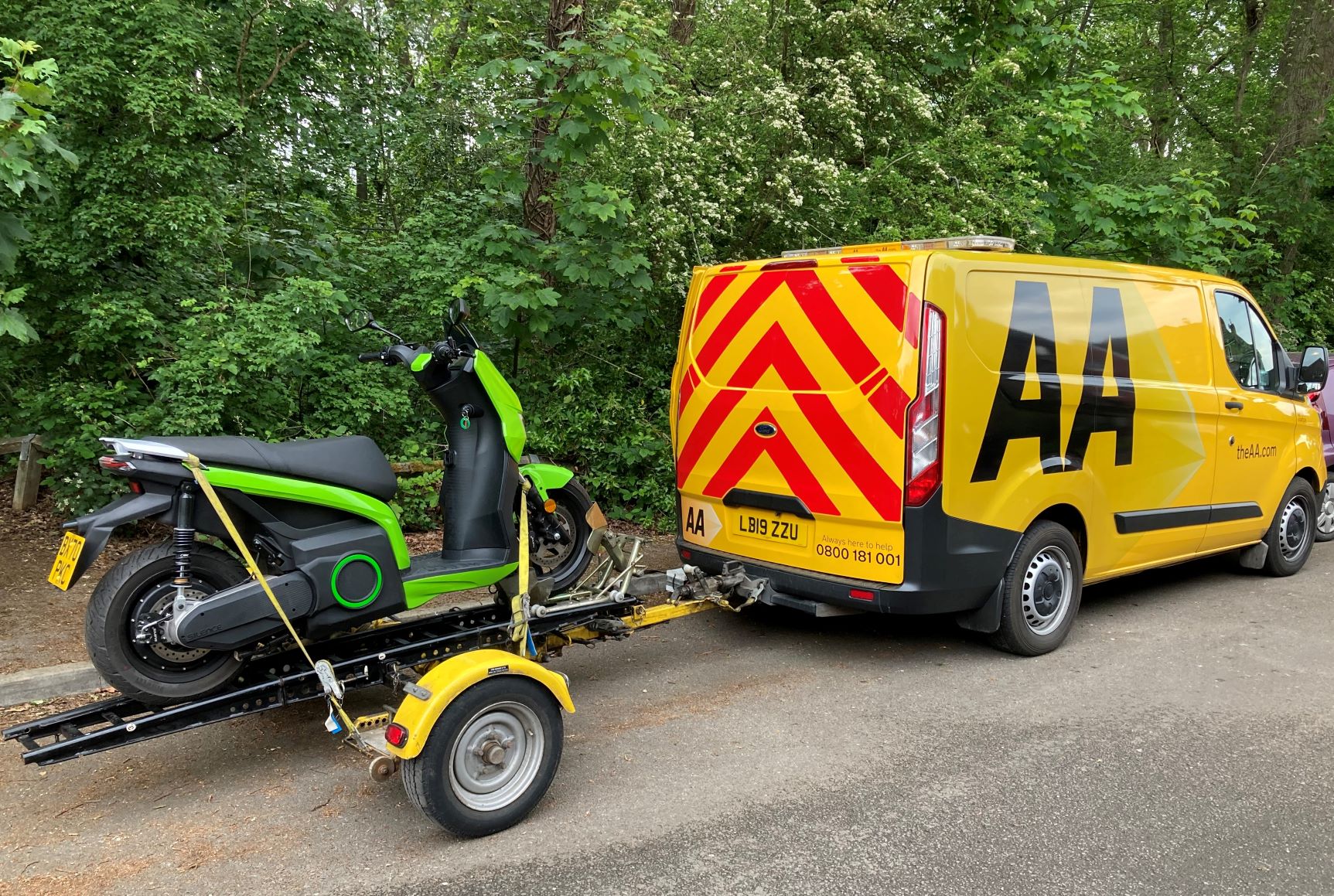 The bike fits easily on our motorcycle recovery trailer
---
All in all, I found the Silence S01 to be an excellent little commuter bike with great styling, well thought out design and exceptional performance. I think these bikes represent a new era in urban mobility, ticking all the boxes for convenience, fun and usability. And at less than £5k (including OLEV grant) with a two-year warranty, three year battery warranty and two years' breakdown cover, they are good value too.
Would I buy one? I'm putting my order in soon, as the S01 is a perfect accompaniment to my camper van - with the battery removed and stored on charge inside the van, I can mount the bike on the rear scooter carrier for easy transport wherever my camping tours may take me.
Visit Silence UK for more information
Silence S01 tech specs
Length: 2000mm
Width: 705mm
Height: 1313mm
Wheelbase: 1450mm
Weight: 111 kg without battery (151kg with battery)
Suspension front: Telescopic forks, 81 mm travel
Suspension rear: Single shock absorber
Brakes: Front and rear discs, CBS combined braking, regenerative braking
Tyre sizes: Front 120/70-15, Rear 140/70-14
Motor: 7 kW (9 kW peak power)
Battery: 5.6 kWh
Range: Up to 80 miles
Charge time: 6-8 hours using conventional socket, via standard "kettle" lead
Warranty: Vehicle 2 years, battery 3 years, AA roadside assistance 2 years
Price: £4995 OTR including VAT and OLEV grant