Thursday 18 August 2022
The AA has taken a radical step in the evolution of vehicle technology within the breakdown sector by today (18th) launching a hydrogen fuel cell breakdown vehicle at the British Motor show in Farnborough.
Fuel cell electric vehicles (FCEVs) use a propulsion system like that of electric vehicles, where energy stored as hydrogen is converted to electricity by the fuel cell. Unlike conventional internal combustion engine vehicles, these vehicles produce no harmful tailpipe emissions. The only emissions are water.
Team AA has designed the NEXO to be an operational roadside breakdown vehicle. It will carry most of the tools, equipment, and spares that you would find on the rest of their yellow Patrol fleet.
It will be targeted at breakdown jobs in ultra-low emission areas that require fixes rather than tows.
The SUV type vehicle has a fuel cell system combines oxygen and hydrogen to create a flow of electrons that powers the electric drive motor and charges the 1.56kWh high voltage battery.
The NEXO can fuel up in just five minutes and has an impressive range of 414 miles (WLTP) which is more than enough for city work and potentially can handle many of the 10,000 daily breakdowns attended by the UK's leading breakdown provider.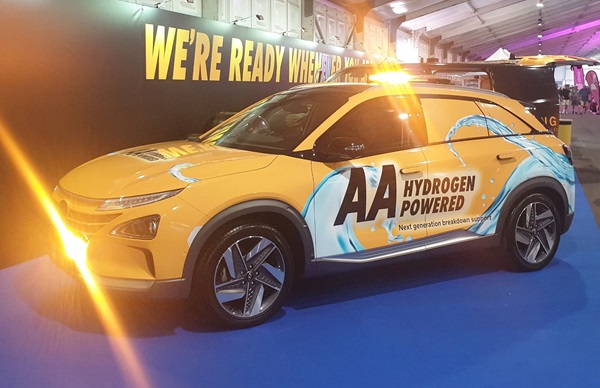 More details about the vehicle here: All-New Hyundai NEXO | Hydrogen Fuel Cell SUV
Edmund King, AA president, said: "The discussions about carbon reduction and zero emission vehicles have tended to concentrate on Battery Electric Vehicles (BEVs).
"At the AA we are investing in electric vehicles but believe that there will be a role for hydrogen and possible synthetic fuels in the future, especially for business fleets.
"We want Patrols to pilot this hydrogen fuel cell vehicle to see what lessons we can learn. We believe hydrogen might be used for our bigger tow trucks in the future.
King continues: "As part of our ESG strategy we believe that driving doesn't have to cost the earth and we're committed to reducing our impact and supporting drivers to do the same. To achieve this the AA has recently announced its commitment to become Net Zero for our own emissions by 2035, including our greenhouse gas emissions generated by our operational fleet which are the AA's most significant source of direct emissions.
"This is an ambitious target, as there isn't yet a van in production that can run on alternative fuel and meet all our needs. We have tested many vehicles and will continue to trial new technology as it becomes available while investing in innovation that reduces our environmental impact. We're also partnering with others to help develop the tech that'll make it easier to transition to electric and lower carbon emission vehicles.
"As part of this target we are rolling out electric vehicles (EVs) into our operational fleets, where we can and trialling other low carbon vehicles and technology across our group, like hydrogen chargers and vehicles to gain learning and understanding how these vehicles could be used in the future.
"Our fuel cell vehicle launch at the British Motor Show today is another step towards our technological and Net Zero future."