Travel the timeline
Back to top
---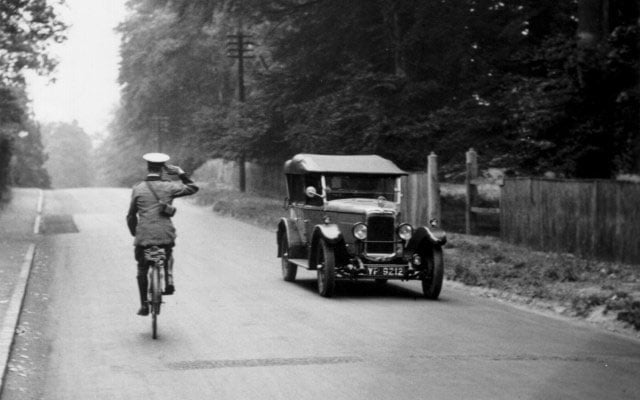 An early AA patrol salutes a passing car
The early years, 1905 to 1918
On 19 June 1905, Charles Jarrott and a group of other like-minded individuals met at the Lyons' Trocadero Restaurant in Shaftesbury Avenue, London. Forming a committee and operating under the initial title of 'The Motorists' Mutual Association', (MMA) they came together to consider ways to overcome the perceived police oppression of early motorists and their use of speed-traps.
Just a week later, on 26 June, the MMA committee voted to change its name to The Automobile Association (AA). They held their first General Meeting as the AA at the Trocadero on 29 June.
The strategy they formed was to employ cycle scouts to patrol main roads and warn members of any police traps ahead. Initially, a motor cyclist and three pedal cyclists were recruited.
As motoring became more popular, so did we – the 100 AA members in 1905 grew to 83,000 by 1914. As AA membership expanded, so did our activities.
The first AA patrols had no uniforms and only basic pedal cycles. They worked at weekends only, patrolling the Brighton and Portsmouth roads where their official duties were laid down as 'indicating dangers on the road and helping motorists who had broken down'. Uniforms were issued from 1909, by which time there were patrols all over the country, including Scotland.
By 1912 there were 950 cyclist patrols.
In 1907 the first AA insurance policy was launched – arranged with Lloyds and with no profit going to the AA. In 1906 a legal defence fund had been set up to ensure legal representation and payment of lawyers' fees. The AA took no more active part in motor insurance until 1967.
To cater for the increased popularity of touring by car, the AA appointed agents and repairers throughout the UK. 1,500 agents were listed in the AA Members' Special Handbook, which first appeared in 1908. The first hotels were listed in the handbook from 1909.
We introduced the first AA routes around 1912 with handwritten details, and by 1929 we were issuing 239,000 routes a year.
From 1912 we started inspecting and classifying hotels. Those receiving our famous AA star classification were included in subsequent editions of the Members' Handbook.
From the start hotel inspectors paid for themselves and accepted no favours. The star system was derived from one used to classify brandy – AA Secretary Stenson Cooke had once been a wine and spirit salesman – with a 3 star hotel being defined as a really decent, average middle class hotel.
Back to top
Police speed traps and the AA salute
The use of motor cars was initially met with hostility, suspicion and resentment – they were noisy and dirty, and alarmed horses.
Motor cars were initially classed as 'locomotives' (under the Locomotives on Highways Acts 1865) and their speed was limited to 4 miles an hour. They had to be preceded by a footman carrying a red flag.
By 1878 each 'locomotive' had to be preceded at least twenty yards by a person required to assist horses in passing the locomotive, but he no longer had to carry a red flag.
This law was repealed in 1897, with the Locomotives on Highways Act 1896, and the speed limit increased to 14 miles an hour.
The Motor Car Act of 1903 stipulated a speed limit of twenty miles an hour.
Early enforcement
The police forces of the day enforced the new speed limit with such vigour and enthusiasm that it was tantamount to persecution.
A trio of officers would choose a rural stretch of straight road and hide in the bushes waiting for the unwary driver.
Two plain-clothes policemen would station themselves a measured furlong apart.
The first would use a white hanky to signal an approaching motorist and the second used a stop-watch to time the motorist over the furlong.
As little as 2 miles over the limit was sufficient for the trap to be sprung, and the third, uniformed officer, was on hand to signal an offending motorist to stop.
Penalties imposed by unsympathetic Count Magistrates were harsh. The usual fine was £5 – equal to a month's wages – with the alternative of 4 weeks in jail.
Called 'hedge-hogs' by the early day drivers, this zealous police persecution was killing the new era of motoring.
The AA is born
In response to this police oppression, a London motor dealer, Charles Jarrott (of Charles Jarrott & letts Ltd) started to organise a special staff of cyclists skilled at judging speeds. Bearing red flags they patrolled the Brighton Road to caution those they considered were travelling at a speed which was illegal or dangerous.
Subsequently, in June 1905, a group of enthusiasts, Walter Gibbons, Charles Jarrott, Ludwig Schlentheim and Alfred Harris, banded together under the title 'The Motorists' Mutual Association'. Amongst its objectives was to continue patrolling the Brighton Road, as done by Charles Jarrott & Letts Ltd, and to patrol other main roads as subscriptions are obtained.
Meeting at the Trocadero in Leicester Square, London, they formulated their strategy and agreed a plan of campaign.
Scouts were to 'sniff out' traps along the main roads and wave down unsuspecting drivers approaching the 'measured furlong' at more than 20 mph.
A motorcyclist and three pedal cyclists were engaged to operate the section of Brighton Road to Crawley, while four more cyclists operated the Crawley to Purley stretch, all operating at weekends only.
A month after their inaugural meeting the MMA changed its name to The Automobile Association.
Many first scouts were Fleet Street newsboys. Being energetic and physically fit and using their own bicycles, this weekend activity was seen as a bit of sport and a marked a contrast to delivering newspapers.
John Drew is credited with serving longer than any other of those early scouts and rose through the ranks to become a superintendent. He was buried at Watford Cemetery on the 12 February 1936.
The 'Fairmile Case', 23 September 1905
Some scouts were called on to give defending evidence in courts.
One scout, William Jones, swore an oath that he followed a motorist and AA member Herbert Johnson – accused of exceeding the 20 mph limit – along the Fairmile stretch of the Portsmouth Road, on his bicycle at a speed of no more than 15 or 16 mph.
Johnson was convicted and Jones subsequently arrested and charged with perjury.
The AA staked every penny of its funds to bring about his acquittal. Not only did it face bankruptcy, but more importantly its reputation was put on the line as this was only 3 months after the AA had been founded. Thankfully the case was won by the AA.
First secretary
Stenson Cooke took office at the age of 31 on 24 August 1905 for an annual salary of £156.
Located at 18 Fleet Street – a borrowed office belonging to a group of solicitors – the AA had 90 subscribing members and a similar figure in the bank.
Stenson Cooke received a knighthood in 1933 for services to motoring. He died in 1942, still in service, at the age of 68.
First scouts
In 1906 seven roads were being patrolled by the first scouts who were expected to turn out neatly dressed in a cycling costume – knee breeches, stockings, boots, jacket, cap collar and tie.
As late as 1909 patrols were expected to provide their own breeches and boots with only the cap, jacket and ancillary equipment being supplied by the AA.
Red and white badge
Scouts were supplied with a yellow armband with the letters AA on it to be worn on the left arm above the elbow.
They were also supplied with a reversible red and white circular metal disc badge with a leather strap which was buttoned to the front of the scout's coat near the neck.
The badge carried the AA sign together with the scout's own number, and would be shown to all passing drivers, not just AA members.
White side of badge (and a military salute) – I am here if you want me
Red side of badge (and a military salute) – please drive more carefully
Red side of badge held in the right hand above the head – Stop please
AA members would be recognised by their membership badges on their motor cars, and thus the scout would be able to provide them with information and assistance if required.
The AA salute
This overt interference with the police's execution of their duties came to an end on 1911 when use of the coloured badge stopped.
From 1911 it became the absence of the salute that would be used to warn of a police speed trap – members were asked to 'stop and ask the reason' whenever a patrol scout failed to salute them.
The Road Traffic Act 1929 was introduced into the House of Lords in November 1929 and the Road Traffic Bill of 1 August 1930 eventually removed the 20 mph speed limit.
Following criticism that to give or acknowledge a salute endangered the patrol and the member, both of whom had to lift a hand from the controls, in 1961 patrols were instructed that it was their duty to salute AA badges but not if there was a risk to themselves.
In 1962 (coincidentally the same year that Mini vans started to replace motorcycles) patrols were relieved altogether of the responsibility of saluting when patrolling.
Back to top
Early road signs
In 1906 we began erecting village signs as local councils didn't consider this their responsibility.
The first AA sign was erected at Hatfield and showed the place name as well as mileages to nearby towns.
We had put up more than 30,000 village signs by 1939, when they became a local authority responsibility.
In fact we were responsible for most signing before 1939 having started to erect direction signs and a variety of warning signs – schools, dangerous bends etc. from 1909.
After the war the AA's focus was on temporary signs for events and AA Signs' distinctive yellow and black colouring for special events remains a familiar sight at the roadside.
Back to top
Foreign touring
As early as 1906 the AA held negotiations with the French authorities about touring facilities and had discussions with shipping companies about transporting members' cars across the channel.
Reciprocal membership arrangements were made with touring clubs in France, Belgium, Holland and Switzerland and from 1908 the handbook included brief information about conditions in different countries.
The foreign touring service really took off in 1908 when one of the AA's founders, Charles Jarrott had his car transported from Folkestone to Boulogne.
By 1914 the AA had an office in France courtesy of the Automobile Club of Nice.
Back to top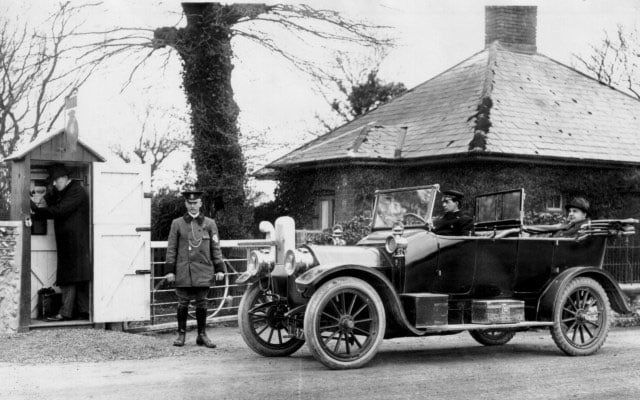 1913, a patrol stands ready to assist beside an AA telephone box
AA telephone boxes
The first AA telephone boxes were put up in 1912 too, initially as shelters for patrols. By 1920 there were 61 boxes and members had a special key to open them – members could make local calls free of charge.
In 1925 a series of 'super' telephone boxes were installed with signposts on the roof which were illuminated at night.
By the early 1960s no more traditional boxes were being built. In their heyday there were almost 1,000 – now only 19 remain, eight of which have a Grade II heritage listing.
137 Porlock, Somerset, on A39 (Dunster–Lynton) at junction with New Road
161 Nantyffin, Crickhowell, Powys, on A40 (Abergavenny–Brecon) at junction with Talgarth A479
289 Devil's Bridge, Ceredigion, at junction with A4120 (Devil's Bridge–Ponterwyd) and Cwmystwyth B4574
372 Mere Corner, Cheshire, on A556 at junction with A50
442 Aysgarth, North Yorkshire, on A684 (Aysgarth–Leyburn) near junction with Buckden B6160
456 Halfway House, Newton Poppleford, Devon, on A3052 (Exeter–Sidmouth) at junction with B3180
472 Cambus o' May, Aberdeenshire, on A93 (Aberdeen–Braemar) near junction with Strathdon A97
487 Dunmail Raise, Grasmere, Cumbria, on A591 (Grasmere–Keswick) at Raise House south of Thirlmere
504 Ardgay, Highland, at junction of A836 (Bonar Bridge–Tarlogie) and B9176
530 Brancaster, Norfolk, on A149 (Hunstanton–Wells) around 300 yards west of junction with Common Lane, Brancaster Staithe
573 Garrowbay, East Riding of Yorkshire, on A166 (Driffield–York), 4.5 miles east of York, opposite entrance to Garrowby Hall
580 Boduan, Gwynedd, on A497 (Nefyn–Pwllheli) around 1 mile south of junction with B4354
631 Brachla, Highland, on A82 (Fort Augustus–Inverness) around 4 miles north of Drumnadrochit
687 Trinity, Jersey, at junction of Rue du Presbytere and Rue des Picots, Trinity
714 Threapland, Elgin, Moray, on A96 (Elgin–Fochabers) east of junction with B9103, Threapland Wood, 3.5 miles west of Fochabers
723 Cappercleuch, Borders, at St Mary's Loch on the A708 (Moffat–Selkirk)
746 Loch Allen, Dava, Highland, at junction of A940 and A939 (Grantown on Spey–Nairn), south of Forres
753 Glen Dye, Strachan, Aberdeenshire, between Bridge of Dye and Strachan on B974 at junction with Old Military Road
817 Beadnell, Northumberland: on B1340 (Alnwick–Bamburgh), 1/4 mile north of Beadnell
The AA archivist has compiled a definitive list of all known AA roadside telephone box locations prior to 1962. You can download the list as a PDF.
Archive photographs of AA boxes on Flickr »
You can find more recent photographs of AA boxes, including many from the list above and some that are in museums on www.redphonebox.info
Timeline
1912 – First AA roadside 'sentry' boxes installed to give shelter to patrols, who literally patrolled sections of road. Box no.1 was at Newingreen, near Hythe, Kent, on the A20/A261. They were soon equipped with a telephone to allow contact with patrols and members were entitled to make free local calls.
1920 – AA members issued with a key to open boxes, now numbering 61, in the absence of a patrol. Mostly the 'stable door' type with the upper part of the door giving access to the telephone, fire extinguisher and local information; and the lower part to a small fuel supply, first aid equipment and cleaning materials. Most of the boxes were illuminated at night either by gas or electricity operated by a timer switch.
1923 – AA road signs introduced showing the direction and distance to the nearest AA telephone box.
1925 – 'Super' telephone boxes were constructed at major crossroads, equipped with direction signs on a twenty-foot high central pole and illuminated by lamps on the roof.
1927 – New more solid design introduced with greater attention paid to the colour scheme and location to make them fit in with the scenery. Patrols were encouraged to improve the appearance of their 'patch' by planting flowers and bushes, and some even built special features such as flower gardens, mock wells and dovecots.
1938 – 638 telephone boxes in operation throughout the UK.
1947 – AA and RAC phone box keys made interchangeable. New slim-line 'walk in' telephone boxes introduced with older ones being adapted to offer complete protection to members.
1956 – Another change of style with boxes in areas where the AA's radio-controlled road service operated fitted with illuminated door panels. Patrols were now equipped with radio systems fitted to their motorcycle and sidecar so they were contactable while mobile.
1960 – With rising car ownership and the building of the first motorways, supplementary roadside telephone posts installed.
1968 – Wooden sentry boxes phased out – except those with a heritage listing or in areas of scenic beauty – in favour of more modern, pedestal telephones. Keys no longer issued and number of boxes peaked at 787.
1992 – Introduction of slim-line pedestal telephones.
2002 – AA telephones decommissioned as mobile phones made them redundant.
Back to top
The First World War
The AA's relationship with the military can be traced back to its formation in 1905. Founding secretary, Stenson Cooke, had been a Lieutenant of the 1st London Rifle Volunteer Brigade and, for many years, most of the AA patrols were ex-regular or national service soldiers.
During the First World War, AA members were called upon to donate their vehicles to carry the wounded.
Many vehicles were re-fitted with ambulance bodies before being shipped to France to be used on the Western Front.
AA Patrols of military age were also encouraged to enlist into the army. Many Patrols were former soldiers, and so returned to their respective regiments.
8th (Cyclist) Battalion of the Essex Regiment
Recognising the special training that the AA Patrols had received, Stenson Cooke sought to have them transferred to the Army as one group. The War Office gave authority to raise two companies for the 8th (Cyclist) Battalion of the Essex Regiment (Headquartered in Colchester). Stenson Cooke was given the commission as Captain of one of the Companies.
In all 110 men joined the Battalion, with a further 340 AA employees joining other regiments. Most of the men saw service on the Western Front, with at least 20 being killed in action.
A Roll of Honour was produced by the AA in 1915 in recognition of the bravery of all the Patrols that had volunteered and (re-)enlisted into the army.
An original Roll of Honour was donated to the AA by Mrs Violet Eleanor Race, the daughter of Chief Inspector (James) Henry Shepherd, who enlisted with the 8th (Cyclist) Battalion of the Essex Regiment.
Back to top
---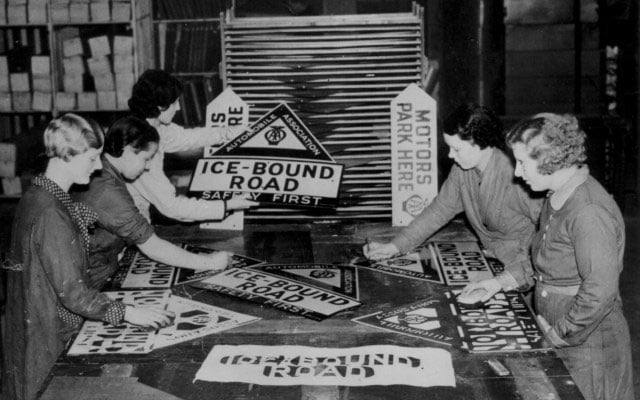 During the winters of 1935 and 1936 the AA made signs for ice-bound roads
1920 to the Second World War
Following the end of the war motorists were being advised to use a British fuel, benzole – derived from coal tar – as this was much more plentiful and cheaper than imported petrol.
Fuel distribution was inefficient though with members buying 50 gallon drums form local stockists and storing these in the garden at home.
So in 1920 the AA opened the first roadside filling station. Located at Aldermaston in Berkshire, this had a 500 gallon storage tank and a hand-operated pump.
The AA had opened 10 more similar filling stations by 1932, at which time the petrol companies had seen the commercial potential and the AA withdrew.
First motorcycles
By 1922 the patrol service had been restored to its pre-war strength. After the war patrols started to use motorcycle combinations equipped with tools, spare parts and fuel. Cycle patrols still existed, and they carried out a number of roadside repairs as well.
1923 – 274 patrols with motorcycle combinations and 376 cyclists
1938 – 1,500 motorcycle and 850 cycle patrols
Road safety
When arterial roads came into use in the 1920s the AA put up reflective marker posts to mark the road edges. These carried the AA logo and red or whit reflectors depending on whether they were on the nearside or offside of the road.
When weather conditions became really treacherous, AA signs and fog flares were deployed to help motorists.
Membership
AA membership grew steadily between the wars:
1920 – 100,000 members
1925 – 250,000 members
1934 – 500,000 members and around 1.5 million cars on the road
1936 – 600,000 members
1938 – 700,000 members
1939 – 725,000 members and 2 million cars on the road
Severe winters in 1935 and 1936 affected motorists right across the British Isles and led to the introduction of a special 'Ice Bound Road' sign.
Back to top
Aviation section
There was growing interest in private flying in the late 1920s. Some members were joining flying clubs or even buying their own planes and in 1929 the AA formed an Aviation Section, initially to survey landing grounds and provide information about changes or obstructions.
The AA produced the first air-route maps and was the first to supplement telephone and post by dropping messages to patrols from aircraft.
In 1931 the AA started the first weather information service for pilots with reports broadcast every hour. Recognising its value, the Air Ministry took over the service in 1933.
The AA Aviation section continued until the outbreak of the Second World War.
The famous aviator Amy Johnson worked with the AA to plan her 1932 World Record flight to Cape Town in a De Havilland Puss Moth.
During the 1920s the AA used an airship for traffic spotting and in 1928 used two light aircraft to support the growing number of aviators joining the AA.
In 1957 the AA bought a twin-engine biplane – a De Havilland Dragon Rapide – for aerial photography, and to observe traffic flows on roads including the new M1. The same aircraft was used to drop supplies to snow-bound villages in Scotland.
In 1963 the AA acquired a Piper PA-23 Apache 160 fitted with a camera to take images used to help compile routes maps and other touring information.
By the 1970s a larger aircraft was required to repatriate members taken ill or injured overseas and requiring urgent medical treatment.
The AA stopped using its own planes in 1987, but continued until 1994 to repatriate sick or injured members from abroad through a partnership with the St John Ambulance Aeromedical Service.
Back to top
Foreign travel
Foreign travel increased again after the First World War, and the AA worked with touring clubs across Europe to establish the Alliance Internationale de Tourisme (AIT) with a view to simplifying procedures for foreign travel.
The AA was able to negotiate reductions in shipping rates to the continent while the complex documentation of the time was managed by uniformed AA officers at the major ports.
Travel to the eastern Europe was difficult in the 1920s and the documentation required was the exclusive preserve of the RAC. In 1927, to break this stranglehold, an AA mission was sent on a 6,000 mile journey around the clubs in the relevant countries to persuade them to work with the AIT and the AA. Similar approaches were made in Spain, through King Alfonso, and in Italy, through Mussolini, to ease travel arrangements for AA members.
Back to top
AA routes – early development
The very earliest AA patrols were often called upon to give verbal advice and directions. The AA routes service grew out of these informal beginnings with the first paper routes – hand written on route cards – being introduced around 1912.
These early 'routes' were personalised itineraries to meet individual requirements for directions combined with a limited range of printed town plans and booklets of 'day drives'.
After the First World War, the AA set up a touring routes section, and the style of routes issued became more professional.
As membership grew so did the demand for routes. By the early 1920s routes consisted of a set of handwritten cards, each giving details of the route between two different points. Information about local places of interest was written on the reverse.
As demand increased typing and duplication of cards was introduced – by the late 1920s, 7,000 different cards or sheets were being printed, and more than half a million routes were being compiled every year.
By 1926 a tour was available as well as a route. Tours could take several days and the information provided included remarks about scenery and advice about ferry crossings.
'Strip maps' were first added to route sheets around this time as a further aid to navigation. These were further improved in the 1930s when progressive mileages were added.
Demand for routes peaked at around 600,000 per year, but then declined rapidly during wartime and development ceased.
Foreign routes service
The 'Foreign Routes Service', at first covering France only, was introduced in 1925.
Initially two members of staff were sent abroad to 'log' the main routes, from which the first printed routes were built up.
Route sheets were handwritten from maps with additional information being obtained from associated clubs overseas. AA members were also asked to report on journeys they had made.
Gradually the route network expanded, eventually to cover all types of journeys, including overland to India, Africa and even beyond.
Back to top
The Second World War
Hundreds of AA men had joined the Supplementary Reserve of the Corps of Military Police in 1938, and within days of the outbreak of war were controlling the landing of the British Expeditionary Force.
Many volunteered for other units too.
Back at home, patrols on the road had to wear steel helmets and their motorcycles were painted khaki. Patrols acted as observers working in close liaison with the various command HQs.
Direction posts and village name signs were taken down and petrol rationing was introduced.
Back to top
---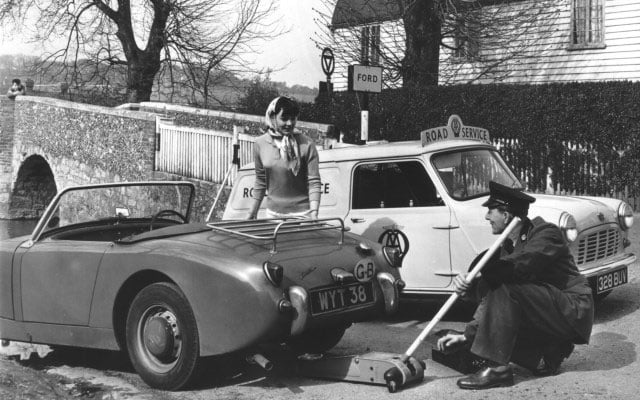 In 1961 Mini vans begin to replace motorcycle patrols
1950 to the 1990s
After the Second World War, we led the protest against petrol rationing, which was finally lifted in 1950. It was a campaign that reflected our traditional role of championing motorists' rights.
The introduction of two-way radio after the Second World War saw the 1949 launch of a night-time breakdown service in the London area, which was gradually extended to cover most of Britain.
The Queen's Coronation on 2 June 1953 was 18 months in the planning and while the police were engaged with security arrangements, the AA – whose then president was Prince Philip, Duke of Edinburgh – was asked to manage the road signing, parking and traffic control.
The new-look square AA logo was launched in 1966.
AA Insurance Services was formed in 1967 after a number of cut-price companies had crashed in the 1960s. Motorists wanted insurance cover from an organisation that they could trust, and they turned to the AA in their thousands.
Following tests in Oxford in 1961 roadside pedestal telephone boxes telephone boxes were introduced from 1968.
AA Roadwatch came into being in 1973 with the advent of commercial radio in the UK.
Motorcycle combinations for AA patrols – introduced from 1920 together with roadside telephones – were replaced by 4-wheeled vehicles by 1968. But solo motorcycles were re-introduced in 1972 to combat urban congestion.
In October 1973 AA Relay was launched, guaranteeing to transport any seriously broken-down vehicle – together with driver, passengers, luggage and trailer or caravan – to any destination in Britain.
1973 also saw us move our headquarters from Leicester Square, London – the AA had moved to the area in 1908 and occupied premises in New Coventry Street in 1929 – to Fanum House in Basingstoke, Hampshire.
The AA computer system, Command and Control, started to replace paper-based operations from 1986. The system's award-winning successor, AAHELP, together with automatic vehicle-location technology, using global positioning satellites, has been key to achieving our current speed of response at the roadside.
Membership milestones
1950 – 1 million members
1951 – HRH Duke of Edinburgh becomes AA President
1954 – 1.5 million members
1955 – AA Golden Jubilee
1957 – 2 million members
1960 – 2.5 million members
1961 – AA patrols no longer salute while on the move
1962 – first 4-wheeled breakdown vans introduced
1963 – 3 million members
1969 – 4 million members
1973 – 5 million members, AA Relay Service introduced
1974 – HRH Duke of Kent becomes AA President
1982 – Home Start Service set up
1987 – 7 million members
1994 – 8 million members
1995 – 1998 – AA highstreet shops closed
1998 – 9 million members
Publishing activities expanded rapidly during the 1990s, producing a growing range of maps, atlases and travel guides to worldwide destinations as well as many British titles.
In 1992 the AA driving school was launched, initially in Southern England.
In 1999 we set a new standard for the breakdown and recovery industry, and came first in the annual JD Power survey of UK roadside assistance providers.
Also in 1999 the AA helped to create Great Britain's first national network of helicopter ambulances when it announced a 3 year, multi-million-pound sponsorship of the National Association of Air Ambulance Services (NAAAS). The AA's support recognised the fact that air ambulances have a major role to play in reducing the number of fatalities on British roads, as nearly half of all air ambulance call-outs are as a result of road accidents.
Our online Route planner service first appeared in October 1999 and served its 1 millionth route by the end of April 2000, only 6 months later.
In 1999 AA members voted overwhelmingly in favour of the AA demutualising and joining the Centrica group in a £1.1 billion acquisition.
Back to top
Highland patrols
The first 4-wheeled vehicles used by patrols were Land Rovers, deployed in London in 1949.
These were extremely useful and soon employed in other parts of the country, especially in rough terrain such as the Scottish Highlands.
A dedicated Highland Patrol Service was set up in 1953 to deal with bad weather conditions, and was put to the test when severe blizzards hit Scotland in January 1958, stranding dozens of motorists.
Conditions were so severe that AA aid even included dropping emergency food packs from AA aircraft.
Described at the time as 'the troopers of the north' and operating mainly beyond the Caledonian Canal, the job of the Highland Patrol was arduous in winter, as blizzards blocked roads and stranded vehicles.
Often attending isolated breakdowns in remote areas and covering some of the highest classified roads in the UK, the patrols had to be both hardy and resourceful.
AA members phoning for assistance from an AA telephone box would be put through to the Inverness 'Road Service Centre' (a control room in a large static caravan at Millburn, Inverness) who would relay instructions to a patrol.
Highland patrols didn't just help motorists. The AA's two-way short-wave radio system provided vital communications for remote Highland communities during harsh winters, and many a crofter welcomed a patrol carrying food parcels after days of heavy snow.
Return of the Highland patrol »
Back to top
Floods and major accidents
Because of the nature of their work, AA patrols are often the first on the scene at major accidents or disasters.
Serious flooding in Lynmouth in 1952 involved the AA's biggest rescue operation, followed 6 months later by the major east coast floods when patrols helped to rescue people, animals and endangered property. AA people helped clear roads of debris as the floods receded.
In the 1980s AA patrols were involved in rescue operations at the Clapham rail crash in 1988, the Lockerbie disaster in 1988, and at the air crash on the M1 at Kegworth in 1989.
In recent years the AA has been involved in flood and severe weather response in a number of locations – Gloucester and Tewkesbury in 2007, and many places since including York, Sheffield and Cumbria.
The increase in severe weather events prompted the AA in 2008 to establish a Special Operations Response Team (AA SORT), a specialist resource equipped and professionally trained to undertake vehicle recovery in floods and other severe weather.
Back to top
Garage approvals
The AA had a close relationship with garages from the very earliest days, as anywhere that stocked tyres and batteries, and could carry out repairs, was vitally important to the early motorists.
Garages played a key part in the development of the AA and supplemented the work of the first patrols – they reported on road conditions, passed messages to drivers and were instrumental in setting up the system of village name signs.
Known as road agents, garages also took part in a scheme to warn motorists of speed traps – garages displayed a pole with a moveable ball, painted yellow with black AA letters. Raising the ball to the top of the pole indicated to passing motorists that a speed trap was operating in the area.
As early as 1908 road agents were listed in the AA handbook and members encouraged to use them. Good relations with garages were important and as patrols carried out more roadside 'first aid' they were careful not to take business away from the trade. Cars that couldn't be fixed at the roadside were towed to the nearest garage – at the member's expense until 1946 when it became a free service.
Unfortunately the quality of work in many garages fell to a very low standard in the post-war period leading the AA to introduce the Garage Plan in 1968. Garages were inspected and appointed to one of three grades, with the results being published in the AA handbook – 4,000 garages were listed in the 1970 edition. By the end of the 1970s complaints against garages had greatly reduced.
As garage services and members' needs evolved, so did the garage approval scheme. In 1983 a new scheme identifying the more specialised repairers was instituted and by the end of 1991, 6,000 garages had an AA appointment.
Back to top
Package holidays
Foreign travel took some time to recover after the Second World War, but during 1952 111,000 members applied for car ferry bookings.
The AA pushed to expand opportunities for overseas motoring and in 1957 reached agreement with the USSR to allow motorists to visit Russia.
By the 1970s overseas travel had become more affordable and many people were now taking package holidays by plane. The AA became part of a consortium which owned Thomas Cook, and arranged holidays around the world in conjunction with local motoring clubs
Holiday packages became more elaborate and the brand name Argosy was introduced. By 1978 there were 41 AA travel agencies, one of the largest groups in the country.
Towards the end of the 1980s as the package holiday market became ever more competitive, the AA decided to scale down this side of its activities and concentrate on motoring holidays in Europe.
The AA Five Star Overseas Touring Service – now known as European Breakdown Cover – was introduced in 1964. Five Star cover made available assistance provided by continental motoring clubs, co-ordinated through an AA centre, initially in Boulogne and later in Paris.
Later the AA, the Dutch (ANWB) and the German (ADAC) motoring clubs created ARC Transistance with a new centre opened at Lyon in France in 1993.
Back to top
AA routes – growth and computerisation
By 1948 AA membership returned to the pre-war level of over 700,000, and demand for routes increased rapidly again, particularly when petrol rationing ceased in 1950.
'Places of interest' information was dropped at this time when details of the return route were added to the reverse of the route sheets.
By 1965, with membership exceeding 3.5 million, annual demand for routes exceeded 1.25 million.
The demand for overseas routes information increased too from about 40,000 in 1949 to a peak of 221,387 requests in 1965.
The expansion of the motorway network reduced the need for strip maps, and so in 1968 we introduced the unique AA 'Throughroute' maps. Based on some 50 different towns, each showed the AA recommended route from that town to over 500 destinations. These helped reduce demand for individually tailored routes.
In 1969 a series of overseas 'Route Books' was introduced, with pre-printed driving directions and basic route maps.
In 1975 'Throughroute' maps were also introduced for Europe showing major routes from each of the main Channel ports. A charge was made for these for the first time in 1976.
The Home Routes Service was fully computerised in 1984, followed in 1987 by the Overseas Routes Service.
Thousands of printed route sheets were transferred onto computer, so that routes could be generated automatically without the need for staff to 'pick' and collate each route – a single route would often include many separate sheets.
In 1990 the Home and Overseas routes services were amalgamated for the first time.
A single routes processing – compiling and posting routes – unit was established in Bristol, and the research team became part of the cartographic department in Basingstoke.
The research team was responsible for gathering data, usually by driving and recording road layouts, signposting and places of interest. A team of some 15 staff were dedicated to this function during the 1990s.
In 1999, 250,000 routes were generated for the members' routes service.
In 1999 the first AA route was calculated using the new website, and for the first time AA routes were available free to members and non-members alike.
This development completely changed the way customers accessed travel information and inevitably the routes processing unit in Bristol closed shortly afterwards.
The research team continued collecting information 'on the ground', to ensure that what the customer saw on the route plan was what they would see on the road. This approach was, and still is, unique to the AA and ensures that AA routes give directions like people give directions – 'turn right at the Red Lion pub signposted Reading'.
In the first full year online (2000) a total of 4.5 million routes were generated – 18 times the number produced in the final year of postal operations.
Volumes have grown rapidly since routes went online – in 2007 the AA website generated 171 million routes.
Research methods developed quickly as GPS location technology matured – accurate coordinates of road features identified in the field could be transferred immediately to the database.
In 2005 full 'street-level' routeing for Britain was incorporated into the online Route planner so that it is now possible to calculate a route to/from any street or postcode.
More detailed mapping was also added at this time – users can now access a detailed map of any part of the route itinerary, and can quickly link to places of interest and places to stay en route.
AA Route planner celebrated its 1 billionth online route in 2010.
For over 10 years AA Route planner has been providing free online driving directions to motorists, in recent times averaging 16 million route requests per month.
Between 2000 and 2010 the AA Route planner helped motorists travel approximately 125 billion miles. This astounding distance is the equivalent of driving around the world over 5.5 million times, or 700 round trips to the Sun.
Back to top
The 2000s
JD Power named us the UK's top-ranked roadside assistance provider in 1999, 2000, 2002, 2003, 2004 and 2005.
We topped the 2002 'Which?' survey of breakdown organisations too.
The AA Motoring Trust charity was created in 2002 to carry on the AA's long-standing role of championing the interests and safety of Britain's road users.
In 2003, all AA breakdown patrols were issued with state-of-the-art roadside diagnostic equipment. Known as VIxEN (Vehicle Information x Electronic Notebook) the laptop computer allowed patrols to plug into a car's electronics to diagnose the cause of a breakdown as well as access the AA's wealth of technical support information and breakdown deployment details. VIxEN later won 'Autocar' idea of the year award 2003.
In July 2004 we introduced our industry-leading AA Telephone Savings Account.
On 1 October 2004 the AA left the Centrica group, following its acquisition for £1.75 billion by the private equity firms CVC and Permira.
Back to top
2005
AA financial services launched the Internet Savings Account, the Guaranteed Equity Bond and the One-Year Fixed Rate Savings Account.
In May we launched the "You've got a friend", tales from the roadside advertising campaign, highlighting real–life patrol stories. The 'AA Team' was unleashed on the nation, to promote motor insurance.
On 29 June the AA celebrated its centenary with a black-tie dinner in London for motoring industry executives, business partners, journalists and selected employees.
Vehicle Recovery System (VRS) was introduced on all new patrol vehicles. This stowaway recovery trailer can be deployed from the back of the van ready for a car to be loaded in less than 3 minutes and means that the patrol can tow your car to a garage if it can't be fixed at the roadside.
Back to top
2006
A range of new insurance products was launched at the beginning of 2006 including Motorcycle Insurance, Cherished Car Insurance, Pet Insurance and Business Insurance.
In March we celebrated the signing of our millionth motor insurance customer, and in June bought insurance broker Direct Choice and launched Commercial Vehicle Insurance.
AA Publishing became the first publisher in the UK to highlight the locations of all fixed speed cameras in its 2006 atlases, while in complete contrast, Patrolman Pete children's books and merchandise were unveiled.
The AA won two Fleet Excellence awards – 'Best Service Supplier' and 'Best Vehicle Recovery''– and was named 'Best Breakdown Service' at the Fleet News awards, for the fourth year in a row.
Synovate named the AA the most recognised provider of car loans, and in February, AA Visa was named 'Best Known Credit Card Co – brand' at the national Credit Card Awards, and in April the AA was named 'Best Breakdown Recovery Service' by readers of Scottish Auto Trader.
Reader's Digest magazine named the AA the 'Most Trusted Brand' in UK motoring in the same month.
In March we launched AA Members Club, a package of discounts and incentives available exclusively to our members.
AA Publishing unveiled AA Car Essentials – 25 motoring products with key links to safety and touring – and launched a new range of travel guides – the Weekend Escapes series.
The AA joined the Nectar loyalty programme in June and entered the legal products market for the first time with the launch of will–writing and conveyancing services.
The AA, Visit England, Visit Wales and Visit Scotland jointly agreed a common standard for grading hotels and other guest accommodation across the UK.
Back to top
2007
The AA re-established an in-house motoring campaigns and policy expert team, AA Public Affairs at the beginning of 2007. The work of the AA Motoring Trust was taken on by the IAM Motoring Trust a new body created within the Institute of Advanced Motorists.
In June a new company, Acromas, was created bringing together Saga and the AA, two of the UK's strongest and most trusted brands. The transaction valued the combined Group at £6.15 billion.
AA Patrols on bicycles appeared for the first time at a number of summer events this year including Wimbledon.
We launched AA Fuel Assist in November 2007 to help with the growing problem of filling with the wrong fuel. Technicians using specially developed vehicles can drain, flush and replenish vehicle fuel systems on the spot, and contaminated fuel is recycled through an environment-friendly disposal process.
We were judged the top UK breakdown provider by Which?
Back to top
2008
The AA-Populus motoring opinion panel was launched in April. Monthly surveys on key transport issues frequently get more than 18,000 responses and help to shape AA policy and campaigns, lead by AA President Edmund King who joined the AA in January from the RAC Foundation.
The AA Charitable Trust for Road Safety and the Environment was registered in July.
Breakdown patrols started using motorbikes to attend breakdowns in some cities for the first time since the mid 1990s. AA bike patrols carry a large range of tools and target quick-fix breakdowns to combat urban congestion and help keep the traffic moving.
A Special Operations Response Team, AA SORT was established in 2008 to supplement the main patrol force. Teams trained to undertake vehicle rescue and recovery in floods and other severe weather use specially equipped and adapted Land Rovers.
The AA was judged top UK breakdown provider by Which? for the second year running.
Back to top
2009
The AA Charitable Trust launched 'Drive Smart' which initially offered 2000 totally free eco-safe driver training packages to new drivers 'most at risk'.
The AA acquired DriveTech – now known as AA DriveTech – the UK's leading provider of driver training, assessment and driver awareness schemes.
Our business services team re-launched AA Accident Management – a one-stop, outsourcing service for vehicle fleet operators designed to help reduce the cost of accidents.
The AA acquired Preston-based AutoWindshields – now AA AutoWindshields – in December 2009 with ambitious plans to expand it nationally, and turn it into one of the UK's leading glass repair and replacement services.
A hat trick of awards as the August issue of Which? magazine named us best breakdown provider for the third year running.
Our first app for the iPhone – a travel guide to London – was launched in July 2009.
Severe weather
We rescued more than a third of a million drivers during the cold spell between 17 December 2009 and 8 January 2010. Monday 21 December was the AA's busiest day for 10 years with 22,000 breakdowns, but this record was broken only two weeks later, on Monday 4 January 2010, when we attended more than 25,000.
Christmas day 2009 was the busiest for 20 years with more than 4,000 breakdowns.
Back to top
---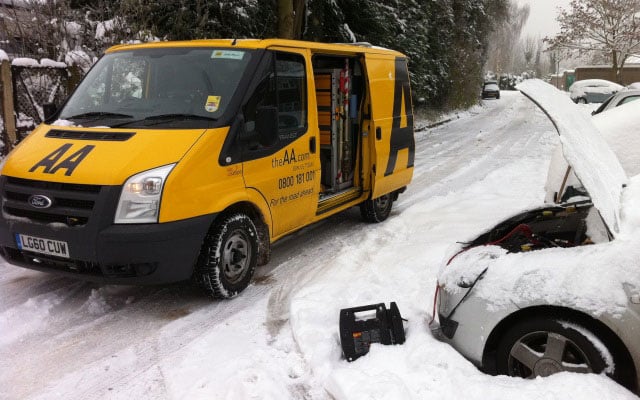 20 December 2010, the AA's busiest day ever due to snow and ice
The 2010s
By 2010 the amount of money deposited with AA Savings was so large (£4bn) it made us one of the leading players in the direct savings market, and larger than the M&S and Sainsbury's banks.
The AA Charitable Trust launched Drive Confident in March, offering free course to help improve confidence and skills for qualified drivers.
The patrols' laptop computer system VIxEN was replaced in 2010 by AADIS – Diagnostics Information System. AADIS integrates previously separate route guidance (sat nav) and Mobile data terminal (for breakdown job details) with advanced diagnostics as well as giving patrols access to online services.
AA Financial Services won the Moneyfacts award for "most competitive term assurance direct provider" for the 4th year in succession.
AA breakdown cover remains a Best Buy recommendation from Which? with the highest satisfaction score of 84% and coming top for fixing cars at the roadside.
AA Streetwatch was launched in October 2010 when almost 2,000 AA members surveyed potholes, blocked drains, worn road markings, and other defects in their local area.
AA Home Emergency Response launched in October with a marketing campaign featuring Fawlty Towers star John Cleese. The new service provides a network of approved tradesmen to deal with everything in the home from burst pipes to broken boilers.
Dedicated 'key assist' and 'battery assist' services were launched – Key assist technicians can replace or repair a wide range of car keys, while AA Battery Assist can fit a new battery at a time and location convenient for you.
Severe weather
Less than a year after records tumbled over Christmas 2009, Monday 20 December 2010 was the busiest day ever in the AA's history. Snow, ice and widespread freezing daytime temperatures resulted in two days' worth of breakdowns by mid-afternoon, and a total for the day of 28,000 breakdowns.
Back to top
2011
We purchased BSM in February following its move into administration, bringing together the UK's two biggest driving schools. BSM and AA Driving School continue to operate as separate businesses.
AA DriveTech acquired Harrogate-based Intelligent Data Systems, a leading provider of driver risk management products and services, including driver licence verification, for business fleet managers.
Later in the year AA DriveTech acquired Powys-based Nationwide 4x4 Ltd, a leading provider of driver training and events for drivers of off-road vehicles and machinery.
Throughout the Autumn, viewers of Channel 5 could see a team of AA Driving School instructors tackle qualified drivers with serious driving problems in 'Dangerous Drivers' School'.
Total downloads of AA smartphone apps passed the 1.5 million mark.
Awards
AA Financial Services won the Moneyfacts award for "best Internet Account Provider" for our online savings product.
In September the AA was ranked the best breakdown provider by Which? The AA came first, securing 'Which? Recommended Provider' status.
Back to top
2012
In February AA Insurance turned to technology to launch a new 'pay how you drive' policy called AA Drivesafe, which used a telematic device in your car to measure how safely you drive. [This product was withdrawn in October 2014]
In spring 2012 we introduced free membership upgrades – AA Silver and Gold – which provide access to a range of breakdown cover enhancements for loyal AA Breakdown members.
Members who break down in the Highlands will now once again be met by the welcome sight of a 'Highland Patrol'. This iconic name has been brought back in the Queen's Diamond Jubilee year at the request of local patrols, almost 60 years after it was first introduced.
AA World gave the whole family a chance to have a free driving experience at this year's Silverstone Classic – powered by the AA. Staged at the home of the British Grand Prix, the annual Silverstone Classic is the world's biggest classic motor-racing event.
September 2012 – The AA retains "Recommended Provider" status in the Which? magazine Breakdown Providers survey in both third-party cover and carmaker-branded cover. The second year running the AA has received the recommendation since its introduction by Which?. We were previously awarded "Best Buy" recommendation for five consecutive years.
November 2012 – The AA Charitable Trust was awarded a prestigious Prince Michael International Road Safety Award for the development and promotion of its free 'Drive Confident' courses, which are run through the AA Driving School.
2012 in numbers
The AA came to the rescue of almost 3.5 million members whose vehicles had broken down in 2012.
Friday, 3 February, was the busiest day with around 19,000 call-outs due to the freezing weather.
Half a million call-outs were to battery-related problems – around 150,000 batteries were replaced.
Flat tyres and other tyre problems (357,500) was the second most common call-out.
We rescued around 150,000 members after they had broken down on the motorway.
More than 2,600 children and nearly 1,000 pets were rescued from inside locked cars.
AA patrols fixed or replaced more than 5,500 light bulbs and nearly 2,000 windscreen wipers.
AA AutoWindshields carried out 162,000 windscreen replacements and 88,000 glass repairs.
Back to top
2013
March 2013 – AA patrols were kept particularly busy during March 2013 which was one of the coldest on record, dominated by easterly winds.
Between 10 and 12 March very cold air for the time of year and strong north-easterly winds caused severe drifting snow in southern coastal counties. Motorists spent the night in vehicles in Sussex and Kent, schools were closed, and there was disruption at Gatwick.
Snow in the south was followed by severe flooding in parts of Devon and Cornwall on the 21 and 22, and sustained heavy snowfalls in north Wales, northern England, parts of Northern Ireland and south-west Scotland between 22 and 24 March. Lying snow remained until early April in some areas.
As Easter approached, the AA said Easter may turn into a 'stay at home' weekend for many as the freezing conditions could affect travel plans.
June 2013 – AA DriveTech, through their partner London Probation Trust, was been announced as a leading national provider of drink driving rehabilitation courses.
July 2013 – the AA launches a new car buying website, AACars, powered by VCARS. Every buyer is provided with an AA Cars History Check up front so that they can have peace of mind regarding the car's history and authenticity.
August 2013 – The AA is named top break down provider by Which? The AA came top and was awarded 'recommended provider' status – the eighth year in a row the AA has held this recommendation or the previous 'Best Buy' one.
August 2013 – Trials start of a 'universal' spare wheel to allow members to continue their journey with minimal disruption. The innovative wheel is the first of its kind in the UK and fits the majority of modern cars with a 5-stud wheel.
October 2013 – The AA is among the first 50 companies in the UK to commit its support to the military through the new Armed Forces Corporate Covenant. The covenant is a voluntary pledge of support from businesses and charities to the armed forces community.
Back to top
2014
Winter 2013–14 – January was the wettest since records began for south-east and central southern England, with more than twice the average rainfall – parts of the Somerset levels and the Thames valley were under water for weeks, while strong winds, high tides and large waves brought coastal flooding and damage on the east coast in early December 2013 and in the south-west in January and February 2014 – the main railway line and part of the sea wall in Dawlish was destroyed in early February. Somerset Council and Sedgmoor District declared a 'major incident' in late January.
Over the period AA breakdown patrols and our Special Operations Response Team (SORT) with their flood adapted Land Rovers dealt with more than 4,500 flood-related breakdowns, many of which were stuck in water or the result of driving through flood water.
January 2014 – The AA acquired Dutch-based VVCR of Rijssen, Holland. With more and more organisations looking to source a consistent European or global approach to occupational road risk, VVCR, which will remain a separate legal entity, is ideally placed to deliver through its established international network.
March 2014 – The AA and the AA Charitable Trust launched a national 'Think Bikes!' awareness campaign with support from British Cycling and The Motorcycle Industry Association. Two million free stickers were distributed to drivers as a reminder to do a double-take in their mirrors for cycles and motorcycles in their blind spots. The campaign featured a video – now you see me.
April 2014 – The AA and Populus jointly published 'A portrait of motoring Britain', covering a spectrum of six types of motorist, from the motoring for joy and drive to survive groups through to the rogues and the 'cars are a necessary evil' types.
April 2014 – As the first all-lanes running 'smart' motorway opened (M25 J23–25) the AA voiced significant reservations because permanent hard shoulder removal means that breakdowns and other emergencies could now take place in a live traffic lane rather than on the hard shoulder.
April 2014 – AA Insurance launched Home Insurance Plus, a new comprehensive home insurance policy that aims to overcome homeowner concerns about what may be covered.
26 June 2014 – Shares in the AA started trading on the London Stock Exchange as the AA became a public company for the first time in its 109 year history.
Back to top
2015
January 2015 – The AA Charitable Trust's 'Think Bikes!' campaign, which launched last March goes global with support from the FIA, the world motoring organisation.
April 2015 – The AA launched its first professional mobile tyre fitting service, AA Tyres.
March 2015 – AA wins 'Fleet Supplier of the Year' award at prestigious annual Fleet News Awards.
June 2015 – The AA saluted its heroes of the roadside with the launch of its first TV advertising campaign in a decade.
July 2015 – The AA launched a brand new partnership with Bank of Ireland UK (BOI UK) to provide all of the AA Financial Services products.
August 2015 – The AA was awarded Which? Recommended Provider status for the 10th year in a row
October 2015 – The AA launches The AA Garage Guide and Automyze, a free digital motoring management system.
The AA Driving School launched 'Drive Motorway' with the AA Charitable Trust offering 2,000 free 'Drive Motorway' 2-hour courses to help drivers overcome a fear of motorway driving.
December 2015 – The AA announced a partnership with transportation information provider Inrix whose real-time traffic data now powers the traffic news on the AA website and the AA app.
In the New Year's Honours list 2016, AA President Edmund King was appointed an Officer of the Order of the British Empire (OBE) for his services to road safety.
Back to top