We're proud to have signed the Armed Forces corporate covenant to show our commitment to supporting the Armed Forces community. The covenant is a voluntary pledge of support from businesses and charities and includes 2 key principles:
No member of the armed forces community should face disadvantage in the provision of public and commercial services compared to any other citizen.
In some circumstances special treatment may be appropriate, especially for the injured or bereaved.
Our covenant
Our wide-ranging corporate covenant includes:
Introducing new working practices to better support our reservists
Armed forces discounts off AA membership
Ongoing work to place former service personnel in civilian employment.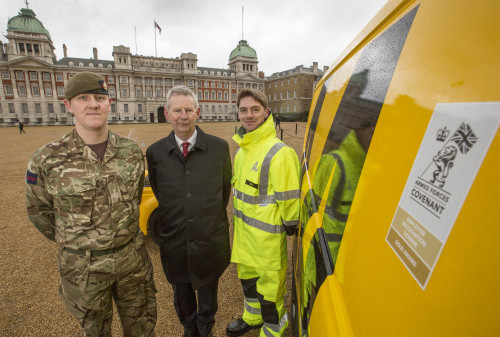 Award winning commitment
We were 1 of just 15 organisations to receive the Gold Award 2017 from the Armed Forces Covenant Employer Recognition Scheme (ERS).
The award recognises businesses that have shown an outstanding commitment to supporting the Armed Forces Covenant – a promise from the nation that those who serve or have served in the Armed Forces, or their families, are treated fairly.
Our support so far
We were among the first 50 companies in the UK to pledge their support when the corporate covenant was launched in 2013.
Since then, we've done a lot to support the Armed Forces:
We hired over 60 Armed Forces leavers in 2016 alone.
We've been recognised for promoting the benefits of the reserves among employees and developing supportive HR policies.
We've worked alongside The Poppy Factory, a charity which helps injured service personnel back into work.
There's been a series of events at AA offices to support Armed Forces Week.
Several military reserve units have visited our offices across the country, hosting information days and encouraging employees to consider joining the Reserves.
Bringing quality to the team
Our reservists are full-time AA employees, who find it within themselves to dedicate their precious free time to their military units.
AA President, Edmund King, says, "Some qualities we see being brought back to the workplace are those of leadership, willingness to learn, enthusiasm and decision making, all of which are vital to a growing, dynamic business like the AA.
"We are very proud of all our reservists and are committed to working hard to support them, their families and the wider armed forces community."
Working with us
To find out maore about working with us after leaving the forces, visit our dedicated careers site: theaacareers.co.uk
The AA and the military

1905 – Our long relationship with the military dates to our formation in 1905. For many years, most of our patrols were ex-regular or national service soldiers. They wore khaki, military-style uniforms, gave members the famous AA salute and our association was organised along regimental lines.

1909 – As a fledgling organisation, we transported a battalion of soldiers from London to Hastings to test the viability of moving troops by motor transport.

First World War – During WWI, many patrols enlisted – often returning to their former regiment – and we organised converted ambulance cars provided by our members.

1938 – A Supplementary Reserve to the Corps of Military Police was recruited entirely from AA patrols, whose chief duty was traffic control. They served in virtually every theatre of the Second World War.

Post-war – Many patrols joined the reserves in the post-war period.

Today – These close ties continue. We work with SaBRE (Supporting Britain's Reservists and Employers) to promote the benefits of the reserves among our employees. We also work with The Poppy Factory charity and Royal Electrical and Mechanical Engineers (REME) to place injured soldiers in work.