Ford Ka Collection review
Huge fun to drive despite having only a modest engine
August 2005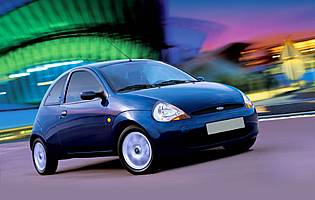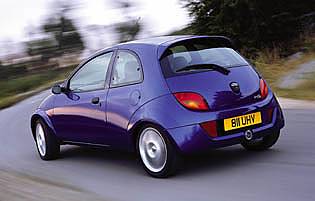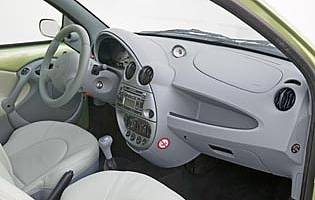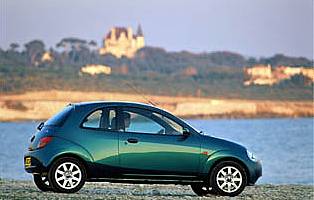 Overall rating

Likes:
Bold looks should attract younger buyers
Huge fun to drive despite having only a modest engine
Despite the Ka's size, its cabin is surprisingly spacious
Copes well with long motorway journeys
Gripes:
Some may find the cabin on the sparse side
Standard equipment levels are low by current standards
Extra airbags are cost options
1.3 engine could be more economical on long motorway runs
Ford caught many people by surprise with its Ka city car. Its radical 'New Edge' look and simple construction endeared it to many people keen to get mobile and drive something different – but not at any price. True to form Ford delivered; the Ka is simple but effective even today.
The Ka is now the odd one out in the Ford family as it comes from a different era to all the others in the line-up. Before the first Focus there was this little city car – New Edge styling and handling too good for an urban runabout.
Some critics now dismiss the Ka as old hat and an underachiever when put up against more modern and better equipped Far Eastern superminis, but to do so misses the point. Yes the Ka is no longer the latest in car design, but what it lacks in fancy gadgets it compensates for with a dynamic range that has rivals floundering.
Fun to drive in the same way that a traditional, underpowered Mini is, the Ka will put a smile on your face as you zip through traffic and squeeze into parking spaces too small for other cars. It's refined, too, which is not something you'd expect from a basic city car first launched in 1996.
Some things never change, though. There's still considerable demand for inexpensive, practical runabouts or second cars. Ford's Ka fits the bill, and is one of the few classless modes of transport around. Blue Oval badge notwithstanding, anyone can drive a Ka and no one will look down on you as you edge out of a side road.
Our verdict on the Ford Ka Collection
While it's no longer the new kid on the block – a slew of rivals over the years has seen to that – the Ka has yet to fall out of favour with buyers seeking a budget small car. It is showing its age, though. Witness the basic safety and security equipment and the low-tech 1.3 petrol engine powering the Ka. But where others boast electric gadgets and fancy folding seats, the Ka keeps on delivering city car fun on the cheap.
Costs
Boasting a low screen price, a modest petrol engine and equally modest insurance rating, running a Ka costs very little. Opting for the cheapest model will mean you'll get a very basic car by modern standards, though. The up side is a car that requires very little maintenance and will barely register on a thief's radar.
Space and practicality
For a small car the little Ford is surprisingly spacious. Front seat occupants have plenty of room in which to stretch out and, unusually, so do those in the rear. The rear seats split/fold down allowing more to be made of the predictably modest boot. The cabin itself is hardly plush, but a few cubbys are formed from indents in the car's central tunnel, while recent updates included a proper (small) glovebox.
Controls and display
The Ka is not a complex machine, and as such its various controls are basic and easy to operate. From the stereo's big, chunky buttons to the light gearshift and easy to read instruments, there are no surprises here. This is also where the Ka shows its age, though. The column stalks feel a little low rent, as does the spindly gearlever. If you can see past these small indiscretions then you'll have no problem enjoying the car.
Comfort
The Ka is a pleasant companion on both long and short journeys. Engine noise is modest, even on the motorway, while the car's supple suspension does well to absorb urban imperfections. Seats are supportive but not sports car firm, and the driving position is also good. Driver's manual height adjustment is fitted to Collection models and above, but it's a shame the steering wheel adjusts only for rake and not reach. In contrast, head and legroom is excellent for what is a modest little car.
Car security
You won't find too many frills in this department, as remote central locking is reserved for Luxury and Sportka models. Even central locking is standard only on Collection variants and above. Thankfully an immobiliser is standard across the range as is a locking fuel filler cap. You'll have to buy a Sportka if you want an alarm, though. Don't despair; this is not a case of Ford being exceptionally stingy, just an illustration as to how plush newer rival models have become since the Ka's launch.
Car safety
This is where the Ka shows its age against better-equipped and more modern rivals. Only a driver's airbag is standard fit – from a choice of options you'll have to pay extra for front passenger and side airbags. Thankfully ABS is standard on the Collection.
Driver appeal
Small, lightweight and low powered city cars should be fun to drive. Sadly few of the modern breed are thanks to soggy steering and pillow-soft suspension. The Ka comes from a different era; a time when even cheap cars were endowed with good dynamics. It may only have a modest 1.3-litre engine at its disposal, but the Ka is no slouch and is happy to reward enthusiastic cash-strapped drivers. It's pretty composed on the motorway, too, which is more than you can say for some cars twice the Ka's size.
Family car appeal
As a second car it might just cut it, but not as the sole family transport. Two doors and a small boot will hamper your movements, although as an inexpensive runabout it does make sense alongside the family people carrier.
First car appeal
The Ka would make a superb first car – witness the many already on the road piloted by young drivers. As with many in the same class, the Ka's low power engine makes insurance and running costs affordable, while its small dimensions makes it ideal for urban commuting. Unlike so many other city cars, the Ka is just as comfortable on the motorway.
Quality and image
Over the years the Ka has cultivated a fun-loving image. Its funky styling, affordable price, range of different special editions and neat handling has endeared it to buyers of all ages. And while the little Ford is hardly in the first flush of youth, it compares well with newer models when talk turns to quality issues. The cabin plastics are durable and the seat fabrics decent enough, although you never forget that the Ka is hardly cutting edge.
Accessibility
As with most three-door city cars the Ka's doors open nice and wide, allowing almost anyone to access and egress the cabin with little difficulty. Getting comfortable is also easy thanks to there being a decent amount of cabin space, while getting in and out of the rear is surprisingly easy for a small car. The Ka's front seats tip forward a long way, allowing even adults a clear passage to the rear.
Stereo and ICE (In car entertainment)
Don't expect too much from the Ka and you won't be disappointed – it's essentially a basic car, after all. Radio/cassette units kick off the range, but CD players appear on the better-equipped Collection models upwards. Don't go looking for remote audio controls on the steering wheel because you won't find them, but at least the sound quality from the hardware is good.
Colours and trim
Bright exterior colours and equally bold interior decor are the order of the day for the Ka, and black plastic bumpers on the entry level variant. The car's seat fabrics might be reminiscent of what was used in a mid-nineties Escort, but it's difficult to fault the durability factor. The same is true of the cabin plastics, which are largely of the grey variety.
Parking
If you have trouble parking the Ka you will need to brush up on your driving skills. It's easy to slot the little Ford into small spaces, and the various controls help by not being too heavy to operate. Power steering is standard across the range, visibility fore and aft is good and all three mirrors are of a generous size. Only the car's large doors let the side down, as it's often difficult to open them fully in a car park due to their size.
Spare wheel
Space saver fitted as standard.
Range information
Two engine options – 1.3-litre (70bhp) petrol; 1.6-litre (95bhp) petrol. Both fitted with five-speed manual gearbox, latter only available with Sportka variant. No auto gearbox offered. Trim levels: Ka, Style, Collection, Luxury, Sportka, Sportka SE.