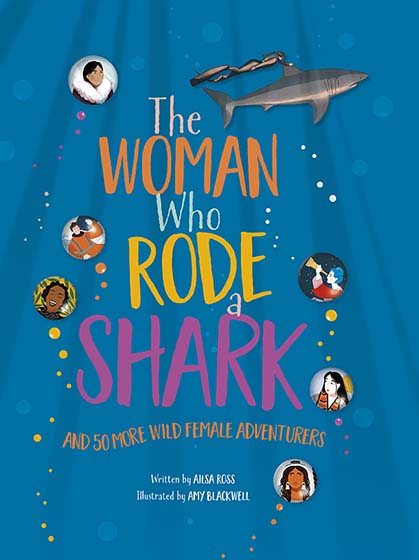 About the book
From aquanauts to astronauts, treetop explorers to eagle hunters, The Woman Who Rode a Shark celebrates 50 ocean-diving, mountain-climbing, jungle-running female adventurers who've blazed an exceptional trail from 231 BC to the present day.
Through bold, beautiful illustrations that combine portraits and hand-drawn maps, children can trace the ocean-soaring flights of pilot Amelia Earhart, follow Isabella Bird's expedition up the Yangtze River, and meet Kimi Werner – the free-diving chef who hitched a ride on the dorsal fin of a great white shark.
Perfect for fans of Goodnight Stories for Rebel Girls and Women in Science, The Woman Who Rode a Shark tells the inspiring stories of women warriors, scientists, artists, athletes – and, above all, adventurers.
A peek inside
Choose a page to view in detail:
About the author
Ailsa Ross is a Scottish writer and illustrator based in the Canadian Rockies. In January 2017, she started telling the stories of real-life aviators and desert explorers through original videos, illustrations, interviews and articles on Facebook and Instagram @womenadventurers. A contributor to BBC History, Outside Online, National Geographic Travel, Time Out and Atlas Obscura – where she initiated the popular Kickass Women series – Ailsa studied law at university in Edinburgh and Copenhagen where she specialized in women's and human rights.
About the illustrator
Amy Blackwell is an artist, illustrator, doodler, knitter and pancake enthusiast based in Nottingham. Raised in Derby by artists, a creative career path was inevitable. She launched her online illustration business after graduating from Nottingham Trent University in 2007. She's since then worked with clients ranging from Flow Magazine to Instagram. Her favourite colour is currently peach and her lucky number is 3.
More details
Available from: 31 March 2019
Price: £14.99
ISBN: 978-0-7495-8114-5
Format: Hardback
Pages: 128
Buy the book