About 50 Walks in Surrey
Walking is one of Britain's favourite leisure activities, and this guide to Surrey features 50 mapped walks from 2 to 10 miles, to suit all abilities.
The book features all the practical detail you need, including:
fascinating background reading on the history and wildlife of the area,
clear OS-based mapping for ease of use,
every route has been colour coded according to difficulty,
annotations for local points of interest and places to stop for refreshments,
summary of distance, time, gradient, level of difficulty, type of surface and access, landscape, dog friendliness, parking and public toilets.
Buy 50 Walks in Surrey from the AA Amazon Shop.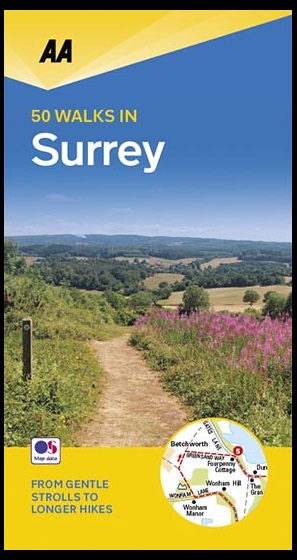 Sample walk: A Newlands Corner loop via Shere
Distance: 6 miles (9.6km)
Minimum Time: 2hrs 45min
Ascent: 738 feet (225m)
Gradient: 2
Difficulty: 2
Paths: Easy-to-follow tracks and paths, 1 stile
Landscape: Dramatic North Downs scenery
Suggested Map: AA Walker's Map 23 Guildford, Farnham & The Downs
Start Grid Reference: TQ043492
Dog Friendliness: Some busy road crossings; watch out for pets at Timbercroft and livestock near Albury
Parking: Newlands Corner (pay and display)
Public Toilet: At car park, behind visitor centre
Background reading
In an extraordinary episode redolent of one of her own crime novels, Agatha Christie dominated the British papers during the first two weeks of December, 1926. She never mentioned the affair in her autobiography, and the motive which fuelled 11 days of intense police and media activity has remained an enigma long after her death. Agatha Miller married Colonel Archie Christie late in 1914. After wartime service in the Royal Flying Corps, Archie returned to civilian life when their daughter was born, five years later. Agatha's first novel was published in the following year, and by the mid-1920s income from her books helped the couple to buy a home at Sunningdale in Berkshire. Newlands Corner mystery Material success masked fault lines in the couple's relationship, however. The war years could not have been easy, and Archie may have felt threatened by his wife's success. She put on weight after their daughter's birth, while he found consolation – and romance – on the golf course. On Friday 3 December 1926, there was a furious row as Archie told Agatha that he would be spending the weekend with his mistress, Nancy Neele. Divorce was inevitable. That night Agatha left her sleeping daughter and treasured dog, climbed into her bullnose Morris and disappeared into the night. The following morning the novelist's car was found abandoned by the chalk pit that you'll see in Water Lane, near the start of your walk. But Agatha Christie was gone. It was national news. While the police scoured southern England and questioned Archie on suspicion of murder, the Daily News offered a £100 reward for information. The story remained in the press, and on Sunday 12 December thousands of people converged on Newlands Corner to search for Agatha's body. Meanwhile, almost 24 hours after her disappearance, Agatha Christie had calmly booked into a Harrogate hotel under the assumed name of Teresa Neele. Despite the national hue and cry, ten days elapsed before the police located her. Archie was in the clear, deflecting reporters by explaining his wife had amnesia, and the couple fled to Abney Hall in Cheshire, home of Agatha's sister. This bizarre affair has been shrouded in mystery ever since. Christie herself refused even to discuss it, and, after her death there were unsuccessful attempts to suppress a film adaptation of the story. The unsolved mystery was featured on BBC television in 1997, and the programme included an appearance by author Jared Cade. His subsequent book claims that the entire episode was simply Christie's attempt to embarrass her husband and sabotage his weekend with his mistress. It is, at least, a convincing theory.
Directions
From the car park walk back towards the main road and turn right, 15yds (14m) from the entrance, on the waymarked byway, dropping down into the trees to a junction by a pill box. Swing right and follow the byway as it bears left past the old chalk pit where Agatha Christie's car was abandoned in 1926. Carry straight on beyond a turning on your right.
Turn left on to the unmarked bridleway, passing Water Lane Cottages on your right. Continue between fields to the fork at Timbercroft, and bear right onto the footpath towards the Silent Pool. Fork right again after 100yds (91m) onto the narrow signposted public footpath. Cross the concrete quarry access road, then continue ahead through woodland to a stile. Walk along field edge towards the church and pass through a kissing gate, over the stream and through a second gate to the A248.
Cross the road and take the footpath opposite. Go through the gate, then cross the field to a kissing gate into Silver Wood. Leave the woods at a kissing gate, turn right and follow the fence line along the next field, over a driveway, through kissing gate and into a section of wood, and cross Chantry Lane. Follow the path beside a brick wall, and turn right at the Old Rectory. Drop down past the ford, and follow the lane beside the stream and past allotments towards the small green in Shere.
Turn left into Middle Street, then left again into Upper Street. A few paces further on, turn right at the driveway to The Manor House and follow the steep signposted byway under the A25. Wind past a pill box before eventually coming to a crossroads with the North Downs Way (NDW).
Turn left here, over a low barrier and keep ahead to Hollister Farm. Just beyond the farm the track swings to the right, and there are two forks within the next 200yds (182m). Keep right at both of them, continuing down the path as far as Combe Lane.
Turn right, then after a few paces swing off left along the NDW. Cross Staple Lane, walk through car park, over low barrier and continue along the level, waymarked trail, ignoring bridleways descending off to the left.
Continue for 300yds (273m), then keep right –following the purple arrows –as another track forks off down the hill. A mile (1.6km) of level walking leads to the A25 –cross with care to return to the car park.
While you're there
The mysterious Silent Pool on Shere Road is worth a visit, and offers another opportunity for a walk. Legend says that King John abducted a woodcutter's daughter who was forced into the deep water and drowned, and some say that the maiden's ghost can be seen here at midnight.
Where to eat and drink
The all-year-round kiosk in Newlands Corner car park sells hot and cold drinks and snacks, including burgers, chips, soup, salad, rolls and cakes. In Shere, try The William Bray or The White Horse (a Chef and Brewer pub), both with fine menus.
What to look out for
At St James' Church in Shere look for two small openings in the north wall of the chancel and a sealed archway; these are all that remain of a tiny cell. In 1329 local girl Christine Carpenter was given permission to be enclosed in this cell as an anchorite, where she could see the altar and receive Communion through the holes. She emerged briefly in 1332, but was soon placed back in on the Bishop's orders, to learn 'how nefarious was her committed sin'.