AA Driving School puts electric cars on fleet for first time
Move could see 1,700 tonnes of carbon saved in 12 months
15% of instructors on waiting list for EVs as interest rises
40% of current learners said they would switch to EV lessons if available
First AA Driving School EVs on the road to be Peugeot e208, Peugeot e2008 and Vauxhall Corsa-e
Thursday 3 March 2022
London, Liverpool and Cardiff1 will be among the first locations to start EV lessons, with further interest from driving instructors across England, Scotland and Wales.
Instructors with the AA Driving School will begin taking delivery of the Peugeot e208 and e2008 as well as the Vauxhall Corsa-e, with more to follow in the coming months as the company pushes ahead in its drive to help the UK's drivers go electric.
The driving school's introduction of EVs could see a carbon saving of more than 1,700 tonnes in one year2, with more savings set to follow as the EV fleet expands.
In a recent survey3, 40% of learners said they would switch to automatic EV lessons if they were available to them, despite more than four fifths currently taking driving lessons in a manual car (81%). When asked if they would consider driving an EV in the future, 67% said they would, one quarter (27%) said they might consider it and only 6% said they would never consider driving an EV.
A snap poll4 of AA Driving School instructors found 78% would make the switch to teaching in an EV if they had the option, with the main reason for switching being fuel savings followed by the environmental benefits.
Mark Oakley, Interim Managing Director of AA Driving School said: "We are really excited to be launching electric vehicles onto our fleet. We've been speaking to our instructors for a little while and have been thrilled with how positive they are about the switch, following a successful EV trial last year.
"Our EV roll-out will launch with three high-spec models from Peugeot and Vauxhall and we hope to expand our offering in the coming months. We are fully committed to bringing EV lessons to the whole of the UK and transform our environmental impact over the coming years.
"The main difference with learning in an electric car is the transmission and learners will have to take an automatic driving test, so will not be eligible to drive a manual car.
"We ask the government to consider modernising the driving test, so the next generation of drivers are encouraged to switch to EVs sooner. In advance of this, we will continue with our efforts to inspire learners to take EV lessons."
Edmund King, AA president, said: "The world of cars is changing. A revolution is coming, and younger people are beginning to see that the 2030 deadline banning new petrol and diesel cars is really not far away.
"There is increasingly an acknowledgement that you do not necessarily need to learn how to change gear. In the very near future, you will only need to drive an automatic, because all EVs are automatic."
Read more about EVs at: theaa.com/driving-advice/electric-vehicles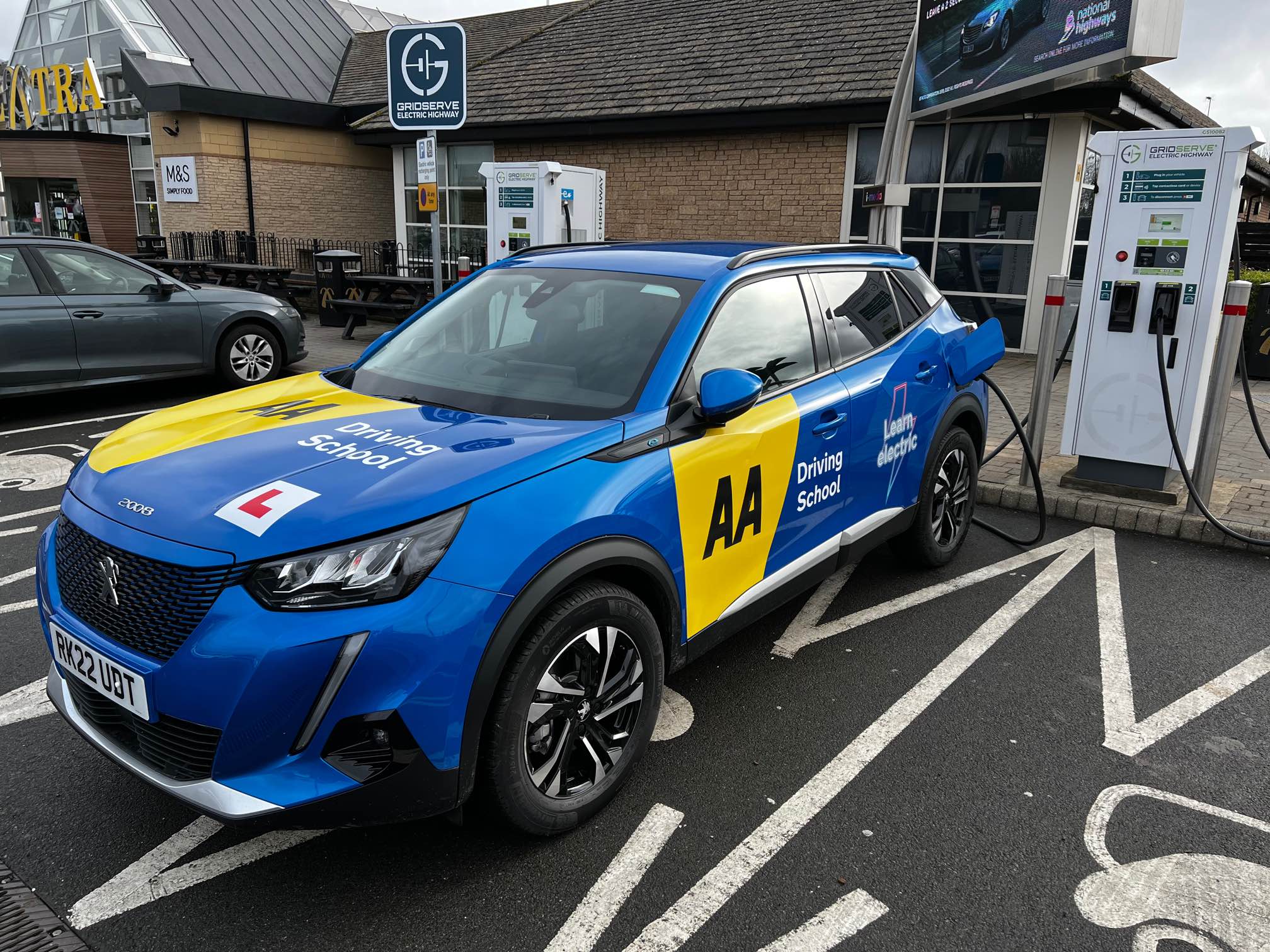 What will an EV lesson be like?
For learners, their early lessons will follow the same format as lessons in an automatic ICE vehicle as they will need to master the same manoeuvres and demonstrate the same safe driving skills. However, as they continue learning in an electric vehicle they will become familiar with more specific knowledge like charging, understanding range and dashboard symbols, as well as regenerative braking.
Driving an electric vehicle isn't radically different to driving any other type of automatic vehicle, but many drivers have concerns about switching to an EV because of range anxiety or chargepoint confusion. As such, qualified drivers who take a refresher lesson in an EV will be introduced to the world of charging, range and regenerative braking as well as the day-to-day considerations of driving an EV.
What EVs are joining the AA Driving School fleet?
From March 2022, AA Driving School instructors can choose between the Vauxhall Corsa-e SRi Premium, Peugeot e-208 GT and Peugeot e-2008 Allure Premium.
The Vauxhall Corsa-e is powered by a 50kWh battery, offering a range of up to 209 miles (WLTP) and features a choice of charging options including 100kW rapid charging for an 80% charge in 30 minutes.
The Vauxhall Corsa-e SRi Premium offers driver assistance systems including power steering, an electronic handbrake, cruise control and intelligent speed limiter, automatic emergency city braking and lane assist.
The Peugeot e-208 and e-2008 are powered by a 50kWh battery, offering ranges of up to 225 and 214 miles respectively (WLTP). They have a choice of charging options including 100kW rapid charging for an 80% charge in 30 minutes.
The Peugeot e-2008 Allure Premium offers a raised driving position compared to the e-208. Both models feature driver assistance systems including Active Safety Brake, programmable cruise control and speed limiter, Lane Keeping Assist and speed limit recognition and recommendation.
---
1EV lessons for new learners are subject to availability. Other locations launching from March include Luton, Essex and West Sussex.
2Carbon savings based on instructors switching from petrol Peugeot 208 GT to Peugeot e-208 GT based on an average annual mileage of 28,800. Early projections over a 12-month period as the EV fleet expands.
3Survey of 191 learner drivers conducted by FirstCar in January 2022 for the AA Driving School.
4Snap poll of 505 instructors by the AA Driving School in January 2022.