You've got the trip booked, now it's time to tick car rental off the list. But how do you sort the SUVs from the MPVs? We've put together some tips for choosing the right hire car. And remember, whatever you go for, our Members get up to 15% off with our approved car rental partners - Alamo, Enterprise and National.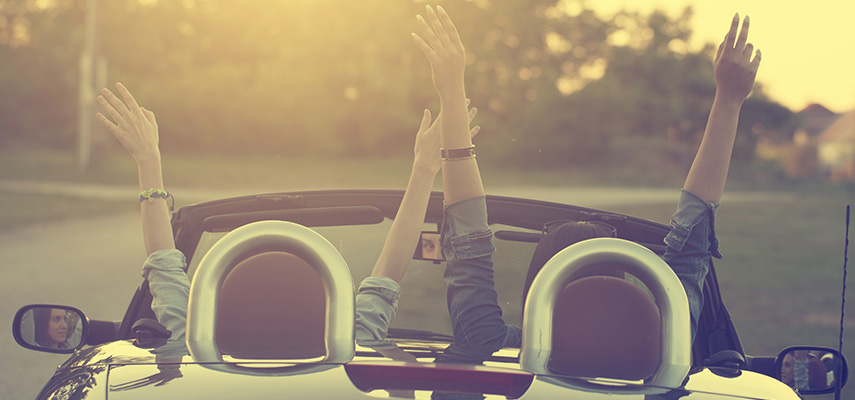 What type of holiday are you going on?
We all hope for glorious sunshine on a getaway, but do some research about local weather at the time of year you're going. If there's a high chance there could be some rainy days, it might be best to save the convertible for another time.
Think about the landscape where you're headed. If you're going to be zipping around town on a city break, you'll want something that's easy to manoeuvre and park. If you're off somewhere more rural, the roads might not be so smooth. Consider getting something larger or a bit more premium for added comfort, especially if you're going off the beaten track for long distances.
And while a 3-door might sound fine at the planning stage, a 5-door car is probably a better option if you've got a tightly-packed itinerary and want to be on the move quickly.
How much space will you need?
It goes without saying that if you've got a lot of luggage, make sure you get something with plenty of boot space. But what about what you buy when you're there? Don't forget to factor in some breathing space for those extra purchases.
Who's going?
If the kids are in tow, a car with an adaptable interior will give you more flexibility. It could also help beat the kids' boredom factor by letting you switch up where they sit.
If anyone elderly or with disabilities is coming, have a think about access to the car – things like the height will have a big impact on comfort and ease of getting in and out of the vehicle.
Your driving skills
Pick something you'll be confident driving somewhere you're less familiar with. If you're used to small city run-arounds, go for something manageable. You could be parking in awkward places and busy locations, so size will be important. Make sure it's something that matches the skills of any extra drivers, too.
Bear in mind manual vs automatic - while a manual might save a bit on cost, it might be easier to drive an automatic, especially when visiting a more urban area.
Car features
Don't forget those little extra bits and pieces. Take up additional options available when booking, like adding a sat nav if you're planning on going off exploring. You can also add a child seat if you need one, for a more convenient experience overall.
Making your choice
Even when you've thought more about what you want to go for, it's easy to get that kid-in-a-sweet-shop feeling when it comes to picking a specific hire car. We've put together a handy jargon buster to help:
Cars
Mini: the smallest type of car, suited to urban driving.
Economy: smaller than a compact, and good if you want to save on fuel costs.
Compact: ideal for smaller families.
Intermediate: something with a bit more space for luggage and passengers.
Standard: the most popular size of car, and a good all-rounder.
Premium: perfect for a little luxury, available in a variety of sizes.
Sports Utility Vehicles (SUVs)
Available in a range of sizes and specs, SUVs have the power and capacity to tackle whatever the road may throw at you.
People carriers
Multi-purpose vehicles (

MPVs): high-roofed and with a flexible interior, MPVs are good for larger families with varied needs.
9-passenger van: the best option for a large party.
Whatever you decide to go for, Alamo, Enterprise and National can help you find just what you need. Their vehicle search lets you sort vehicles by type, capacity and automatic or manual gearboxes.