About the award
Each year the AA independently inspects hundreds of restaurants across the British Isles. Introduced in 2000, this award recognises restaurants that provide cuisine of a truly excellent standard, as well as demonstrating innovation and ambience and providing a high standard of hospitality.
Sugar Boat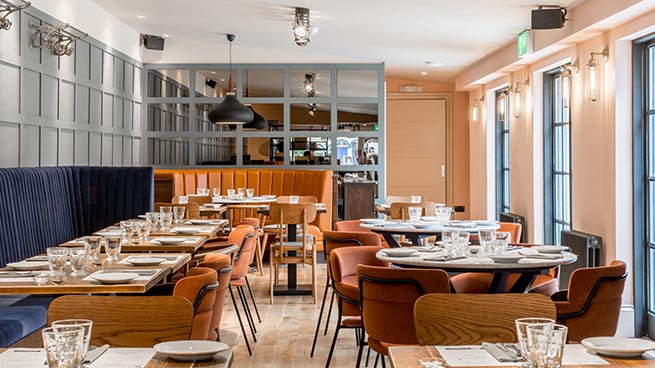 An all-day bistro with real foodie credentials. The name refers to a wreck in the Clyde off Helensburgh. Set on a square in the heart of town, with tables out front and back, Sugar Boat is unassuming at first glance with blue and green tiled frontage and a café like image.
Inside, the design is one of natural colours of earth and sea. A marble-topped bar and viewable kitchen are passed on the way through to the restaurant proper. Interiors combine bare brick, brass finishes, natural materials, wood-panelling and leather banquettes.
Hearty modern cooking features big flavours and an essentially simple approach to treating Scottish produce with care and attention and not a little European flare indeed provenance and seasonality is of the utmost importance here.
Thoroughly seasonal menus feature effective starters like brined and poached ox tongue with pickled oyster mushrooms or a classic country terrine. Mains include a bouillabaisse in a copper basin packed with roasted fish or a simple cod with shrimp grenobloise. In the bar it is about local craft beers, and great spirits – wine is available retail too.
Read more about Sugar Boat at Explore UK.