About the award
A popular and coveted title, this unique award, introduced in 1996, offers all AA Rosette-awarded chefs the chance to decide which of their peers deserves the ultimate recognition of their performance over the past twelve months.
Claude Bosi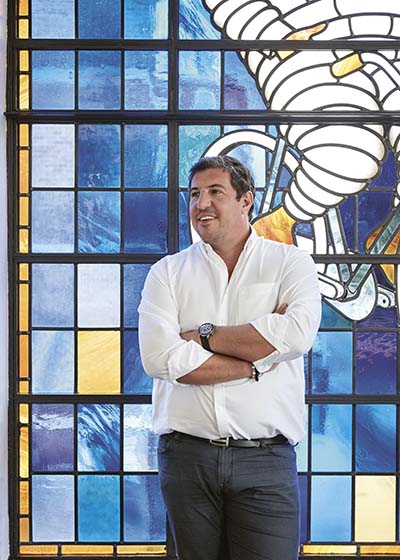 Claude's first taste of cooking came at a relatively early age from his parent's bistro when growing up in Lyon. Catering college followed and his early apprentice experience was gained at some of France's finest restaurants including Alain Passard's L'Arpège and Restaurant Alain Ducasse.
In 1998 Claude decided to move to the UK working at Overton Grange in Ludlow. 2 years later Claude opened his first restaurant, still in Ludlow, called Hibiscus where his food really started to evolve and he became recognised on a much wider level achieving 4 AA Rosettes.
Seven years later, seeking a greater challenge and to fulfil a personal dream, Claude moved his restaurant to the capital London where his cooking really started to mature and he achieved the pinnacle of 5 AA Rosettes.
In 2017 Claude moved to the iconic Bibendum Restaurant in partnership with Sir Terence Conran. A year on it feels that it has been his culinary home for years, truly relaxed and at ease, he is cooking at his very best. Stunning technical execution, big flavours from exemplary produce that deliver wow dishes.
Twenty years on from arriving in the UK, Claude's passion for his craft remains undiminished as does his commitment to the stove. His achievements speak for themselves and come as no surprise his peers have voted for this ultimate industry award.
Previous winners
2017 – John Williams MBE
2016 – Simon Rogan
2015 – Daniel Clifford
2014 – Nathan Outlaw
2013 – Tom Kerridge
2012 – Pierre Koffmann
2011 – Chris & Jeff Galvin
2010 – Martin Wishart
2009 – Marcus Wareing
2008 – Philip Howard
2007 – Michael Caines MBE
2006 – Andrew Fairlie
2005 – Germain Schwab
2004 – Raymond Blanc OBE
2003 – Michel Roux OBE
2002 – Shaun Hill
2001 – Heston Blumenthal OBE
2000 – Marco Pierre White
1999 – Rick Stein OBE
1998 – Kevin Viner
1997 – Jean Christophe Novelli
1996 – Gordon Ramsay OBE