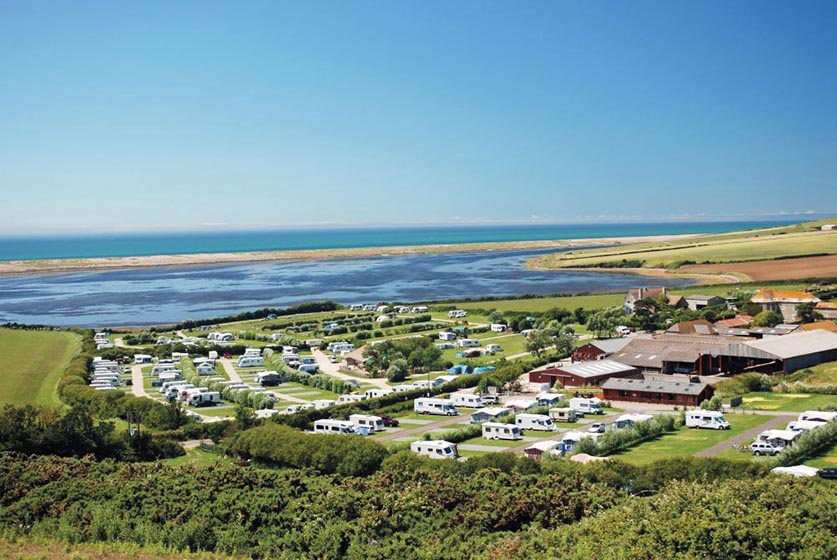 East Fleet Farm Touring Park, Weymouth, Dorset
Set on a working organic farm and in a unique location on the shores of the Fleet Lagoon, this top-notch park overlooks Chesil Beach and the sea, with direct access to the South West Coast Path. There is a wide variety of pitches, including hardstandings and fully serviced pitches, and the largest family tents can be accommodated. It offers excellent new toilet and shower facilities with family rooms – added for the 2019 season – and there are good play facilities for children, including an excellent new fenced play area for younger ones and a separate play barn with table tennis and other activities.
The Old Barn has a tasteful bar and lovely patio area, where customers are welcome to take their own food, or order locally and have the food delivered to the bar. In addition, there is 'Festival Food', an area for pizzas and fish and chips, which is very popular with guests.
The park is well positioned for visiting Weymouth and Portland, as well as other local attractions, such as the Abbotsbury Swannery and the Abbotsbury Subtropical Gardens. There is a fine drive along the coast road from East Fleet to Bridport with spectacular views of Chesil Beach. Upgraded to Platinum Pennants for 2020, East Fleet Farm Touring Park fully deserves the South West Campsite of the Year Award.
Find out more about East Fleet Farm Touring Park at Explore UK.