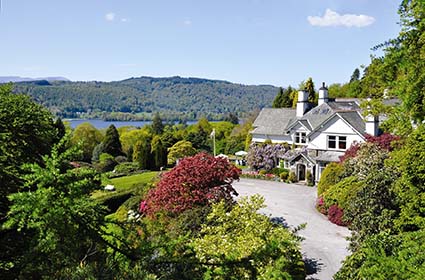 Lindeth Fell Country House, Windermere, Cumbria
A luxury 5-star bed and breakfast which has been a long labour for the Kennedy family over the past 35 years.

An Edwardian manor at heart, guests have the choice of 14 individually designed, spacious and bright rooms; traditionally styled but equipped well for the modern guest too. Downstairs, open fires, parquet floors, and comfortable lounges overlook the extensive Thomas Mawson-designed gardens which in the summer are a true delight.

Of course, the views across Windermere and the Cumbrian fells beyond provide the perfect backdrop too. Afternoon teas including home baking are served daily and light suppers in the evening. The family provide a relaxed and very personal approach ensuring guests are well looked after.
Discover more about Lindeth Fell Country House
Previous winners
2018 – The Old Town Hall, Leyburn
2017 – Nanny Brow, Ambleside
2016 – Kateshill House, Bewdley
2015 – The Glove House, Woodstock
2014 – Prawls Court B&B
2013 – Low Mill Guest House
2012 – East House, Broadway
2011 – Blackmore Farm
2010 – Lavenham Old Rectory