Most of the time we don't give much thought to our central heating systems. But there are times when our boilers start making strange, loud noises. Although this "kettling" can be worrying, it isn't always cause for alarm. While overheating is the main cause, there could be other reasons behind it.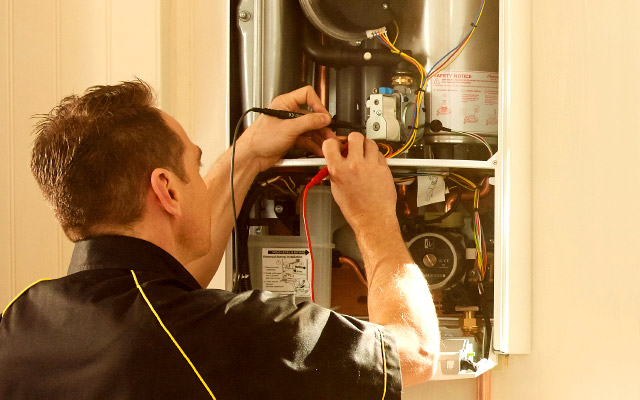 What causes kettling?
Limescale – boilers heat water through a heat exchanger, when limescale builds up on the surface of the heat exchanger, the water flow is restricted. As the boiler overheats, it creates steam which expands and makes the kettling noise.

Sludge – sludge caused by corrosion can collect around the heat exchanger, restricting water flow and resulting in the boiler becoming too hot.

Foaming – impurities in the boiler water can cause a foam build-up. This restricts the amount of water coming into contact with the heat exchanger, leading to over boiling.

Heat exchangers – heat exchangers made from cast iron can become misshapen or dented, leading to an inconsistent transfer of heat. This can cause localised heating within the system, which may lead to kettling. This can also happen if the heat exchanger is too big for the boiler.

Thermostats – if the thermostat isn't working properly it could upset the heating pattern in the boiler, which might lead to localised boiling and excessive heating.
You can make sure that your home's heating is regularly maintained and you're protected against central heating emergencies by taking out boiler cover.
What are the effects of kettling?
Kettling can reduce the boiler's efficiency, meaning it'll have to use more fuel to reach its desired temperature. Unfortunately, this can cause a rise in energy bills and usage. Keeping your boiler well maintained and having an annual service can prevent many of these problems building up in the first place – and keep your household bills down.
Deposits of limestone or sludge that are limiting the flow of water and causing kettling can mean your boiler has to work harder. This can put strain on different parts of the boiler, which could reduce its lifespan.
Keeping your boiler well maintained and having an annual service can prevent many of these problems building up in the first place – and keep your household bills down.

A more serious consequence of kettling could be a rise in steam pressure within the central heating system. This can result in irregular circulation of heat throughout your home, and may also cause water pipes to burst. Burst pipes can harm electrical wiring in the walls and short a fuse, as well as causing damage to the building structure and upholstery.
Many modern boilers are equipped with safety features to ensure that these problems don't arise – they can automatically turn themselves off if they detect a problem, and some may have a valve to release pressure if it gets too high
How can I fix it a kettling boiler?
A qualified engineer will be able to tell you what's behind your boiler making funny noises. If it's a mechanical fault, such as an issue with the thermostat, internal piping, or the thermostatic radiator valves, they should be able to fix it.
If the root cause isn't mechanical, they might try:
Descale - using a descaling product if a build-up of limescale is responsible for the kettling
Flush - flushing the central heating to get rid of any sludge from the system
Bleed - bleeding the radiators to remove any trapped air, which can create a problem with water flow and cause the boiler to overheat
Inhibit - adding an inhibitor to prevent the build-up of scale and sludge within the boiler system
Replace - replacing the heat exchanger with a new one if the limescale problem is too severe
As kettling can be a serious and costly issue, it's always best to call out a qualified engineer who's on the
Gas Safe register
so that they can check the problem out and give you peace of mind.