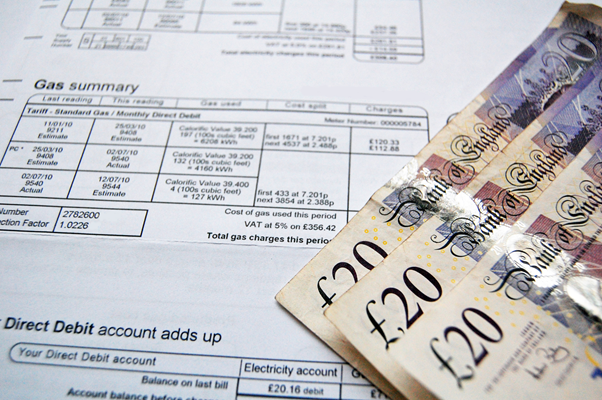 Spiralling energy prices are a staple of the news cycle, but some of the reporting on energy generates more heat than light. It's not unusual to hear that bills are soaring because of 'green taxes' or because of 'greedy' energy companies, but is that true? What about the other factors that make up your energy bill, such as the wholesale price of natural gas, profit margins and usage levels?
What am I paying for?
According to Ofgem, the UK energy regulator, the average UK dual-fuel bill in 2016 broke down as follows:
Wholesale price of electricity and gas cost – 44.7%

Transmission costs, or the costs of getting power to your home – 23.4%
Supplier's operating cost – 13.9%
Supplier's profit margin – 4.3%
VAT – 4.8%
Environmental and social costs – 8.4%
Other – 0.4%
Transmission costs and VAT tend not to change too dramatically, so rarely make the headlines. When we talk about why our energy bills seem so high, we're usually talking about how much we use, how much money suppliers make, and how much suppliers pay for energy.
What's the wholesale price of natural gas?
The number one contributor of cost to your bill is the wholesale price of natural gas, and this can be hard to predict. Over the years, we've become sadly accustomed to the idea of energy prices being affected by overseas conflict. But it's not only war that can affect the markets - a domestic supply problem in just one country can have a global impact. For example, in 2011, Japanese authorities shut down all the country's nuclear plants in the wake of the Fukushima disaster. While they were down, the government fell back on its gas-fired and coal-fired power plants, buying in as much gas as it could. This pushed up wholesale prices for everyone else, hitting consumers around the world, including in Britain. So with the global energy market, you never know where the next butterfly effect is coming from.

Another reason it's hard to know how much wholesale prices affect your bill is because of the way in which energy companies buy natural gas. Traditionally, suppliers try and get the best deal by buying most of their gas in advance via traders. Companies rarely reveal the details of these 'hedging strategies,' as they're known, so we don't really know how much they pay.
How much do energy companies make?
So if we don't know how much energy companies pay for their energy, do we know how much they profit from it? Well, maybe. They seem to make somewhere between a lot and quite a bit, although energy companies deny that they're making too much. In 2016, the UK Competition and Markets Authority concluded a two-year investigation by saying that British energy customers were paying too much for their energy because suppliers' profit margins were too high. On the other hand, the CMA said that suppliers weren't doing anything wrong, because customers chose to pay those prices and other deals were available.

And if you're unhappy with your energy supplier, you are indeed free to switch. It's possible that you could save significant sums – particularly if you're on a Standard Variable Tariff – by changing your tariff or provider. All you have to do is go to a price comparison website, enter your home postcode, and supply your energy usage details. After that, it's simply a matter of choosing one energy plan from the two or three hundred tariffs offered by the UK's 50 or so suppliers.

If that sounds a little off-putting, you're not alone. Britain's energy minister recently admitted he has never switched energy suppliers because it's such a "hassle".
Is my bill high because I'm using too much energy?
The other major contributor to your energy bill is how much you use. The biggest deciding factor there is the weather, and there isn't a lot you can do about that - you're just more likely to use more heat in the winter (although your boiler works hard in summertime too). However, Government figures suggest that over the long term, we're using less energy, with changing weather patterns as one possible cause. Improvements to home insulation, heating and lighting efficiency are also driving major reductions in energy use. So it appears that any hike in the average energy bill can't be explained by the fact that we're using too much. And even if usage was on the up, the government suggests, any increase should be cancelled out by increasing energy efficiency.
What are 'green taxes'?
When the government imposes a tax on companies who contribute to pollution or carbon emissions, this is known as a green tax or a green levy. The idea behind them is to encourage companies to take up more environmentally friendly ways of working. Measures such as green levies are often politically charged, and this is sometimes reflected in the way in which they're reported.

Most UK companies are subject to green levies that encourage them to be more energy efficient. This includes energy companies. But energy companies also have many additional environmental obligations aimed at helping consumers be more energy efficient. Such measures include:
The Energy Saving Obligation – This encourages eligible households to reduce energy costs by improving their heating systems and insulation.
The Warm Home Discount – A £140 discount off annual electricity bills for low-income households that are eligible.
Minimum efficiency standards – Introduction of energy efficiency standards for appliances like TVs, fridges and washing machines as well as gas boilers.
Smart Meter rollout – Companies hope these devices will reduce their overheads and give consumers more detailed information about their energy usage.
Social policy costs such as these can sometimes lead to confusion when media outlets report on green levies. They are sometimes rolled into one big number along with actual green levies, such as taxes aimed at reducing pollution. This can result in reports mistakenly claiming that green levies make a bigger contribution to people's energy bills than they actually do.

For instance, when British Gas announced recently that it was raising prices, reports varied on how much government-imposed green levies contributed to the hike. Some news outlets even managed to quote contradicatory numbers within their own reports, demonstrating how easy it is to confuse environmental protection measures with other government requirements.

So when it comes to your bill, it appears that green levies are nowhere near as big a contributor as, say, the wholesale cost of gas, or network costs, or perhaps even suppliers' profit margins. However, this fact is often obscured - if not distorted - in news stories about energy companies, and that hardly makes it any easier to understand your bills.

But take heart. While energy pricing might seem complicated, there's a lot you can do to save money on your energy bills by improving your own home's energy efficiency. You can take a look at your insulation, make sure your boiler's in tip-top condition.

So it's not all bad news.