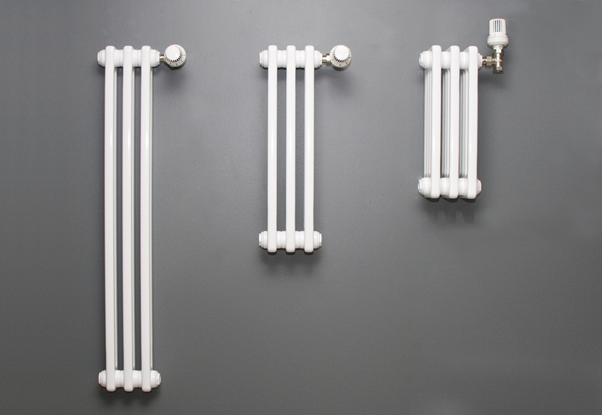 If you're trying to create a minimalist dream or restore your home to its former Victorian beauty, you can't escape the need for a radiator. There's so many styles to choose from nowadays, it can be a bit bewildering when you're trying to choose some. It might help if you know a bit about how radiators work, what's out there, and which kind might be best for a given room.
A brief history of the radiator
Radiators have been around for a surprisingly long time. Remains of basic underfloor heating systems have been found at ancient ruins in Korea as well as Rome. The first heating system that used water is thought to have been in Russia in the early 1700s, and the first steam-based heating system in the UK was built during the 1830s – for the governor of the Bank of England, no less. The Victorian era heralded the arrival of the classic steam radiator design, albeit mainly in public buildings and the homes of the well-to-do. It wasn't until the 1970s that central heating and modern radiators became common in UK homes. By this time, steam radiators were steadily being replaced by hot water radiators, which are now the norm.
How do hot water radiators work?
Water heated by the boiler is pumped via pipework into an inlet pipe on one side of the radiator. Because the water is hot, it tends to move naturally towards the top of the structure. As the water in the radiator cools it moves from the top of the radiator to the bottom. The water works its way around the creases and folds of the radiator in this manner and leaves via an outlet pipe on the side.

Radiators heat a room through radiant heat and convection. Convection is the way in which heat is transferred from hot places to cooler places in a gas or liquid. Cold air at floor-level is drawn in and heated, rising as a result up through the radiator. The heat creates convection currents that warm up the room as they circulate. As the warm air cools and falls to floor level, it's drawn in by the radiator once more and the cycle is repeated. This will keep going as long as the radiator is hot enough. Meanwhile, radiant heat – the heat coming straight out from the radiator – moves around the room via infrared radiation, regardless of airflow.

Most radiators will also feature a thermostatic radiator valve (TRV). This fancy-sounding but familiar-looking knob regulates the hot water flow to the radiator, allowing it to maintain the temperature you've set it to. You can read more about heating systems and radiators in our Big Boiler Handbook.
What's the best kind of radiator?
It's great to have such a wide choice of so-called designer radiators to choose from nowadays, but they're all mostly just hot water panel radiators squeezed into different shapes. In terms of performance and cost, the choice that might make most difference with a radiator is what metal its made of.
Cast iron radiators – The original, but not necessarily the best. Victorian steam radiators are still in demand today thanks to their robust and sometimes beautiful designs, but technology has outpaced the materials involved. Cast iron takes a long time to heat up and a long time to cool down. The latter was a big advantage in the days before proper insulation, but it's less of a priority nowadays.
Steel radiators – Most of today's panel radiators, including many designer models, are made of mild steel. The material is commonly used because it's low-cost and versatile. Sufficiently high grades of steel won't rust and the metal is an excellent conductor of heat, meaning it heats up reasonably quickly and holds the heat for a good while.
Stainless steel radiators – Stainless steel is a high quality material that has a lovely finish, perfect for some of today's more striking designs. It's also a good conductor of heat, which means it heats up and cools down fast. However, it doesn't cool down as fast as some metals. Stainless steel radiators aren't cheap, though.
Aluminium radiators – The fastest heat conductor of all the metals listed here, aluminium heats up very quickly and cools down very quickly. This means aluminium radiators are very responsive to heat controls and heat the room very quickly. The metal is non-corrosive and very light, making them easy to install.
Which radiator is best for which room?
That depends on how much heat you actually need. You don't want to be blasting out excess heat in a space that doesn't need it or shivering in a space that does. The heat given out by radiators is measured in kilowatts, though you may also see references online to British Thermal Units (BTUs), which is a traditional unit of heat. You can still find BTU calculators online. They will ask you to provide details of the room's size to estimate how much heat and therefore what size radiator you'll need. After that, it's just a matter of picking which style suits you. The most popular types of decorative radiator include:
Vertical radiators – Perhaps the most distinctive of the recent wave of radiator designs, vertical radiators are usually long and narrow. They're mounted – as the name suggests – vertically, with the long side pointing up. They're great for space-saving and may well contribute to a distinctive design scheme.
Mirrored radiator – Mirrored radiators are usually vertical radiators whose reflective finish – perhaps chrome or polished steel – means they can also function as a mirror. Often seen in the bathrooms of those who can afford them, or anywhere a full-length mirror might normally be found.
Heated towel-rail – Long a feature of good hotel rooms, towel radiators are becoming more common in homes. As they provide both a heat source and a place to hang your linens, they're ideal for kitchens or bathrooms.
Reclaimed radiator – Those in search of 'authenticity' may find themselves drawn to old, reclaimed cast iron radiators. As attractive as they may be, cast iron radiators are unlikely to be as efficient as a more recent design. It's worth noting you can get many retro-styled radiators made of steel and aluminium.
Electric radiators – Around 4 million households in the UK can't access a mains gas supply, so an electric radiator could be vital if you're among their number. If you're not, electric radiators can be a bit expensive for general use. They're handy for a conservatory or garden shed though, or if you want to heat a small room quickly for a short period of time.
Of course, these are just a few of today's most popular designs. Radiator design has advanced to such a point that the imagination is probably the only limit on how they look. If you have the money and the time, you can find a radiator that will conform to even the most exacting interior design. Radiators can even be fun.

Don't forget, if you can't replace your existing radiators, all is not necessarily lost – there's always paint.

Whichever kind of radiator you have, you'll need to look after it, and there are a few ways you can do that. You might also consider boiler cover if you fancy all-year-round protection for your home's central heating system. Just be sure to check that your policy covers the particular type of radiators that you have in your home.