March 2012
Volvo XC90 D5 SE Lux
Although its looks have changed little, the XC90 still looks great
March 2012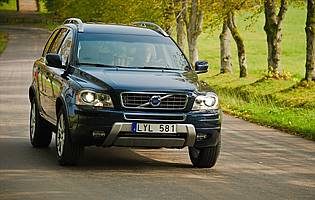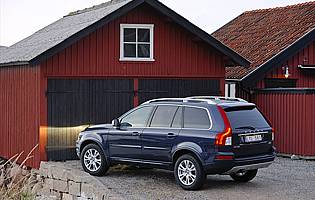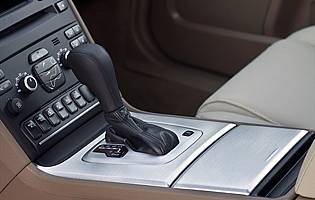 Overall rating

Likes:
Luxurious interior design and materials
Smooth automatic gearbox suits the XC90's character well
Solid build quality and reliability record
Well thought-out storage solutions make day-to-day life easier
Gripes:
Gearbox would benefit from a taller top gear for motorways
Slow steering makes twisty country roads harder work
Foot-operated handbrake could be more refined in its operation
Modest fuel economy even when cruising
The concept of a family-friendly high-rise hatchback was in its infancy when the XC90 was launched. The SUV market was yet to explode, but buyers seeking a vehicle capable of coping with all weathers and surfaces yet one that didn't drive like a conventional 4x4 weren't blessed with a great choice. The XC90 cleverly blended Volvo sensibilities with a more versatile driving and ownership experience.
The XC90 has been around since 2002 and has been a real sales winner for Volvo. Its combination of easy-going driving manners, subtle and stylish looks, comprehensive equipment list, luxurious interior, seven-seat practicality and high seating position have made it a family favourite. The 2012 version sees a number of small updates and changes.
The basic formula of the car has never changed. It's aimed at large and/or active families and older drivers who want space, refinement and comfort. It's built with an uncommon attention to real-world details that makes it very easy to live with and as such many XC90 owners would only ever swap it for a newer one.
The car's excellent ride, refined cruising ability and huge element of practicality have all remained or been improved, while other areas of the car have been perfected for the needs of its real audience. Even though there's only one engine choice it's the one the vast majority of buyers chose anyway.
Many aspects of the car's construction are perfectly suited to an active lifestyle, like the split tailgate that provides a seat to facilitate changing shoes, for example, and a broad spread of torque for towing trailers and caravans. The engine has received upgrades for 2012 that include more power and better fuel economy.
Our verdict on the Volvo XC90 D5 SE Lux
The XC90 is a thoroughly capable all-rounder for those it's built for. It can handle piles of luggage, caravans, extreme sports equipment and almost any weather you can throw at it thanks to its all-wheel drive system. It's comfortable, generally quiet and even though some aspects of its technology are now showing their age and the changes from 2011 are few, there's much to celebrate in this generation of the XC90.
Costs
The XC90 is not a cheap car to run, despite the improvements made to it for this generation. Its size and weight count against it and any potential buyers should think about running costs. Insurance is relatively expensive and road tax is no better. Although it would make an excellent company car with class, cruising comfort and reliability, the tax payments will be high compared to some other options.
Space and practicality
Practicality is one of the XC90's strengths, with a cabin that has been well adapted to family life. The rear seats fold without needing to use both hands, and the automatic tailgate close mechanism makes life easy. The boot is large although the floor is high to account for the four-wheel-drive system, and there are many storage solutions in the front of the cabin to account for loose change, CD wallets and so on.
Controls and display
The style of the instrument cluster changes according to the model, and the SE Lux has arguably the less clear version that's lit from above by two normal bulbs. They make certain areas of the cluster too bright and others too dim. The controls are much more appealing, with chunky, robust buttons that allow major functions to be accessed by gloved hands. The pop-up sat-nav system is clear and easy to follow.
Comfort
Comfort levels are high in the first two rows of seats, with plenty of room for four adults or two adults and three children. The luxuriously padded seats are very comfortable. The third row of seats is really for smaller children only, or just short trips. Wind noise is notable by its relative absence, but road noise is a little more intrusive.
Car security
Home Safe' lights are standard, providing visibility after you get out of the car. As well as an alarm and immobiliser the central locking includes deadlocking, and it also locks the fuel filler flap to prevent fuel theft. Locking wheel nuts are standard to prevent any theft of the large, expensive alloy wheels.
Car safety
Volvo is an ardent advocate of safety systems in cars, and the XC90 is loaded with them. Every conceivable safety system is included, to help prevent any kind of injury including whiplash. Electronics help to make sure the car maintains stability at all times and won't roll over even with fast steering in an emergency. The SE Lux even has water-repellent front side windows to aid visibility in the rain.
Driver appeal
In this regard the XC90 serves its target market well, being extremely easy to drive with a comfortable ride, impressive cruising stability and a smooth, gentle gearbox. The gearbox makes urban and A-road driving relaxed and pleasant, but at motorway speeds it ideally needs a taller ratio to lower cruising revs, which in sixth gear at 70mph can be too high.
Family car appeal
Family use is one of this car's primary functions. The way the seats fold, the ample storage space and the option of including extra air-conditioning vents for the third row of seats all point to how family-friendly it is. The leather would be easy to clean if necessary, but it is quite soft and prone to damage from sharp objects or corners on toys. The lack of a boot lip makes loading easier, but the load height is not ideal for heavy objects.
First car appeal
It would be easy to see a degree of temptation from a young driver's point of view. The XC90 is tall, safe-feeling, stylish and well built, but several obvious factors make it ultimately unsuitable. Its size would almost certainly be prohibitive, not to mention the purchase price, insurance and running costs. Despite being very easy to drive, the XC90 is an unrealistic first car choice.
Quality and image
The XC90's general image is fairly unique in that it's known for offering style and substance in equal measure, without breaking the bank in relation to some other large off-road capable cars. It also manages to be one of the least offensive SUVs in the eyes of those who don't like this type of car. Build quality is very high, too, as is the quality of materials throughout the cabin.
Accessibility
A high seating position makes it very easy to get in and out of in both the front and the back, although care needs to be taken to avoid rubbing too hard against the side bolsters of the seats in the process. The leather is soft and vulnerable to scratches and scuffs. A split tailgate makes it easier to access the boot with less space behind the car.
Stereo and ICE (In car entertainment)
Playing music is easy, with radio, CD, USB input and Bluetooth options. Selecting tracks is equally user-friendly with a generally clearly marked combination of dials and buttons allowing users access to the stereo's functions. There are just one or two confusing aspects where the placement of buttons and the way their features interact is a little counter-intuitive.
Colours and trim
The XC90's range of colours is subdued, but befitting of its character. A wide choice is on offer including shades of all the most popular colours, and the car tends to look good in any of them. Dark options help it to look a little smaller. The interior is very stylish, with large dashboard buttons for practicality. Full leather upholstery with contrasting piping looks and feels classy.
Parking
Here the big Volvo suffers from several setbacks. First of all its size makes finding a suitable parking space more difficult than it might be, and its turning circle isn't as tight as many people might like, making driving into spaces harder. In its favour, visibility is excellent and thanks to the split tailgate less room needs to be left behind it in order to access the boot after having reversed into a space.
Spare wheel
Space saver fitted as standard.
Range information
Diesel engine options - 2.4-litre (197bhp). Transmission options: six-speed automatic gearbox. Trim levels: ES, SE, SE Lux, Executive, R-Design.
Alternative cars
Audi Q7 Road-biased SUV is large and luxurious but too obvious for some
Volkswagen Touareg Shares a platform with the Q7 and has several engine choices
Mitsubishi Shogun Utilitarian and old-fashioned but reliable and extremely well equipped
Land Rover Discovery Extremely good for families and impressive off road ability