July 2005
Volvo XC90 D5 Euro IV Executive
Although a school run favourite, the XC90 can cope with some mild off-roading
July 2005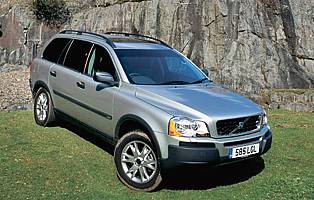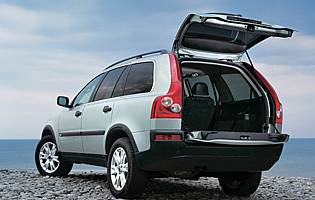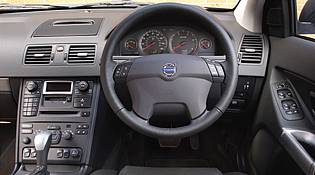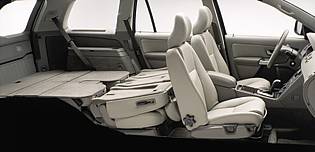 Overall rating

Likes:
Practical and flexible seating layout is very family friendly
Comprehensive safety provision as you'd expect from Volvo
Improved diesel option is a huge step forward in performance and economy
High quality interior is well equipped and stylish
Gripes:
Can prove a costly vehicle when appealing options are added
Not the most agile of SUVs around town
Off-road ability cannot match that of more serious 4x4s
Rear seats only really suitable for children
Volvo stunned the world when it launched the XC90. The normally conservative company had gone and done a big, bold SUV. In reality, the XC90 merely built on Volvo's key attributes: safety, ease of use and family-focused packaging. It just so happened to be something half the world was clambering for, too.
The Swedish firm's estate cars were always known for their solidity, safety and dependability, all attributes of modern SUVs. Which is why the XC980 appears to make so much sense. Adding a level of desirability to the mix that's lacking in Volvo's more boxy offerings, the XC90 has been instrumental in boosting the car maker's recent fortunes.
A modern design in every sense of the description, the XC90 boasts tremendous kerb appeal without resorting to butch body cladding and oversized bumpers. The inside is pure Volvo though, which is a good thing considering the firm's critically acclaimed attitude towards ergonomics and cabin build quality.
Don't get too carried away, though. Off-road ability is modest (though admittedly better than one might expect) Still, sitting up high and wafting along is an altogether better feeling. Factor in 2006 model year improvements such as refined suspension settings, more cabin trim options and a significantly reworked flagship diesel engine and there's no reason to doubt the car's continued popularity.
And you know that, because the XC90 is a Volvo, the ownership experience will be both enjoyable and painless. All Volvos are built to a high standard and such is the model's popularity that residual values should remain strong for a long time to come.
Our verdict on the Volvo XC90 D5 Euro IV Executive
It's difficult not be impressed by Volvo's XC90. Even opponents will have to admit that it is equal to its many rivals in a number of key areas. Alright, so the car isn't suited to serious off-roading, but because so few people venture off away from the Tarmac this minor shortcoming is hardly an issue with the vast majority of buyers.
Costs
It shouldn't come as a surprise to learn that the petrol models are thirsty beasts, and neither should it be a surprise that most XC90s bought are diesels. Other costs, such as insurance and servicing, are comparable to the Volvo's premium rivals, which means you'll need a few quid to run the car over the course of the ownership period. However, with the car's popularity still high after long its launch, residual values remain buoyant.
Space and practicality
One of a growing band of seven seat vehicles, the XC90 is claimed to be a very practical car. The rearmost seats fold flat to create a good-sized boot, and with all rear seats folded, the XC90 is transformed into a posh van. Family-friendly cabin storage areas abound, and the split, Range Rover-style, tailgate makes loading awkward objects less stressful.
Controls and display
There should be nothing that frightens or intimidates in the XC90's cabin. Volvo's obsession with good ergonomics is evident everywhere, from the clear instrument to intuitive centre console switchgear. The sat-nav display that rises majestically from the top of the fascia is also clear and easy to use, and there's even a remote control provided for passengers to use.
Comfort
Drivers are afforded a good range of seat adjustment, and the cabin's numerous seating combinations make getting comfortable a breeze. Head and legroom is good fore and aft. Wind noise and vibration has been kept to an impressive minimum, with the only sound permeating the cabin being the distant hum of the engine.
Car security
With alarm, immobiliser, interior movement sensors and a substantial load area cover, there's every reason to feel safe when in or out of the XC90. All of which is just as well, given the interest expressed by the criminal fraternity in posh SUVs. Something that should prompt you to consider the purchase of an aftermarket tracking device - just in case.
Car safety
The XC90 takes Volvo's standards of protection to a new level. Airbags are dotted all around the vehicle, electronic systems are charged with combating the SUVs' natural inclination to pitch and roll at speed, and you also get the usual line-up of ABS and EBD.
Driver appeal
Forget the peaky T6 variant if you want a rounded driving experience, what you need is the reworked D5 diesel - now rated at 185bhp. Pair that with a six-speed Geartronic auto gearbox and the ultimate XC90 awaits. Plenty of torque and power plus a smooth changing gearbox make this big Volvo even more desirable. It won't do serious off-roading and can't match BMW's X5 in a straight fight, but it's an impressive combination nevertheless.
Family car appeal
This is an area where the XC90 excels; the seven seat layout immediately makes the car a more exciting alternative for families who might otherwise chose a people carrier. Solid but welcoming interior elements are family friendly, while the Volvo's rearmost seats are realistically child-friendly only.
First car appeal
It's big, unwieldy around town and potentially quick if you choose the right engine. All these attributes hardly make it a sensible choice for the first time driver. And all this is before you start paying the premium-size running costs.
Quality and image
The XC90 is the car that has changed people's perceptions of Volvo, and proved that the once conservative Swedish firm was capable of delivering more exciting products. Volvo has always enjoyed a loyal fan base and the XC90's arrival has helped to widen this demographic considerably. On the quality front the car maker has always been at the top of its game, and the XC90 takes this to new heights.
Accessibility
Passengers needing to access the rearmost two seats will need to be limber, as it's a task more suited to children. Elsewhere things are more predictable, with doors opening wide and the step up into the cabin a modest one. The car's split tailgate is another useful feature, and doesn't require you to haul open the complete door unless you really need to.
Stereo and ICE (In car entertainment)
The different trim levels get a different stereo system, with each on better than the last. Even the base S model doesn't disappoint, though. The options list offers a generous array of high power system add-ons, plus the usual sat-nav and telephone units.
Colours and trim
All interior trim grades exhibit impressive build quality. Some of the lighter leathers and fabrics help stop the cabin becoming too oppressive. A range of 'Inscription' bespoke trim combinations are also offered. Only executive models have metallic paintwork as standard, something that is highly recommended if you've one eye on future residual values.
Parking
This is a big, heavy car, but you forget all that when you turn the wheel. Power assistance is substantial, the car's mirrors offer good levels of visibility and model dependent parking sensors are a real help. The only problem you'll have is finding a space big enough in the first place.
Spare wheel
Space saver fitted as standard.
Range information
Engine options - 2.4 D5 diesel (163bhp); D5 diesel (185bhp); 2.5T petrol (210bhp) and 2.9 T6 petrol (272bhp). Specification levels start with S, proceed to mid-range SE and are topped by Executive models. Transmission is a choice of six-speed manual, five and six-speed geartronic automatic gearboxes.
Alternative cars
Land Rover Discovery 3 Serious off-roader but cabin is surprisingly family-friendly
Jeep Grand Cherokee Overall quality can't match the others here but it's no slowcoach on and off road
Mercedes-Benz M-Class Latest ML is competent, spacious and luxurious but can be a costly option
BMW X5 The best to drive but its cramped rear and firm ride won't please everyone